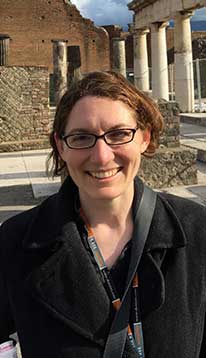 Dr Molly Pucci
Assistant Professor of Twentieth Century European History
Molly Pucci is an Assistant Professor of Twentieth Century European History. Before coming to Trinity, she was a Max Weber Postdoctoral Fellow at the European University Institute in Florence and a Geballe Dissertation Prize Fellow at the Stanford Humanities Center. She holds a PhD in history from Stanford University and an MA in Russian, East European, and Central Asian Studies from Harvard University. Her current book manuscript, which has been funded by grants from the Fulbright Commission, German Academic Exchange Service (DAAD), American Philosophical Society, and American Council of Learned Societies, examines the creation of communist secret police institutions in Czechoslovakia, Poland, and Eastern Germany in the period following the Second World War. Her research interests include the history of communism, legal history, and the history of policing in twentieth century Europe.
Teaching
In the department of history, I teach two Sophister modules. The first, "The Secret Police in Communist Europe" traces the role of secret police forces in communist states and societies through the rise and fall of communism in twentieth century Europe. The second, "Worlds of Dissent: Dissidents and Resistance in Communist Europe" examines the history of dissident movements and thinkers in East-Central Europe in the 1970s and 1980s. I also co-ordinate the MPhil in international history, co-lecture in the Freshman module, "Cataclysm and Renewal: History of Continental Europe 1918 to the Present", and teach the MPhil module, "A World History of Communism".
I will be on leave for the 2020-2021 academic year and affiliated as a visiting scholar at the Hoover Institution at Stanford University.
I am currently Book Reviews editor at Cold War History. I welcome book manuscripts or edited volumes for potential review in English, German, Russian, French, Italian, Czech, or Polish.
Publications
Security Empire: The Secret Police in Communist Eastern Europe (Yale University Press, 2020).
"A Revolution in a Revolution: The Secret Police and the Origins of Stalinism in Czechoslovakia, 1945-1952", East European Politics and Societies, 32, (1), 2018, pp. 3 - 22
"Translating the State: Czechoslovakia's Search for the Soviet Model of the Secret Police, 1945-1953", Kritika: Explorations in Russian and Eurasian Studies, 18, no. 2 (spring 2017)
"Policing the Police: Counterintelligence, the 'Instructor Group' and the Stalinization of the Czechoslovak Secret Police, 1948-1952," chapter forthcoming in Perceptions of the Top in East-Central Europe, ed. Muriel Blaive(New York: Bloomsbury, 2018).
Review of Mark Kramer and Vit Smetana, ed., Imposing, Maintaining and Tearing Open the Iron Curtain, "The Journal of Cold War Studies," vol. 19, no 1, 2017.
Review of Andreas Glaeser, Political Epistemics: The Secret Police, the Opposition, and the End of East German Socialism, in "East Central Europe," vol. 41, no. 1, 2014.
Contribution to Roundtable Discussion on Anne Applebaum, Iron Curtain: The Crushing of Eastern Europe, H-Diplo Roundtable, vol. 16, no. 8, 2014.
Invited Talks
"The Secret Police and the Origins of Communism in East-Central Europe," U.S. State Department, Foreign Service Institute, 2020
"The Soviets Abroad: Intelligence, State-Building, and the Security Forces in East Europe," The Political Police and the Soviet System: Insights from Newly Opened KGB Archives in the Former Soviet States, Georgetown University, 2020
Contact Details
Department of History
Trinity College
Dublin 2.
Telephone: +353 1 896 1020
Fax: +353 1 896 3995
Email: PUCCIM@tcd.ie