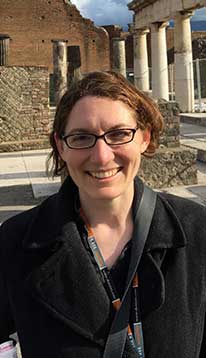 Dr Molly Pucci
Assistant Professor of Twentieth Century European History
During the 2023-2024 academic year I will be on leave at the Institute for Advanced Study in Princeton.
Molly Pucci is an Assistant Professor of Twentieth Century European History. Before coming to Trinity, she was a Max Weber Postdoctoral Fellow at the European University Institute in Florence and a Geballe Dissertation Prize Fellow at the Stanford Humanities Center. She holds a PhD in history from Stanford University and an MA in Russian, East European, and Central Asian Studies from Harvard University. Her first book, Security Empire: The Secret Police in Communist Eastern Europe was published by Yale University Press in 2020.  She is currently working on an international history of radical leftist activism and revolutionary ideas in law, legal theory, and political trials in the 1920s and 1930s.  
Publications
Security Empire: The Secret Police in Communist Eastern Europe (Yale University Press, 2020). 
"Translating the State: Czechoslovakia's Search for the Soviet Model of the Secret Police, 1945-1953", Kritika: Explorations in Russian and Eurasian Studies, 18, no. 2 (spring 2017) 
"A Revolution in a Revolution: The Secret Police and the Origins of Stalinism in Czechoslovakia, 1945-1952", East European Politics and Societies, 32, (1), 2018, pp. 3 - 22 
"The Anatomy of a Police State: Blanket Surveillance Networks in Communist Czechoslovakia and Poland, 1949-1951," Journal of Cold War Studies, vol. 23, no. 4, fall 2021.  
"The Soviets Abroad: the NKVD, Intelligence, and State-Building in East Central Europe after the Second World War," Kritika, vol. 23, no. 3, summer 2023.    - in German:  Die Sowjets im Ausland. Der NKWD und der Staatsaufbau in Ostmitteleuropa nach dem Zweiten Weltkrieg, Jahrbuch für Historische Kommunismusforschung 2023. Berlin: Metropol Verlag, pp. 25–44 
"Constructing a Confession: The Language and Psychology of Interrogations in Stalinist Czechoslovakia" chapter in Revising Stalin and Stalinism, eds. James Ryan and Susan Grant (Bloomsbury, 2020)  
"Policing the Police: Counterintelligence, the 'Instructor Group' and the Stalinization of the Czechoslovak Secret Police, 1948-1952," chapter forthcoming in Perceptions of the Top in East-Central Europe, ed. Muriel Blaive (New York: Bloomsbury, 2018). 
Review of Mark Kramer and Vit Smetana, ed., Imposing, Maintaining and Tearing Open the Iron Curtain, "The Journal of Cold War Studies," vol. 19, no 1, 2017. 
Review of Andreas Glaeser, Political Epistemics: The Secret Police, the Opposition, and the End of East German Socialism, in "East Central Europe," vol. 41, no. 1, 2014. 
Contribution to Roundtable Discussion on Anne Applebaum, Iron Curtain: The Crushing of Eastern Europe, H-Diplo Roundtable, vol. 16, no. 8, 2014. 
Contact Details
Department of History
Trinity College
Dublin 2.
Telephone: +353 1 896 1020
Fax: +353 1 896 3995
Email: PUCCIM@tcd.ie