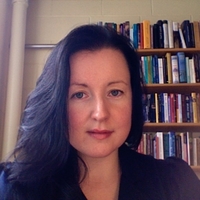 Dr Linda Kiernan Knowles
Adjunct Assistant Professor in History
I am a historian of early modern France; my PhD was on the image of the royal mistress at the court of Louis XIV. My post-doctoral research focused on expanding this study to the reign of Louis XV, as well as investigating other avenues of cultural and gender history in early modern France. I am also a Visiting Research Fellow in the Centre for European Studies.
Teaching
EU2001 The Making of Modernity, 1750-1820
HI4313 Romance before Romanticism: Life, Love and Death in Ancien Régime and Revolutionary France
HI4339 Gender and Sexuality in Early Modern Europe
MPhil: From Reformation To Revolution
Public History
Currently I am committed primarily to encouraging public engagement in history. To this end I regularly contribute to popular publications, tv and radio shows, and public events. Most recently I appeared on BBC Two's Inside Versailles, BBC Radio 4's When Greeks Flew Kites, and RTE's Audience Council event on Fake News. I was an invited speaker at the 2017 Dublin Festival of History and TCD's Probe EU Researchers event. My public engagement pieces have appeared in The Conversation, culturised.co.uk, The Wire (India), The Local.fr, The Independent (London), RTÉ Brainstorm and The Washington Post.
Recent articles:
'For Irish women, more than just abortion rights are on the ballot this week', The Washington Post May 2018
'A brief history of the female voice',  RTÉ Brainstorm Jan 2018
'The complexity of laughing at Trump', The Conversation Nov 2017
'Cinema and History: Is Christopher Nolan just a big old Romantic?' Culturised Aug 2017
''Frondeurs' and Fake News: how misinformation ruled in 17th-century France', in The Conversation, The Independent, RTÉ Brainstorm, The Local.fr , Aug 2017
'Trump's White House might look like a royal court, but he's no Louis XIV',  The Conversation June 2017
I can usually be found over at Twitter @lindapkiernan posting on French history, amongst other things, every day.
Select Publications
Book Review: Katherine Ibbett, Compassion's Edge. Fellow-feeling in Early Modern France(Penn., 2017) in French History (forthcoming)
Book Review: Offen, The Woman Question in Early Modern France, 1450-1800, in Women's History Review (forthcoming)
'Feminist Consciousness in Historical Perspective', in Naples et al (eds.), The Wiley Blackwell Encyclopedia of Gender and Sexuality Studies, (2016).
'Absolutely Beautiful? Madame de Pompadour and the Aesthetics of Power', in Christine Adams and Tracy Adams (eds.), Female Beauty Systems: Beauty as Social Capital in Western Europe and the United States, Middle Ages to the Present (Cambridge, 2015)
Book Review: Giora Sternberg, Status Interaction at the Court of Louis XIV, in Reviews in History (Jan., 2015)
'Cloister and Community: A Comparative view of the roles of Irish women in the convents of
early modern Flanders, France, Spain and Portugal', in Power Strategies: Spain and Ireland,
1600-1825, edited by Oscar Recio Morales (Valencia, 2012)
'Marie-Louise O'Murphy. Louis XV's Irish Mistress' in History Ireland, (Jan/Feb 2006).
'Matrimony and the Mistress: Attitudes to Marriage at the court of Louis XIV, in Victims or Viragos: Studies on Women in Medieval and Early Modern Europe 4, edited by Christine Meek and Catherine Lawless. Four Courts Press, (Dublin, 2005).
'Early Modern Sexuality', 'Sexual Politics', 'Seduction', 'The Pill', 'Mistress' and other articles in Sexuality: The Essential Glossary edited by Jo Eadie, Arnold and Oxford University Press, (London, 2004).
Contact Details
Room 3147
Department of History
Trinity College
Dublin 2.
Telephone: +353 1 896 1020
Fax: +353 1 896 3995
Email: kiernanl@tcd.ie