The Times Higher Education University Impact Rankings 2020 places Trinity College in Top 5 position in the "Sustainable Cities & Communities" category and a Top 30 spot in "Affordable and Clean Energy"!
Energy Science MSc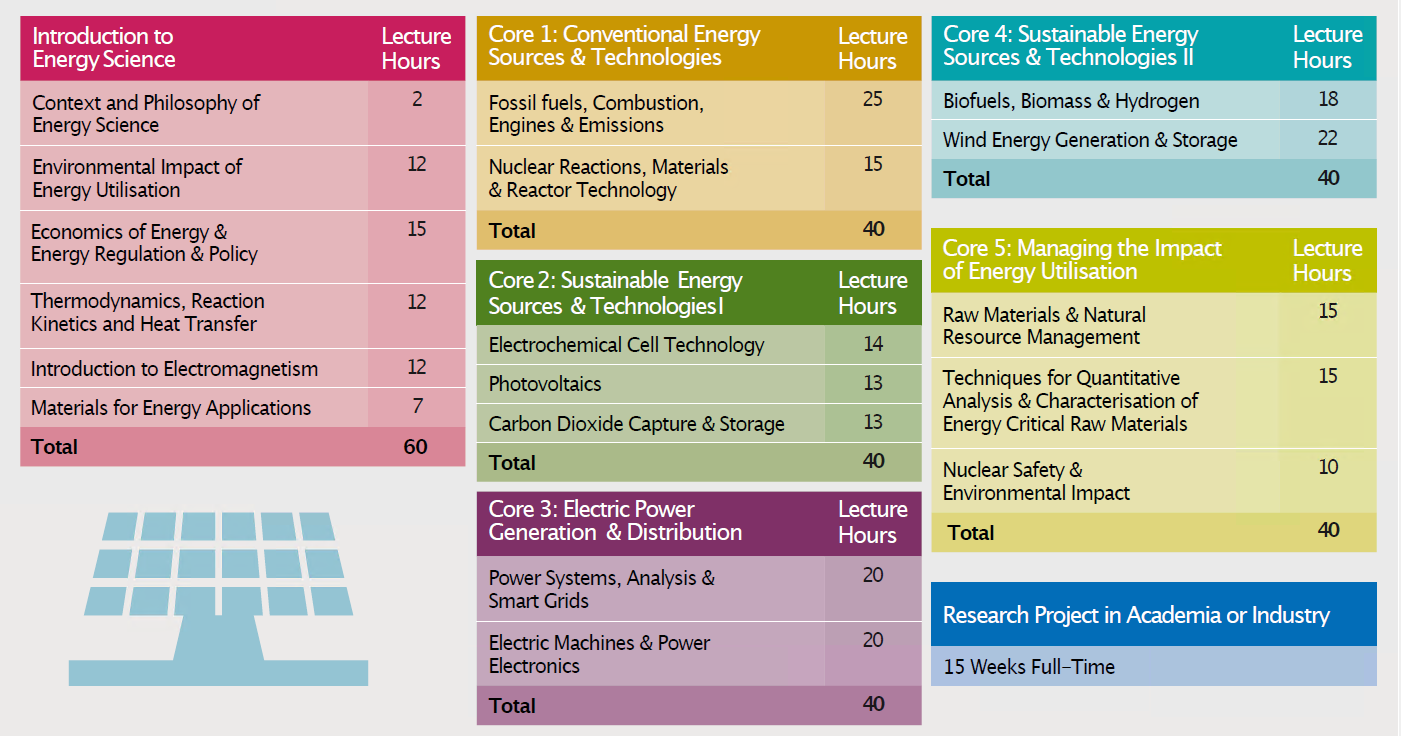 The MSc in Science of Energy consists of six taught modules worth 10 ECTS each. These are structured around a cross-cutting introductory module. The introductory module is designed to furnish students with all of the basic physics, chemistry and engineering concepts that are required to become an "Energy Scientist". These basics are complemented by essential "Economics of Energy" and "Principles of Energy Policy". 
Now with the ability to understand and analyse the competing aspects  of all of the essential science, engineering and economics pertinent to the energy discipline, the students proceed to Five specialised technically orientated core modules; "Conventional Energy Sources & Technologies", "Power systems, power electronics and electrical systems",  "Sustainable Energy Sources & Technologies I & II", and "Managing the impact of Energy Utilisation". 
With these modules completed and examined in the months September to April, students proceed to a 15 week research project worth 30 ECTS in a leading research laboratory or in industry in the months of May-August. 
Please also visit our Scholarships page to find out how you can apply for a €5,000 scholarship! 
2021/22 Deadlines
Applications open: 1st November 2021
Application Deadline: 31st July 2022
Next Commencement: September 2022
Duration: 12 months (full-time)
24 months (part-time)*
*Please note due to visa regulations, non E.U. applicants can only be accepted for the full-time programme (12 months)