Student Volunteer Experiences
Trinity students who have spent time volunteering abroad share their fascinating experiences. Find inspiration to take your own enriching journey.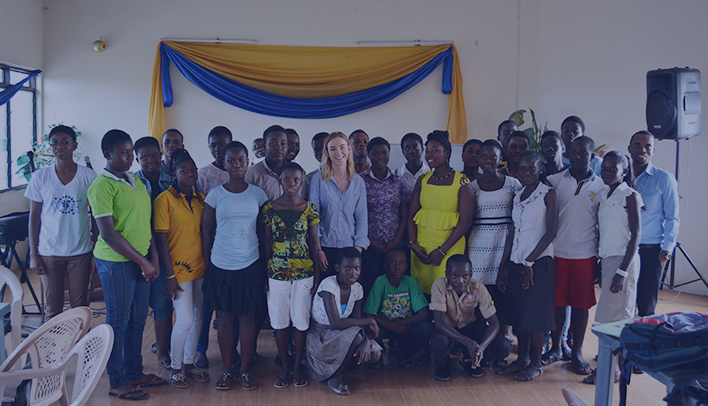 Anna Moran
Junior Sophister History in Accra, Ghana - Summer 2015
Arriving in Accra during a power outage and 28 degrees at 1am in the morning was a shock to the system to say the least. I worked in the Projects Abroad Human Rights office (PAHO) with local staff as well as other volunteers from South Africa, US, UK, Faroe Islands, Italy and Nigeria.

[image type=cover image='/assets/images/resources/ghana9.png' title='Child at church in Volta.' ]

I worked with an English girl to engage with a church-run summer school, particularly a group of 15-18 year olds. We prepared classes on sexual health, domestic violence, gender equality and police corruption. Their eagerness to learn about sexual health surprised us both. It made us realise that traditional values and cultural norms were very much in prime place. With shop names such as 'Jesus Christ Best Rice' and 'Christ is King Tyres' it was clear that religion was an integral part of every-day life.

[image type=cover image='/assets/images/resources/ghana6.png' title='School children in Maamobi' ]

In Maamobi, a poorer Muslim district, we interacted with several people about child marriage. We visited Nungua Township to find out about police brutality. And in Teshie, we engaged with the community about teen pregnancy and pregnancy out of wedlock, which is a growing concern. We often had translators with us to speak in Twi or Fante with the locals. Our aim was to collect the information, return to the community to present our findings and discuss how they felt we could help. Whether that was to provide information leaflets or classes which explain the rights of citizens.

[image type=cover image='/assets/images//resources/ghana10.png' title='Mother and Daughter in Maamobi' ]

Every week a guest speaker would come into the office to speak about a human rights issue in a particular area in Ghana. Uncle George, winner of the Martin Luther King Award for Peace and Social Justice in 2011, spoke to us about child trafficking in the Volta region to the east of the country. It was a great experience to learn from someone who has really made a difference.

In order to pay for the voluntary project I worked two jobs during my second year in college. I also held fundraisers and received generous help from family members and friends.
James Lardner
Kolkata, India - 2016
I am absolutely loving my time here. This amazing place has shocked me like nothing I have ever seen before. It has opened my eyes to another culture, another world. On our first day Katherine and I entered our new classroom to be hit by a wall of heat. My classroom is an oven. But it has a fan! So I call it a fan oven.

The children racing about, aged between 4 and 5. Each and every one has such amazing potential. They are here to learn - it is our job now to provide them with a basic primary education for the time that we are here.

In the afternoons Katherine and I have a slightly older group of children, all girls aged between ten and fourteen. They are smart girls. Their willingness to learn is like nothing I have ever witnessed before. They chomp at the bit to squeeze the information you are teaching them so that they can immediately soak it all up like the magic sponges they are. These girls could be absolutely anything given the opportunity.
Volunteer