Ms Eva Barba, B.A. (Dublin), M.Ed. (Dublin)Teaching Fellow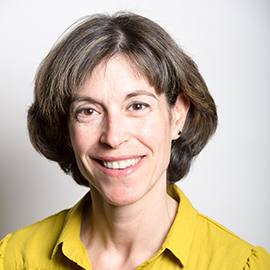 Eva Barba's academic background reflects her dual interest in the areas of language and international business. She holds an Honours Bachelor degree in International Business and Languages from Dublin City University. Following graduation, she worked primarily in the packaging and software industries, and was responsible for setting up and developing the export divisions within two organisations, going on to become Commercial Director for the market leading Accounting and CRM software provider in Ireland and the UK, with responsibility for a team of forty.
On the language side, she continued her studies, with a Dip. in ELE (the teaching of Spanish as a Foreign Language) from the University of Barcelona (UB) and taught language in UCD. She followed this with a Masters degree in third level Education (M.Ed.) at Trinity College Dublin, obtaining a first-class honours distinction in her thesis. She is currently continuing her doctoral studies in Trinity College Dublin.
Her research interests lie in the areas of second language acquisition teaching methodologies (language) and commercial strategy in education and social entrepreneurship (business). Eva is responsible for teaching the language modules, which include the BSL and BESS programmes, to Business students with Spanish as a second language. In addition, she supervises final year BSL students in their Strategic Management Case Study module, which is delivered in conjunction with the School of Business.