Carmen Sanjulián, B.A. (Zaragoza), M.A. (Zaragoza)Teaching Fellow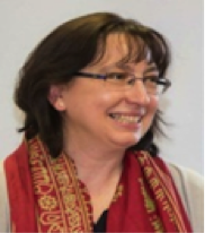 Carmen Sanjulián holds a degree in English Literature and Linguistics and a Master in Education from Zaragoza University and is a certified DELE examiner (Spanish Language Certificate) of A.1, A.2, B.1, B.2, C.1 and C.2 levels.
She approaches the discipline of language teaching from an interdisciplinary and intercultural perspective.
Her research focuses on the Intercultural component in language teaching and learning, its relationship with economics, politics and society, and the way they interact and influence each other.
Currently she teaches Spanish Grammar and Culture and Spanish oral classes to BESS, Dual Degree and BSL students at TCD.