Postgraduate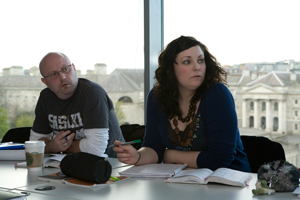 Taught Degrees: MSc in Economics & MSc in Economic Policy Studies
There are two taught postgraduate programmes in Economics at Trinity College. One is the Master in Science in Economics, Msc (Econ) which began in 2004-05. This course is designed to provide the skills required to undertake higher level research in Economics, or to work as Economists in government or private sector organisations. The MSc Course Co-ordinator is Prof Carol Newman.
The other programme is the MSc in Economic Policy Studies which is a two-year part-time course. It is designed to provide graduates with the skills to apply economic perspectives, approaches and related skills to the study of policy issues.
---
Research Degrees: M.Litt & Ph.D
The Department has an active postgraduate research programme offering students both the M.Litt. (a one/two year programme by research only) and Ph.D. degrees. It produces the largest number of research degrees of any Economics Department in Ireland.
The Department currently has 28 research students, of whom 27 are on the PhD register and 1 on the MLitt register. The Department provides generous financial support for research students through a programme of teaching assistantships as well as providing a number of research awards. For further details on the programme please go to the research degrees page.