Student Economic Review
Since its foundation in 1987, the Student Economic Review has proved a popular forum for undergraduate economic students to channel the knowledge and skills they have learned while at Trinity College Dublin and to produce their own essays, which (if successful) will be published in our annual journal at the end of Hilary Term.
News
12/12/14

The Committee of the 29th edition of the Student Economic Review are pleased to announce that submissions for the 2015 Review will be accepted from the beginning of next term. Closing date 16th February.
Many students begin work on their submissions over the holidays so we encourage you to start thinking about submitting. Essays should be within the range of 2000-3000 words. We encourage submission of course works which are of a first class standard, but also original ideas and papers on an economics topic of interest.
The Review is a unique chance for undergraduate students in Trinity to publish a piece of academic work relating to economics. Having an essay published in the Review is a great accomplishment, demonstrating one's ability both to understand, and to help others understand, our complex world. It places one among the brightest economics students here at Trinity, and among a proud history of successful students.
There is a minimum quota of at least five for Junior Sophister essays and two Senior Freshman essays to be published, with a prize for the best Freshman essay. As such, submissions are highly encouraged from those just starting on their economic journey.

More information about submitting can be found on this web site while exact submission details will be available in the new year. This website has seen a big update this year and a full archive of issues of the Review is now accessible should you wish to view papers published in past editions.
---
09/12/14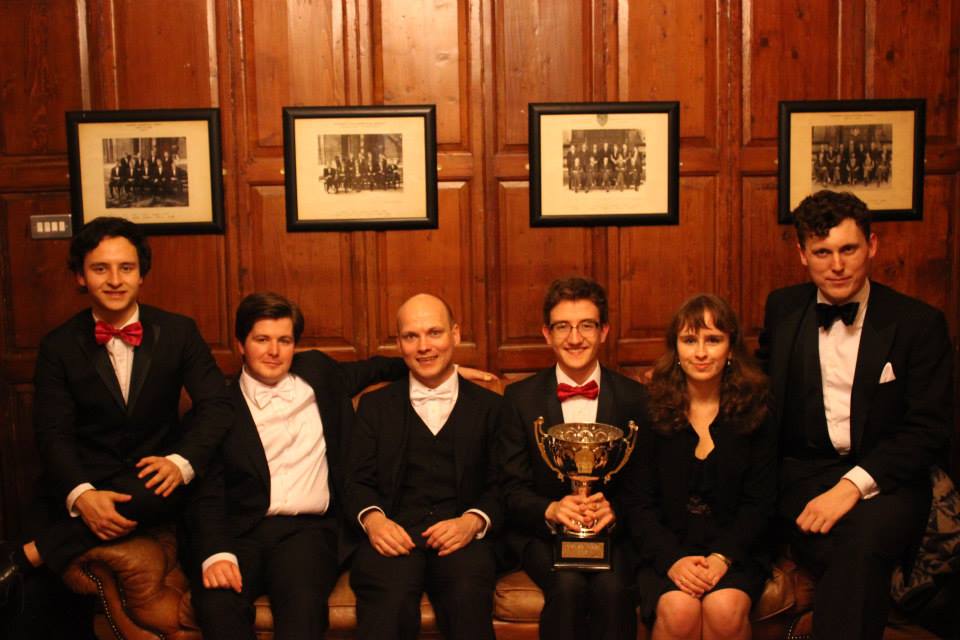 On Thursday November 20 the S.E.R. in conjunction with the Philosophical Society hosted one of our annual debates, this year against Oxford on the motion "This house would support a 100% inheritance tax".
The home team (Caoimhe Stafford, Liam Hunt, William Dunne) proposed the motion while the Oxford team (John Calvin Engle III, Richard Ngo, Rex Betar) opposed. On the night there was lively contribution from both teams, but in the end the home team won with the award for best speaker being awarded to John Calvin Engle III from Oxford.
The S.E.R. would like to extend its thanks to Professor Patrick Geoghegan for chairing the debate, and to our judges Professor Frances Ruane (director of the ESRI), Catherine Woods (AIB), Patrick Smyth (Irish Times), Professor David Kenny (School of Law) and Ruth Keating (Web Summit).
---

Forthcoming Events
The SER is proud to announce the following programme of events for Hilary Term.
Wednesday January 28th 16.00
Cormac O'Dea, a former economics student of Trinity, Scholar, Gold Medallist and SER Editor, and Senior Research Economist in the Institute for Fiscal Studies London, will give a talk on the relevance of economics research to public policy.
Thursday February 19th, 19.30 GMB
Trinity v Yale University economics debate, co-hosted with the Philosophical Society. The debate will be chaired by Gideon Rachman, Foreign Editor, Financial Times. The panel of judges will be chaired by Áine Lawlor, RTE.
Tuesday 24th March, GMB
Launch of SER 2015. This is the pinnacle of the SER year with a very distinguished past pupil as guest speaker and a large audience of staff, students and family of essayists in attendance. Invitation only.
In The Spotlight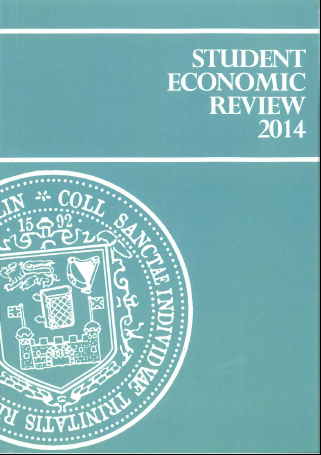 SER 2014
The 2014 edition of the SER is now available for download here