Student Economic Review
Since its foundation in 1987, the Student Economic Review has proved a popular forum for undergraduate economic students to channel the knowledge and skills they have learned while at Trinity College Dublin and to produce their own essays, which (if successful) will be published in our annual journal at the end of Hilary Term.
News
18/11/14
The above will take place on Thursday 20th November, GMB, 19.30 sharp. It is hosted jointly by the Student Economic Review and the Philosophical Society, with a reception to follow. More information is available here.
---
31/10/14
The SER hosted the first of their Foundation Scholarship Workshops on 30th October. A copy of the presentation is available here.
---
In The Spotlight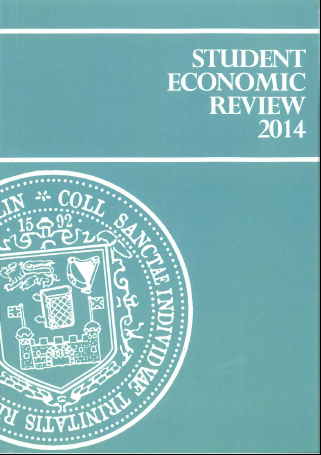 SER 2014
The 2014 edition of the SER is now available for download here
Sponsoring the SER
To continue to reach new standards of excellence with each passing year, the Review relies completely on the donations of generous sponsors.
Being a sponsor provides you with an opportunity to demonstrate your support for undergraduate business and economics students. Sponsoring the review would also benefit your company due to the exposure of its circulation among students and its status as an online journal to both the domestic and international economist. It is worth noting that the project is a non-profit venture.
Contributions of any size are greatly appreciated. If you would like to sponsor the Review or would like more information regarding sponsorship then please do not hesitate to contact us.
A list of our current sponsors is available here.