Student Economic Review
Since its foundation in 1987, the Student Economic Review has proved a popular forum for undergraduate economic students to channel the knowledge and skills they have learned while at Trinity College Dublin and to produce their own essays, which (if successful) will be published in our annual journal at the end of Hilary Term.
News
23/10/14
The SER will host a Foundation Scholarship workshop on Thursday 30th October from 19.00 – 21.00 in room 3074, Arts Building. The workshop will give a valuable insight into tactics and how to study properly for one of Trinity's most prestigious examinations. It will be open to a broad range of disciplines, including economics, business, philosophy, sociology and politics. Present will be students who sat the schols in former years (a mixture of those who passed and those who didn't) to speak of their experiences. The evening will end with a question and answer session.
For other Scholarship examination information please see http://www.tcd.ie/Economics/SER/events/schols.php
---
16/10/14
The 2014/2015 SER committee has been announced. The Editor will be Gearóid Gibbs, BESS and the General Manager will be Michael Mahony, TSM Economics and Mathematics. You can read Michael's welcome message here and Gearóid's welcome message here. Details of all other committee members are available here.
---

25/03/14
The Launch of the Student Economic Review 2014 took place on Tuesday the 25th of March in the GMB. Despite the adverse weather on the evening, the chamber was full on the night with contributors and their families, the committee and the staff and friends of the Economics department in attendance. Our privileged guests on the evening were the President of the Student Economic Review, Professor John O'Hagan, our guest speaker, Anke Heydenreich, and Provost of the college, Dr. Patrick Prendergast.
In The Spotlight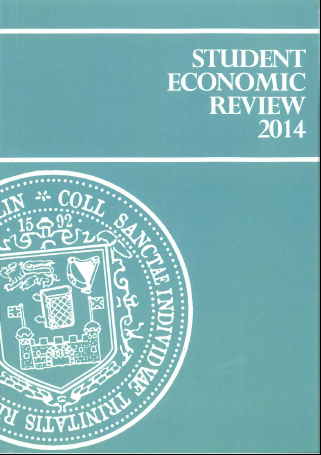 SER 2014
The 2014 edition of the SER is now available for download here
Sponsoring the SER
To continue to reach new standards of excellence with each passing year, the Review relies completely on the donations of generous sponsors.
Being a sponsor provides you with an opportunity to demonstrate your support for undergraduate business and economics students. Sponsoring the review would also benefit your company due to the exposure of its circulation among students and its status as an online journal to both the domestic and international economist. It is worth noting that the project is a non-profit venture.
Contributions of any size are greatly appreciated. If you would like to sponsor the Review or would like more information regarding sponsorship then please do not hesitate to contact us.
A list of our current sponsors is available here.