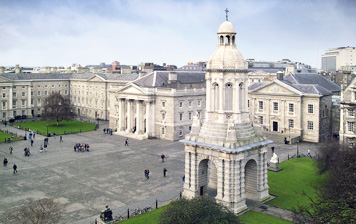 Department of Economics
Economics was first taught in Trinity College in 1832 when Mountifort Longfield was appointed to the newly established Chair of Political Economy, a chair endowed by the then Church of Ireland Archbishop of Dublin, Dr. Richard Whately. The Economics Department has a strong research record, with a particular emphasis on applied economics.
News
Henry Grattan Lecture hosted in Irish Embassy in London
As part of the School of Social Sciences and Philosophy's flagship lecture series, Peter Sutherland, UN Special Representative for International Migration, gave a talk on the challenges of EU migration to which Gideon Rachman, Chief Foreign Affairs columnist for the Financial Times responded.
PhD Students Win 2013-2014 Trinity Teaching Awards for Postgraduate Students
The School of Social Sciences and Philosophy would like to congratulate Laura Schwirz (Political Science) and Yaquoub BouAynaya (Sociology) who have been recognised by Trinity for their significant contribution to undergraduate student education. This is the second time that a Sociology student has won this award.
Dermot McAleese Teaching Awards Recognise Commitment to Teaching and Learning
Teaching assistants in the School have been recognised for their outstanding contribution in the pursuit of teaching excellence. Congratulations to the winners: Alan Walsh (Economics), Zuzanna Gnatek (Philosophy), Laura Schwirz (Political Science) and Anna Siuda (Sociology).
In The Spotlight

Grattan PhD Scholarships
Three of these prestigious scholarships are available for students entering in 2014/2015. These scholarships run for four years and cover fees and an annual stipend of €20,000. As part of the scholarship, Grattan scholars contribute to the department's teaching programme.