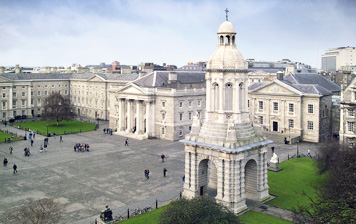 Department of Economics
Economics was first taught in Trinity College in 1832 when Mountifort Longfield was appointed to the newly established Chair of Political Economy, a chair endowed by the then Church of Ireland Archbishop of Dublin, Dr. Richard Whately. The Economics Department has a strong research record, with a particular emphasis on applied economics.
News
School of Social Sciences and Philosophy GradLink Career Mentoring
GradLink for third year economics, philosophy, political science and sociology students will be launched on Nov 11. It is an excellent way for students to start thinking about their futures and the School is extremely grateful to our alumni for supporting the programme.
Economics PhD Students Attend Prestigious Lindau Nobel Laureate Meeting
Two PhD Economics students were recently selected to attend the prestigious 5th Lindau Meeting on Economic Sciences along with young economists from more than 80 countries around the world.
TCD economist contributes to new book on rented sector
Ronan Lyons, Assistant Professor of Economics at Trinity College Dublin, is one of the contributors to a new book, 'Renting in Ireland', edited by Lorcan Sirr. The book, which includes perspectives on the social, voluntary and private rented sectors and is the first book of its kind for Ireland, includes a wide array of contributors. Ronan's chapter outlines trends in rents in Ireland since the 1940s and spatial trends over the last 15 years. The book is available to purchase from the IPA.
In The Spotlight

Grattan PhD Scholarships
Three of these prestigious scholarships are available for students entering in 2014/2015. These scholarships run for four years and cover fees and an annual stipend of €20,000. As part of the scholarship, Grattan scholars contribute to the department's teaching programme.