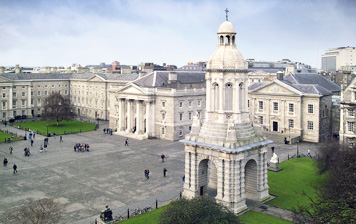 Department of Economics
Economics was first taught in Trinity College in 1832 when Mountifort Longfield was appointed to the newly established Chair of Political Economy, a chair endowed by the then Church of Ireland Archbishop of Dublin, Dr. Richard Whately. The Economics Department has a strong research record, with a particular emphasis on applied economics.
News
Students Excel in Irish Times Debating Competition
Congratulations to Rónán O'Connor (TSM Economics and Sociology) of Trinity's Philosophical Society who was part of the winning team at the Annual Irish Times debating competition and to William Dunne (PPES) of the Trinity Historical society who was a runner up in the competition. Now in its 55th year, the Irish Times debating championship was established to promote excellence in oratory and debating.
Professor Richard Layte Delivers Inaugural Lecture
Professor Richard Layte, Professor of Sociology, delivered his inaugural lecture entitled 'Can We Balance Social Equality with Economic Growth? Lessons from the Life Course Model of Human Development' on Wednesday 11 February. The lecture was followed by a panel discussion by Professor John O'Hagan (Economics) Professor Paul O'Grady (Philosophy) and Professor Anne Wren (Political Science). The event was chaired by Pro-Dean Professor Eoin O'Sullivan.
Trinity Researcher Appointed to Prestigious Environmental Economics Programme
Dr Claudia Aravena Novielli a postdoctoral researcher with the Department of Economics in the School of Social Sciences and Philosophy, has received a prestigious appointment to the Scientific Committee of the Latin American and Caribbean Environmental Economics Program (LACEEP).
In The Spotlight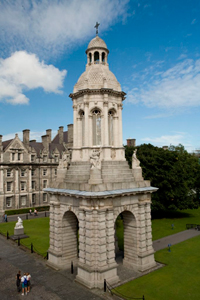 Now Accepting Postgraduate Applications
We are now accepting applications for the M.Sc. in Economics and PhD programme

The Grattan Scholars
PhD Scholarship Programme with the aim of advancing cutting-edge social science research and teaching.