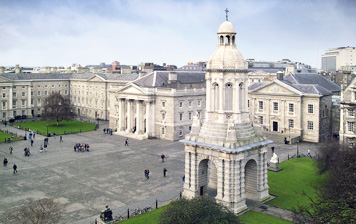 Department of Economics
Economics was first taught in Trinity College in 1832 when Mountifort Longfield was appointed to the newly established Chair of Political Economy, a chair endowed by the then Church of Ireland Archbishop of Dublin, Dr. Richard Whately. The Economics Department has a strong research record, with a particular emphasis on applied economics.
News
Prestigious Grattan Scholarships Awarded to Postgraduate Students
The School of Social Sciences and Philosophy awarded Grattan Scholarships to three postgraduate students at a reception hosted by the Provost recently. The scholarship programme supports exceptional PhD students who have the potential to become future academic leaders.
BESS Graduate Conferred with TCD Honorary Degree
David O'Sullivan, EU Ambassador to the US, has been conferred with an Honorary Degree by Trinity College. David, who graduated from Trinity in 1975 with a BA (Mod) in Economics and Sociology, has been an outstanding European public servant who has dedicated his career to the practical promotion of the European ideal.
School of Social Sciences and Philosophy GradLink Career Mentoring
GradLink for third year economics, philosophy, political science and sociology students will be launched on Nov 11. It is an excellent way for students to start thinking about their futures and the School is extremely grateful to our alumni for supporting the programme.
In The Spotlight

Grattan PhD Scholarships
Three of these prestigious scholarships are available for students entering in 2014/2015. These scholarships run for four years and cover fees and an annual stipend of €20,000. As part of the scholarship, Grattan scholars contribute to the department's teaching programme.