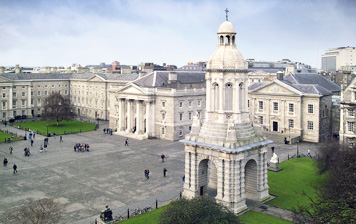 Department of Economics
Economics was first taught in Trinity College in 1832 when Mountifort Longfield was appointed to the newly established Chair of Political Economy, a chair endowed by the then Church of Ireland Archbishop of Dublin, Dr. Richard Whately. The Economics Department has a strong research record, with a particular emphasis on applied economics.
News
Trinity Economist to Undertake Significant Research Programme on Financial Inclusion in East Africa
Prof. Michael King of the Department of Economics will lead a 26-month research programme on financial inclusion and financial sector development in Kenya.
Mr Dominick Chilcott, the British Ambassador & Stephen Collins, Irish Times, speak to the SER
The Student Economic Review was delighted to welcome Dominick Chilcott, the British Ambassador to Ireland, and Stephen Collins, the Political Editor of the Irish Times to Trinity Long Room Hub on February 20. The topic for discussion on the evening was 'Britain, Ireland, and the EU'.
ESRI/TCD Report Projects a Doubling of Wind Energy Sector Jobs in Ireland
Prof John Fitzgerald (ESRI), Prof Eleanor Denny (TCD) and Dr Amy O'Mahoney (TCD) were the authors of, 'An Enterprising Wind: An Economic Analysis of the Job Creation Potential of the Wind Sector in Ireland' which was launched by Minister Pat Rabbitte this week.
In The Spotlight

Grattan PhD Scholarships
Three of these prestigious scholarships are available for students entering in 2014/2015. These scholarships run for four years and cover fees and an annual stipend of €20,000. As part of the scholarship, Grattan scholars contribute to the department's teaching programme.