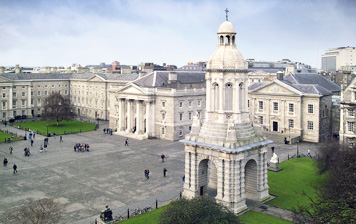 Department of Economics
Economics was first taught in Trinity College in 1832 when Mountifort Longfield was appointed to the newly established Chair of Political Economy, a chair endowed by the then Church of Ireland Archbishop of Dublin, Dr. Richard Whately. The Economics Department has a strong research record, with a particular emphasis on applied economics.
News
EU Ambassador to the US gives Henry Grattan Lecture
David O'Sullivan gave a talk on EU-US Relations at the Irish Embassy in London recently as part of the School of Social Sciences and Philosophy's flagship lecture series. Dr O'Sullivan graduated from Trinity in 1975 with a BA (Mod) in Economics and Sociology.
Dermot McAleese Teaching Awards Recognise Commitment to Teaching and Learning
Teaching assistants in the School have been recognised for their outstanding contribution in the pursuit of teaching excellence. Congratulations to the winners: Caroline Mehigan (Economics), Keith Begley (Philosophy), Miriam Sorace (Political Science) and Caitriona Delaney (Sociology).
Economics PhD Student Michael Curran Awarded Conniffe Prize
The Department of Economics would like to congratulate Michael Curran who recently won the Denis Conniffe prize for the best paper presented by a young economist at the Irish Economics Association Annual Meeting. Michael received the prize for his paper titled "Interest Rate Volatility and Macroeconomic Dynamics".
In The Spotlight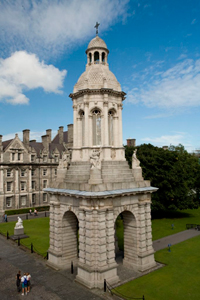 Now Accepting Postgraduate Applications
We are now accepting applications for the M.Sc. in Economics and PhD programme

The Grattan Scholars
PhD Scholarship Programme with the aim of advancing cutting-edge social science research and teaching.