Our Research: Snapshots of Child and Youth Research across Trinity College Dublin
Trinity researchers are engaged in world leading transformative projects in all aspects of children's lives. These are carried out in diverse settings ranging from the laboratory to the child's home. Individual scholarly work examining historical and contemporary aspects of children's lives sits alongside multidisciplinary studies designed to inform interventions to improve the health and welfare of children. Our work is marked by this collegiate approaches which blur traditional subject boundaries in our pursuit of answers to all embracing research questions.
On this page you will gain a glimpse into some of the research projects for and with children and young people underway across Trinity College Dublin. We also invite you to Our Researchers' pages as well as our Doctoral Research page to explore further the range of research interests and projects being pursued across the university.
For insights into what our researchers were doing for children, young people and their families during COVID-19, please see our dedicated COVID-19 page.
Snapshot Categories
Snapshot: Research Projects
Framework for the Care and Support of Adolescent and Young Adults (AYA)
Minister for Health, Stephen Donnelly TD, launched the National Cancer Control Programme (NCCP) Framework for the Care and Support of Adolescent and Young Adults (AYA) with Cancer in Ireland on 19th May 2022.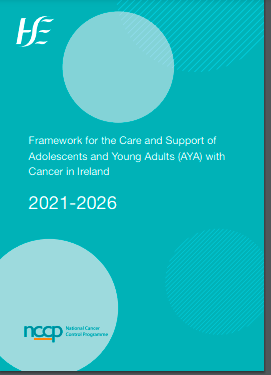 In 2019 the NCCP established a CAYA Clinical Leads group chaired by Professor Owen Smith and which included Professor Imelda Coyne, healthcare professionals, patient and advocacy groups, and survivors of childhood cancer. This group met over 2 years and young people, and families' experience and advice were invaluable in shaping this Framework.  
The Framework will see a state of the art AYA cancer care network delivered locally where possible, but centralised when necessary, by providing separate facilities and specialist care teams in the new Children's Hospital and three of the eight adult designated cancer centres around the country.  The three new National AYA Cancer Units will be based at St James's Hospital, University Hospital Galway and Cork University Hospital.
For more information on the Framework, see the HSE press release here.
An evaluation of the Barnardo's Ballybeg Playground Service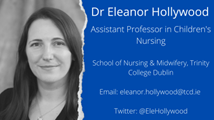 Dr. Hollywood, Dr Sonam Banka Cullen, Ms. Maryanne Murphy and Professor Catherine Comiskey have secured funding to conduct an evaluation of the Barnardo's Ballybeg Playground service which serves the community of Ballybeg in Waterford. This evaluation will explore children's experiences of their involvement in the service, what the service means to children and how it has impacted on their lives.
Barnardo's was established by an Irish man, Dr Thomas Barnardo who was born in Dublin in 1845. The first Barnardo's home was set up in London in 1870 for homeless boys however, the tradition expanded and in 1962 Barnardo's established roots in Ireland. Since then, Barnardo's has grown and evolved and today it delivers services and works with families, communities, and partners to transform the lives of vulnerable children who are experiencing adverse childhood experiences. One such service provided by Barnardo's is the Ballybeg Playground service which has served the community of Ballybeg in Waterford since it opened in 1999. This supervised playground service caters for a variety of children aged between 4 and 12 years who may be experiencing adversity and trauma, may be a member of 7 the ethnic minority community, may have special educational needs, neurodiversity/sensory or processing needs. All children have the right to play as set out in Article 31 of the United Nations Convention on the Rights of the Child (UNCRC 1989). Furthermore, play is a very important activity for children since play helps children to make sense of the world around them, it provides children with a means of expressing their feelings and also helps children to make sense of the relationships in their lives
A case study of Meath Women's Refuge and Support Services (MWRSS) children's programme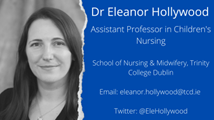 Dr. Eleanor Hollywood, Dr Sonam Banka Cullen and Professor Catherine Comiskey have secured funding to conduct a case study of the children's programme offered to children at MWRSS when they enter into refuge with their mothers. This case study will explore how children's voice and participation is facilitated within the children's programme at MWRSS and enquire about the challenges associated with the children's programme from the perspectives of women, children and organisational staff.
Domestic abuse is a pattern of coercive, threatening or controlling behaviour used by one person against another within a close or intimidate relationship. Domestic abuse can often include physical, emotional, psychological, sexual or financial abuse and it has significant consequences for large numbers of, mostly female victims, across the globe. In Ireland, research by the National Crime Council found that 1 in 7 women have experienced abuse behaviour of a physical, emotional, or sexual nature, at the hands of a partner at some-stage during their lives. Children can be direct or indirect victims of domestic abuse meaning that they can experience abuse themselves at the hands of the perpetrator or that they can be witnesses of the abuse. Living in a home where there is domestic abuse can have a profound negative impact on a child's development. Although a parent might try to shield a child from abuse within the home, research has shown that children have a much higher awareness of abuse than their parents realise.
Irish Childhood Diabetes National Register
Diabetes Registries allow the monitoring of the frequency of diabetes in populations worldwide. This epidemiological monitoring is important to increase our understanding of the condition and ultimately shed light on what causes type 1 diabetes (T1D). Despite much research internationally the cause of T1D remains elusive. Monitoring has shown that T1D is becoming more common in children and adolescents in most countries but with wide geographical fluctuations in incidence. At a population level monitoring the incidence of T1D (considered a basic health indicator by WHO) allows improved healthcare planning and appropriate resource allocation which ultimately results in enhanced patient care. Most countries have established registers of Type 1 diabetes for these reasons.
The Irish Childhood Diabetes National Register (ICDNR) was established in 2008 to monitor this important condition in the Irish population. Prior to this no robust national data were available regarding T1D epidemiology, apart from the baseline pilot studies from our group. Previous data had suggested that Ireland had one of the lowest rates of diabetes in childhood and adolescence in Europe when in fact our incidence of Type 1 diabetes is among the highest in Europe and remains in the top 25% worldwide. The ICDNR monitors the epidemiology of this important disease and provides robust data to support clinical care and audit. It provides anonymised data and prevalence forecasts to the HSE to support its service planning for diabetes care in children and young people.
The ICDNR was established by researchers from the University of Dublin, Trinity College Dublin, supported and hosted by Tallaght University Hospital and generously funded by the National Children's Hospital Foundation. The Irish Childhood Diabetes National Register is a HIQA recognised National Data Collection and EURODIAB* participant.
Trinity Researchers involved in the ICDNR: Professor Edna Roche, Ms Amanda McKenna, Professor Hilary Hoey, Professor Myra O'Regan, Ms Helen Fitzgerald and Ms Kerry Ryder (HSE)
For further information please contact diabetes.register@tcd.ie or go to the Diabetes Ireland website
Research Projects and Outputs from the School of Linguistic, Speech and Communication Sciences
VirtuLApp Project: Multilingualism and Education
The VirtuLApp project, which is investigating multilingualism and education, is a European Commission funded project and is delivered by an international consortium, comprising the Fryske Akademy/Mercator Research Centre (The Netherlands), ATiT (Belgium), Luca School of Arts (Belgium), Trinity College Dublin (Ireland) and Universidad del Pais Vasco (Spain). Together, we are developing an innovative multididactic approach which teachers can use in the classroom in any multilingual situation.
Project website: https://www.virtulapp.eu
Trinity researchers involved: Dr Kathleen McTiernan and Dr Lorna Carson
Talktime project
Duana Quigley completed an action research inquiry of inter-professional practice to support effective language enrichment in mainstream primary school classrooms (Quigley, 2018). One aspect of this inquiry, "Talk Time", is part of the support material for the National Primary Language Curriculum
View the Talk Time support material
Trinity researchers involved: Dr Duana Quigley
The I-ASC Project
The Identifying Appropriate Symbol Communication Aids for Children – Enhancing Clinical decision making (I-ASC) project was awarded funding by the NIHR's Health Services and Delivery Research Programme in January 2016. A ground-breaking and exciting project, led by Professor Janice Murray at Manchester Metropolitan University, I-ASC aimed to develop resources to enhance the quality of life for children who need electronic augmentative and alternative communication (AAC).
The I-ASC project used participative mixed methods to develop new decision making resources to support professionals in health, education and social care, as well as families and other key partners in the decision making process for those who need AAC. These decision making resources are now freely available at: https://iasc.mmu.ac.uk
Recent I-ASC papers:
Murray, J., Lynch, Y., Meredith, S., Moulam, L., Goldbart, J., Smith, M., Randall, N. & Judge, S. (2019). Professionals' decision-making in recommending communication aids in the UK: competing considerations, Augmentative and Alternative Communication, 35, p1-13 https://www.tandfonline.com/doi/full/10.1080/07434618.2019.1597384
Lynch, Y., Murray, J., Moulam, L., Meredith, S., Goldbart, J., Smith, M., Batorowicz, B., Randall, N., Judge, S. (2019) Decision-making in communication aid recommendations in the UK: Cultural and contextual influencers, Augmentative and Alternative Communication, p13 https://www.tandfonline.com/doi/full/10.1080/07434618.2019.1597384
Webb Edward J D, Lynch Yvonne, Meads David, Judge Simon, Randall Nicola, Goldbart Juliet, Meredith Stuart, Moulam Liz, Hess Stephane, Murray Janice, Finding the best fit: examining the decision-making of augmentative and alternative communication professionals in the UK using a discrete choice experiment, BMJ Open, 9, 11, https://bmjopen.bmj.com/content/9/11/e030274
Trinity researchers involved: Dr Yvonne Lynch and Dr Martine Smith
European Commission Horizon 2020 project at the School of Nursing and Midwifery: Exploring care interfaces for children with complex needs across Europe
Dr Maria Brenner, Associate Professor in Children's Nursing, leads an international team of researchers exploring the care of children with complex needs at the acute community interface across the EU/EEA. This is part of a three and a half year, €6.8m programme, Models of Child Health Appraised (MOCHA), funded by the EU Commission Horizon 2020 programme. TCD is the second largest partner in this programme of research and the research team comprises paediatricians, nurse academics, social care experts, qualitative methodologists and statisticians.
Collectively the team are investigating the acute/community care interface for children with complex physical health needs and children with enduring mental health care needs across the following areas: pathways of referral and discharge; current management of complex care needs; links with social care; nursing training and education; and family experiences. Comparative work arising from this is ongoing with colleagues in Boston Children's Hospital/Harvard University and Murdoch Children's Research Institute, Melbourne.
The team have delivered four substantial reports to the EU Commission to date, focusing on core principles of access to care, co-creation of care, and strengthening governance. Reports are available on the publications page of the MOCHA website. Ongoing dissemination includes invited lectures, peer-reviewed papers, workshops and conference presentations. The project concludes in November 2018.
Snapshot: Multidisciplinary Research
Challenges facing girls with disabilities in West Africa
Reasons why girls with disabilities were not registered in schools in Togo West Africa in the same numbers as disabled boys and barriers to education faced by girls with disabilities in Guinea have been the focus of studies by a team of researchers from Trinity.
The research was commissioned by PLAN International and led by Professor Carol Newman (Economics), with Professor Robbie Gilligan and Professor Trevor Spratt (Social Work and Social Policy), Dr Rachel Hoare (French) and Dr Mairead Finn (Psychology) comprising the research team.
We spent time in both countries, interviewing children and families, local community representatives, Government officials, leaders of NGOs and recruiting and training local researchers to undertake further fieldwork.
We found that girls in Africa face particular challenges emanating from an amalgam of gender discrimination, poverty and lack of specific services designed to meet the needs of girls with disabilities. While such challenges exist, there was also significant evidence of cultural adaptation in line with a growing concern for human rights and the maximisation of human potential irrespective of gender or ability.
The project demonstrates the need for research teams to represent a range of skills and disciplines in order to study and address complex research problems, wherein both casual factors and proposed solutions are multi factorial in nature.
Find out more about the project from research study leader, Professor Carol Newman
Snapshot: Recent Peer-Reviewed Publications
Congratulations to Professor Imelda Coyne appointed as Editor-in-Chief International Journal of Adolescent Medicine and Health (IJAHM) Walter de Gruyter GmbH, Berlin, Germany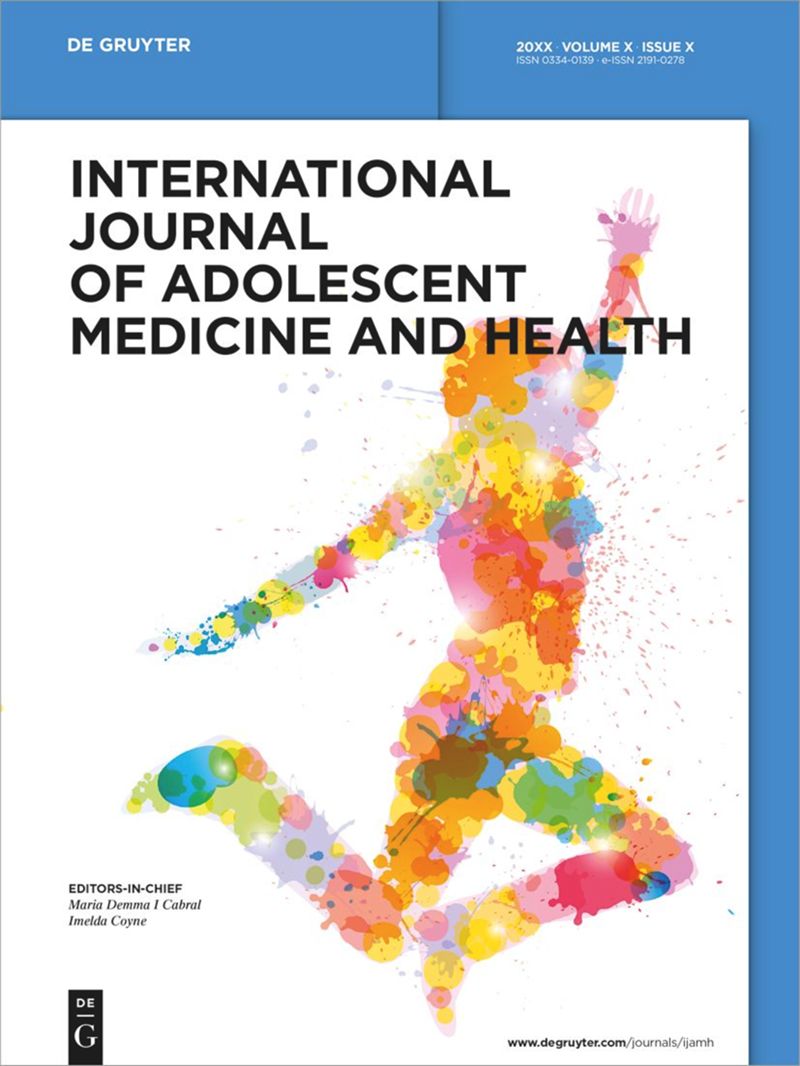 Imelda Coyne, Professor in Children's Nursing & Director of TRiCC, together with Maria Demma Cabral, Associate Professor in Adolescent Medicine & Division Chief of the Department of Pediatric and Adolescent Medicine, Western Michigan University Homer Stryker M.D. School of Medicine, have just taken over as Co-Editors-in-Chief of International Journal of Adolescent Medicine and Health (IJAMH).
The International Journal of Adolescent Medicine and Health (IJAMH) provides an international and interdisciplinary forum for the dissemination of new information in the field of adolescence. IJAMH is a peer-reviewed journal that covers all aspects of adolescence. Manuscripts will be reviewed from disciplines all over the world.
This change in leadership after 20 years is accompanied by broader changes in the journal's editorial team and a realignment of subject matter. For this reason, IJAMH will consider only Review Articles for the time being. Such articles, once accepted, will be published free of charge and immediately included in the next available issue.
Professor Trevor Spratt and Mary Kennedy, publish an article on Adverse Childhood Experiences: Developments in Trauma and Resilience Aware Services
Unpacking concepts such as 'trauma' and the 'toxic stress model', their challenges to short-term interventions as well as their opportunities for social workers
Research has demonstrated conclusively that the experience of adversities in childhood increases the risks for poor outcomes in the domains of physical and mental health and economic and social circumstances across the life course. This has produced a wave of interest in the effects of Adverse Childhood Experiences internationally, with developments in policy across the UK nations reflective of this. The translation of such research and policy development has witnessed the growing dominance of the 'toxic stress model' as underpinning the early signalling of troubles in children. Such signals are further conceptualised as the presence of 'trauma'. It is upon these conceptual pillars that therapeutically orientated services are being built. In this article, we describe these developments, offering as they do, challenges to short-term interventions as well as providing opportunities for social workers to appropriate the developing knowledge base so as to inform more effective ways of working.
Spratt, T. & Kennedy, M. (2020) Adverse Childhood Experiences: Developments in Trauma and Resilience Aware Services, The British Journal of Social Work, https://doi.org/10.1093/bjsw/bcaa080
Contact first author, Professor Trevor Spratt
Dr Derina Johnson, together with Professor Robbie Gilligan has article from her PhD research published in Journal of Youth Studies: 'Youth agency in everyday precarity: the experiences of young migrants and refugees growing up on the Thailand-Myanmar border'
While insecurity, vulnerability and uncertainty characterises their worlds, these young people cannot, and will not, be reduced to victims.
Literature on the experience of growing up without legal documentation has to date come predominately from research in western contexts. There remains a paucity of empirical or theoretical insight into non-western, or majority world, contexts. This study sought to investigate these under-represented realities, exploring how young migrants and refugees negotiate legal and social marginalisation growing up along the Thailand-Myanmar border. Utilising the concepts of agency and precarity, the article discusses the pervasive insecurity, vulnerability and uncertainty characterising the young people's worlds, as well as the ways they strive to manage their circumstances and confound any simplistic narratives of passive victimhood. It draws from the findings of Dr Derina Johnson's PhD research which was supervised by Professor Robbie Gilligan.
Derina Johnson & Robbie Gilligan (2020): Youth agency in everyday precarity: the experiences of young migrants and refugees growing up on the Thailand-Myanmar border, Journal of Youth Studies, DOI: 10.1080/13676261.2020.1713307
Contact first author, Dr Derina Johnson
Published Article: 'Risk Factors for Respiratory Syncytial Virus Bronchiolitis Admissions', Irish Medical Journal
Respiratory Syncytial Virus (RSV) bronchiolitis is one of the leading causes of respiratory tract infections in infants and young children. The factors associated with admission to hospital (ward or PICU) with RSV bronchiolitis have not been described in an Irish context before.
The aim of this paper is to determine the incidence and characteristics of RSV bronchiolitis admissions among children less than two years of age, during three winter seasons, and examine for risk factors associated with admission to the PICU. We found that the number of RSV bronchiolitis hospitalizations are increasing each year. In multivariate analysis, we found that being underweight (as per WHO's weight-for-age z-scores) was the only predictor that increased both the odds of admission to PICU and increased the length of stay in the PICU.
Meenaghan, S., Breatnach, C., Smith, H (2020) Risk Factors for Respiratory Syncytial Virus Bronchiolitis Admissions. Irish Medical Journal, Vol 113(1)
Contact author, Dr Cormac V Breatnach, Senior Clinical Lecturer at Trinity College Dublin and Consultant Paediatric Intensivist at CHI at Crumlin
TRiCC Director, Professor Trevor Spratt, joins forces with John Devaney and John Frederick in their new British Journal of Social Work article - Adverse Childhood Experiences: Beyond Signs of Safety; reimagining the organisation and practice of social work with children and families
While an ACE informed approach to child protection and welfare has become influential in the United States, it has had markedly less influence in the UK, this despite growth in adoption of ACE research as a basis for understanding population needs and aligning service delivery amongst policy makers and other professional groups.
In this paper we note the development of ACE research and draw out implications for social work with children and families. We argue that current organisational and practice preoccupations, drawing on the example of the Signs of Safety programme, together with antipathy to ACEs in some quarters of the social work academy, have the effect of reifying a short term and occluded view of the developing child's needs so as to obstruct the systemic analysis and changes necessary to ensure that the child welfare system is redesigned to meet such needs. This suggests that post Kempe era child welfare services are no longer conceptually or systemically adequate to protect children beyond immediate safety outcomes and consequently we need to reimagine their future.
Trevor Spratt, John Devaney, John Frederick; Adverse Childhood Experiences: Beyond Signs of Safety; Reimagining the Organisation and Practice of Social Work with Children and Families, The British Journal of Social Work, bcz023, https://doi.org/10.1093/bjsw/bcz023
Read the authors' draft of the article
For further information please contact Professor Spratt
Let's hear it from the children! The voice of young people, silenced by domestic violence, needs our attention…NOW!
Recent article published in the Children's Research Network Children's Research Digest, explores the development of the active intervention, 'up2talk', for teenagers affected by domestic violence.
A societal silence affects all stages of community based inquiry into awareness of domestic violence levels, and supports available for teenagers. This has been intensified by cutbacks in services for prevention education and support groups such as Cosc: The National Office for the Prevention of Domestic Sexual and Gender-based Violence (2016), and Guidance counselling in schools (Humphreys, 2014). The intervention programme 'up2talk' was conducted with five teenagers, exploring the effects of domestic violence on their social emotional learning (SEL). The purpose of 'up2talk', was to address some negative effects of the violence for teenagers, including isolation, shame and self-blame.
Norah Sweetman is a PhD graduate from the School of Education, Trinity College Dublin. Her initial training as a Montessori teacher shaped her literacy and social emotional learning (SEL) programmes for young people in alternative education, clubs, and schools. Her professional career working in marginalised communities with education and development projects, led her to research the effects of domestic violence on teenagers by means of an active SEL programme.
Population Pharmacokinetic Modelling of Acetaminophen and Metabolites in Children After Cardiac Surgery With Cardiopulmonary Bypass
Children undergoing cardiopulmonary bypass often receive acetaminophen as part of their postoperative pain treatment. However, the effect of altered hemodynamics and/or use of cardiopulmonary bypass on the pharmacokinetics (PK) of acetaminophen for this cohort of patients remains unknown.
The aim of this study was to investigate the PK of intravenous acetaminophen in children after cardiopulmonary bypass. Our study population included 17 and 13 children with and without Down Syndrome, respectively. All children received 3 intravenous acetaminophen doses of 7.5 mg/kg (‹10 kg) or 15 mg/kg (≥10 kg) at 8–hour intervals after cardiopulmonary bypass surgery. We preformed PK analysis on 161 concentrations of acetaminophen, acetaminophen sulfate, acetaminophen glucuronide, and oxidative metabolites using NONMEM 7.2.
Clearance of acetaminophen and metabolites increased linearly with body weight. Acetaminophen clearance, for a typical child with a body weight of 6.1kg, was 0.96 L/h and the volume of distribution was 7.96 L. None of the remaining covariates, including Down Syndrome, significantly impacted on any of the PK parameters for acetaminophen. When comparing the PK parameters of acetaminophen in children after cardiopulmonary bypass surgery to those reported in the literature of children who are the same age after noncardiac surgery the clearance of acetaminophen was lower and volume of distribution higher.
Mian, P. , Valkenburg, A. , Allegaert, K. , Koch, B. , Breatnach, C. , Knibbe, C. , Tibboel, D. and Krekels, E. (2019), Population Pharmacokinetic Modeling of Acetaminophen and Metabolites in Children After Cardiac Surgery With Cardiopulmonary Bypass. The Journal of Clinical Pharmacology. doi:10.1002/jcph.1373
For further information please contact Dr Cormac V Breatnach
Article by Pablo Gracia, Assistant Professor, Trinity College Dublin School of Sociology and Joan García-Román, University of Barcelona Centre for Demographic Studies, published in European Sociological Review
Do children increase their screen time and study less when parents work evenings? Spanish data suggest 'yes', but only among children with less-educated mothers.
Interaction effects with Spanish time-diary data illustrate well the heterogeneous impact of mothers' evening work on children's developmental activities. Interestingly, differences by fathers' work schedules in children's time use are trivial, while there are no meaningful educational differences in this regard. Yet, we find a a robust 'weekend reverse' (a partly compensatory pattern): On Saturdays and Sundays, children with evening-working mothers spend about 30 daily minutes more in educational & socialising time with parents, compared to children with mothers working standard hours.
Gracia, P. & García-Román, J. (2018) Child and Adolescent Developmental Activities and Time Use in Spain: The Gendered Role of Parents' Work Schedules and Education Levels. European Sociological Review, jcy029, https://doi.org/10.1093/esr/jcy029
Contact Assistant Professor Pablo Gracia for more information on his research
Article by Assistant Professor Olive Healy and colleagues, Trinity School of Psychology, published in Research in Autism Spectrum Disorders.
The study entitled "An Analysis of Reading Abilities in Children with Autism Spectrum Disorders" examined the reading performance of a nationally representative sample of 110 children and highlights the severe deficits present in this population with regard to core reading components.
Many participants performed within the lowest possible range on standardized tests (standard score ≤55), in particular with regard to comprehension (82%) and phonemic awareness (62%). Autism symptomatology severity was found to be predictive of language scores suggesting that individuals presenting with more severe symptoms of autism demonstrated the most reading deficits.
Nally, A., Healy, O., Holloway, J., & Lydon, H. (2018). An Analysis of Reading Abilities in Children with Autism Spectrum Disorders. Research in Autism Spectrum Disorders. Read the Article
Contact Assistant Professor Olive Healy for more information on her research
Snapshot: Recent Research Reports
Child Health Research Excellence Report Launched
Trinity's child health research excellence has been captured in a new report launched on Thursday 4th May 2023. The report which outlines the extensive and life-changing range of child health research taking place across multiple disciplines in Trinity College was launched as part of an exploration event to look towards Trinity's Vision for Child Health 2040.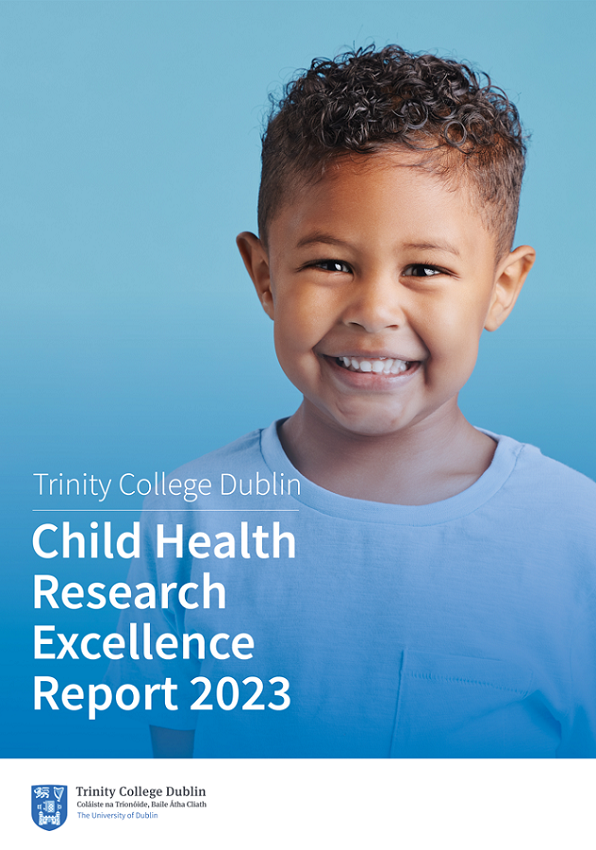 To view the (interactive) report online, click here.
Collaboration continues following for TRiCC visiting researcher.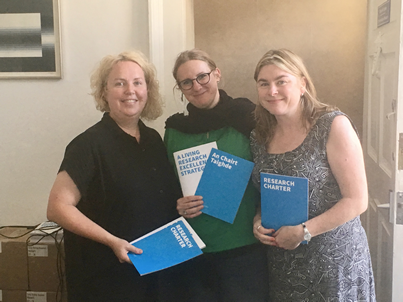 In summer 2019 Dr Heidi Siller came to Dublin and was based in TRICC thanks to a Eurolife Short-Term Research Exchange Program grant. During this time Heidi had many meetings, gave presentations and developed her working collaborations with Siobán O'Brien Green who had completed her PhD research in TRiCC.
Since then Heidi and Siobán have continued their professional collaboration through the following activities:
Organising a research symposium entitled Supporting women experiencing domestic violence during pregnancy: research, interventions and engaging key professionals at the 3rd European Conference on Domestic Violence in Oslo, September 2019.
Siobán gave a (virtual) presentation as part of the MUI guest lecture series in the Medical University of Innsbruck, Austria in November 2020 called Women's routes to safety and support: help-seeking by women in Ireland as a result of domestic violence during pregnancy.
Publishing an article in a special edition focusing on GBV and policy of the Tijdschrift voor Genderstudies (Journal of Gender Studies) from Amsterdam University Press in July 2021. Their article is titled: "Researching Violence Against Women during Pregnancy: A reflexive account to illuminate insights gained from researching violence against women, utilising an intersectional approach".
Organising and facilitating a workshop together titled Approaching intersectionality in research on violence at the 4th European Conference on Domestic Violence, Slovenia (online) in September 2021.
Professionally they have both had updates too, Heidi has moved to the University of Klagenfurt in Austria where she works at the Institute of Psychology. Siobán had her PhD conferred from Trinity and has returned to work there summer 2021 in the Equality, Diversity and Inclusion Office. They both look forward to many future projects, publications and collaborations together.
Launch of the HSE National Domestic, Sexual and Gender-Based Violence Training Resource
This manual was developed by the HSE National Social Inclusion Office in partnership with Sonas. It draws from and builds on the HSE Practice Guide on Domestic, Sexual and Gender Based Violence: For staff working with children and families (Health Service Executive, 2012).
In 2016, the HSE National Social Inclusion Office commissioned a national training programme to support front-line HSE staff to develop the skills to recognise and respond to victims of DSGBV in vulnerable or at-risk communities. The tender was awarded to Sonas, the largest provider of front-line services to women and children experiencing domestic abuse in the greater Dublin region. To date 34 participants have attended two Train the Trainer programmes delivered by Sonas with a further train the trainer programme due to be rolled out later this year. Siobán O'Brien Green, PhD Graduate of Trinity College Dublin, acted as expert consultant on the project.
Speaking after the launch, Social Inclusion Lead Diane Nurse said "I extend sincere thanks to Ruth Armstrong (HSE) and Cristina Hurson (Sonas) for their commitment to the development of this resource. We are very grateful to the practitioners who shared their expertise and material, in particular Siobán O'Brien Green. Specifically designed to be an easy-to-use resource and complement the training programme, we hope that this manual will support front-line staff in their work to improve responses to DSGBV within the HSE".
Why Measures Matter Report - Authored by Professor Trevor Spratt, Dr Lorraine Swords and Dr Dovile Vilda
Launched in November 2018 by Minister for Children and Youth Affairs, Katherine Zappone, Why Measures Matter describes and evaluates a system for monitoring the effectiveness of early childhood and family centre services provided by the Daughters of Charity Child and Family Service.
Authored by TRiCC Researchers Professor Trevor Spratt, Dr Lorraine Swords and Dr Dovile Vilda, the report demonstrates that children and parents in receipt of the Daughters of Charity Child and Family Service show benefits across a range of domains encompassing child socio-emotional and behavioural functioning, parent mental health, child-parent relationship quality, school readiness, and children's coping responses. Recommendations include incorporating the measure of Adverse Childhood Experiences so as to explore links between exposure to early life stress and later negative outcomes.
For further information please contact Professor Trevor Spratt
First 5 Launch at the Department of Children and Youth Affairs, 19th November 2018 - Professor Imelda Coyne, Professor of Children's Nursing & Co-Director of Trinity Research in Childhood Centre
It was an honour and privilege to have led the consultation with young children for the First 5 Strategy which will have a significant impact on children and families lives for the next decade and beyond.
Over the last decade there has been a huge increase in research with children about matters that affect their lives, with Ireland frequently leading the way compared to other countries. I would like to congratulate Minister Zappone and her team for their commitment to consulting with children directly and promoting the voice of children in all matters that affect their lives.
We all know that the first five years of a child's lives has a huge impact on their health and wellbeing right into adulthood. With more research, we are learning how many diseases and psychosocial problems in adulthood originate in childhood. We established the Trinity Research in Childhood Centre, to ensure that children's voices are central to all research concerning children, and that we have whole-of-university approach (ensuring efforts of many talented researchers are combined) as problems affecting children are whole-of-society. It is critical that we see children as beings rather than becomings. So their needs matter today not when they are the adults of tomorrow. So I welcome this strategy wholeheartedly.
Over many years I have learned that very young children can articulate what's important to them provided you create a comfortable safe environment and use a variety of child-centred research methods. Using a combination of puppets, drawings, talk and tell, we obtained the views of children aged 3- 5 years to inform the strategy.
We learned from the children that their home and family relationships were central in their lives. Being with and doing activities with parents, siblings, and grandparents were very important to them. Relationships were important so the new model of parenting support is to be welcomed.
Children wanted more time with their parents and in particular their fathers. They disliked when parents were cross or unable to spend time with them so the new parental leave scheme will make a big difference to children.
Play and access to playgrounds and nature was really important to them. They disliked inactivity, and lack of access to play activities and playgrounds. They wanted more places to play, more space, better playground facilities, and more time for play. They disliked adverse weather as it could prevent play. So the emphasis in the strategy on high quality play based early learning care will be appreciated.
They were very aware of their environment, appreciated nature and animals, and disliked the harmful aspects such as pylons, traffic and loud noises. They disliked getting homework so supporting transition to primary care is important and included in the strategy.
I would like to thank Minister Zappone, Dr Anne-Marie Brooks - the Principal Officer and Chair of the Early Years Policies and Programmes, Bernie McNally - Assistant Secretary of the National Childhood Network, the Children's Participation Unit, the early years specialists, the teachers and the children.
Download the Report on the National Consultation with Young Children
Download the First 5 Strategy 2019-2028
Watch the full launch here:
For further information please contact Professor Imelda Coyne
Snapshot: Trinity Research impacting Programmes for Children and Young People
Language Explorers
Francesca La Morgia from the Department of Clinical Speech and Language Studies developed a programme for primary schools designed to promote an interest in languages from an early age and to raise awareness of linguistic diversity in the classroom and in the community.
The programme, called Language Explorers, was first piloted in an inner city school, and it was very well received by children and their families. It increased the children's awareness of sounds from different languages, and it also allowed children who use a foreign language at home to practice it in school and through homework.
You can follow updates on the programme on Twitter @FraLaMorgia , #LanguageExplorers or on the website https://mothertongues.ie/
Stepping Up Support for Young People with Chronic Illnesses: Ireland's first website to help young people move from child to adult care services
Developed by Professor Imelda Coyne and a team of researchers in Trinity College Dublin's School of Nursing and Midwifery, in partnership with young people with long-term illnesses, such as cystic fibrosis, Type 1 diabetes and congenital heart disease, SteppingUP.ie offers video testimonials, downloadable stories and tips and information on managing the transition, becoming more independent, knowing about medications and the differences between child and adult services.
Findings from a major research project being conducted at the School of Nursing and Midwifery have shown that young people with long-term illnesses, need better support and preparation to make a successful and positive transition from accessing health supports in a children's hospital environment to an adult health system.
Professor Imelda Coyne, lead researcher for the SteppingUP.ie project and Professor in Children's Nursing at the School of Nursing and Midwifery, Trinity College Dublin said: "At the moment in Ireland, there is very little information available to young people and their families on the transition process. This website is the first of its kind and we hope that it will be useful for young people who are thinking about and planning to make the transition to adult services, as we know from our research that the move can be difficult for some. SteppingUP.ie is one way of helping equip young people with knowledge and skills so that the move to adult services is made a bit easier."
Contact Professor Imelda Coyne for more information on the SteppingUP.ie project
Snapshot: Other Research Activities
PhD Researcher, TRiCC member, and Children's Research Network Advisory Committee member Amy Stapleton speaks at key European Youth Education and Human Rights event
Amy Stapleton was invited to represent the Children's Research Network, TRiCC and the international youth organisation, Voices of Young Refugees in Europe (VYRE) at the European Conference Youth for Human Rights: The role and potential of youth work for Human Rights Education mainstreaming. The conference, which took place in Tallinn, Estonia on October 29th-30th, 2019, brought together more than 100 stakeholders from all over Europe, including Erasmus+ National Agencies, European institutions, local/regional/national authorities, universities, NGO's, human rights education experts, trainers, youth workers and other stakeholders eager to contribute and commit to the mainstreaming of human rights education.
With the aim of strengthening the commitment and initiate human rights education (HRE) mainstreaming in youth work at local, national and European level, Amy discussed her experiences of good practice examples and challenges related to the potential for cross-sectoral cooperation. She also provided input on recommendations and commitments at local, regional, national and European level. The results of the conference will be conveyed as policy recommendations to be taken on board in youth programmes and youth policies' development.
For further information on this event, or her work, please contact Amy
HRB Summer Student Scholarship winner, TCD Medical Student Alison Bell, undertakes critical paediatric research under the supervision of Dr Cormac V Breatnach
Dr Cormac V Breatnach (Senior Clinical Lecturer with Trinity College Dublin and Consultant Paediatric Intensivist for CHI at Crumlin) supervised Alison Bell (TCD medical student) for her HRB Summer Student Scholarship. Title of the project was "Predictive value of a lung biopsy, in the paediatric Down Syndrome population, for determining the utility for cardiac surgical repair"
Children with Down Syndrome are often born with heart problems that requires complex surgery. Before we can do surgery on a baby's heart, we need to know that their lungs are strong enough to cope with the operation. For some babies with Down Syndrome, we find that their lungs do not work as well as they could. In Children's Health Ireland, Crumlin, we take a piece of the lung (while the baby is given an anaesthetic) and look at it under a microscope to see if the lungs look healthy enough for a surgery. There isn't much guidance to tell us if looking at a piece of the lung tells us important information or not. We want to review the charts of all babies in our hospital, with Down Syndrome, who had a piece of their lung examined to see if the test is correct in telling us which babies with Down Syndrome should have complex heart surgery or not. This will help us in deciding what care is best for babies with Down Syndrome not just in our hospital but for everyone who cares for babies with Down Syndrome who need heart surgery.
For further information on this study, please contact Dr Cormac V Breatnach