The Power of a Legacy to Trinity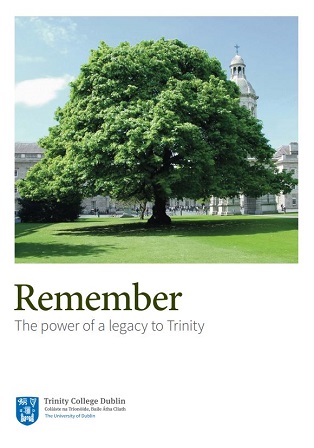 There's an old saying that the true meaning of life is to plant trees under whose shade one does not expect to sit.
When you leave a legacy to Trinity however big or small, you're planting a tree which will grow to provide shelter to many.
You're empowering ground-breaking research which will benefit people in Ireland and all over the world. You're supporting students from all backgrounds to access a Trinity education. You're helping preserve our unique campus and heritage for new generations.
When you remember Trinity in your will, you join a tradition of giving that stretches back over 400 years – and reaches far into the future.
For more information on the role of legacies in Trinity please take a look at our Legacy Giving brochure.
Taking the next step
We would be delighted to hear from you if you have already included Trinity in your will, if you are considering a gift, or if you would like more information about how your legacy can make a difference. For more information on this please see Making a Pledge.
Alternatively please contact Gareth Crowe, Associate Director, telephone +353 1 896 8994.