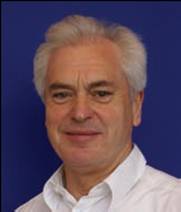 Professor Ian Robertson
Position: Emeritus Professor of Psychology, Co-Director Global Brain Health Institute
Contact details: Rm 0.46, GBHI, Institute of Neuroscience, Lloyd Building
Email: ian.robertson@tcd.ie
Telephone: 353-01-896-2684
Biography
1991-1999 Senior Scientist, MRC Cognition and Brain Sciences Unit, Cambridge
1995-         Staff Scientist, Rotman Research Institute, University of Toronto
1995-         Visiting Professor, Institute of Cognitive Neuroscience, University College, London
1997-1999 Fellow, Hughes Hall College, Cambridge
1999-2016 Professor of Psychology, Trinity College, Dublin
2000-2005 Founding Director, Trinity College Institute of Neuroscience
2016 -        Emeritus Professor of Psychology, Trinity College Dublin
2015-         Co-Director Global Brain Health Institute, Trinity College Dublin & UCSF, Dublin & San Francisco
2016-         T Boone Pickens Distinguished Scientist, Center for BrainHealth, UT Dallas      
ALUMNI in University Positions
Tom Manly (Cambridge University)
Jason Mattingley (Brisbane University)
Rhodri Cusack (Trinity College Dublin)
Mark Bellgrove (Monash University)
Redmond O'Connell (Trinity College Dublin)
Paul Dockree (Trinity College Dublin)
Mary Clarke (Royal College of Surgeons)
Lorraine Boran (Dublin City University)
Gary Donohoe (National University of Ireland, Galway)
Ciara Greene (University College Dublin)
Maria Pertl (Royal College of Surgeons)
Laura McAvinue (University of Limerick)
Josh Balsters (Royal Holloway, University of London)
Peter Murphy (University of Hamburg)
Siobhan Harty (Trinity College Dublin)
Meadhbh Brosnan (Monash University)
Katherine Johnson (University of Melbourne)
Research Interests
Cognition and aging: Robertson's 2013 noradrenergic theory of cognitive reserve proposed that the protective effects that variables such as IQ and education level have on dementia are mediated by a lifetime's enhanced noradrenergic – and hence neuroprotective – activation and this has subsequently been supported in research from Chicago (Wilson, R.S., et al . 2013. Neural reserve, neuronal density in the locus ceruleus, and cognitive decline. Neurology 80, 1202-8.) and San Diego (Clewett, D.V.,et al 2015. Neuromelanin marks the spot: identifying a locus coeruleus biomarker of cognitive reserve in healthy aging. Neurobiology of Aging available online ahead of print 29 October 2015) cohorts. His group also for the first time demonstrated a specific deficit in self-awareness associated with aging and subsequently showed a right dorsolateral-prefrontal cortex role in this crucial cognitive capacity whose laboratory measurement predicts real life reduced self-awareness.

Cognitive neuroscience. Robertson's 1997 paper on sustained attention has been cited almost 1000 times. His group was the first to show using cognitive genomic research that there is a strong noradrenergic underpinning to sustained attention and was also the first to show that noradrenergic activity in waking humans can be measured using pupillometry. His research on sustained attention grew out of his work on spatial neglect, and his was the first group to show an intimate causal linkage between sustained and spatial attention.

Interventions to improve cognition Robertson's 1999 paper was the first attempt at developing a theoretical model of neuropsychological rehabilitation and his work on using an understanding of brain circuitry to inform rehabilitation methods has led to a number of novel approaches to rehabilitation of cognitive function, including age-related deficits.
Multidomain cognitive assessment: Robertson's Test of Everyday Attention (Pearson) and Test of Everyday Attention for Children (Pearson) are the most widely used clinical tests of attention in the world, translated into dozens of languages and the only ones that a) focus on simulated real-life activities and b) are both well-normed and standardized and strongly theoretically-based, yielding separate measures of three supramodal components of attention. His group also published the first study of the test-retest reliability of EEG-based evoked potentials, showing that some of these commonly-used measures are not reliable while others are.
Cassidy SM, Robertson IH, O'Connell RG. Retest reliability of event-related potentials: evidence from a variety of paradigms. Psychophysiology. 2012 May;49(5):659-64. PubMed PMID: 22335452.
McAvinue LP, Vangkilde S, Johnson KA, Habekost T, Kyllingsbaek S, Robertson IH, Bundesen C. The relationship between sustained attention, attentional selectivity, and capacity. Journal of Cognitive Psychology. Journal of Cognitive Psychology. 2012; 24(3):313-328.
Crawford JR, Sommerville J, Robertson IH. Assessing the reliability and abnormality of subtest differences on the Test of Everyday Attention. Br J Clin Psychol. 1997 Nov;36 ( Pt 4):609-17. PubMed PMID: 9403151.
Robertson IH, Ward T, Ridgeway V, Nimmo-Smith I. The structure of normal human attention: The Test of Everyday Attention. J Int Neuropsychol Soc. 1996 Nov;2(6):525-34. PubMed PMID: 9375156.
Complete List of Published Work in My Bibliography:
https://www.ncbi.nlm.nih.gov/myncbi/1D3uwxcPrmWUxq/bibliography/55280588/public/
Recent Publications
Research Funding
Joint award to Trinity College Dublin and University of California at San Francisco
Robertson, Ian (PI) 01/01/15-01/01/30 Atlantic Philanthropies, Global Brain Health Institute: Co Directors Ian Robertson (TCD) and Bruce Miller (UCSF)
Role: CPI