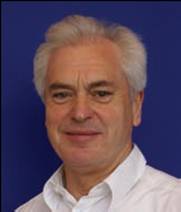 Professor Ian Robertson
Position:Professor of Psychology
Contact details: Rm 3.46, Institute of Neuroscience,Lloyd Building, Trinity College Dublin
Email: ian.robertson@tcd.ie
Telephone: 353-01-896-2684
Research Interests
We are dedicated to developing non-pharmacological methods for enhancing brain function, particularly in ageing, but also in conditions such as traumatic brain injury, autism, schizophrenia and attention deficit disorder.
We aim to develop methods whose mechanisms are understood sufficiently well that they can, where appropriate, be combined with pharmacological and other invasive intervention methods.
This programme requires multi-level analysis of complex behaviours, ranging from the molecular genetic, through cellular and systems, to neuropsychological and social.
We have a particular focus on the mind/brain mechanisms underlying attention, based on the evidence that attention has a privileged role in mediating experience-dependent plastic changes in the brain.
The methods we use include neuropsychological and cognitive testing, EEG/ERP, fMRI, MRI, pupillometry, simultaneous EEG/fMRI, Transcranial Direct Current Stimulation and Transcranial Alternating Current Stimulation.
We are committed to developing technology-based solutions to allow population-scalable deployment of theoretically-sound and empirically-validated intervention methods.
Recent Publications
Balsters, J., O'Connell, R. G., Martin, M., Galli, A., Cassidy, S. M., Kilcullen, S. M … Robertson IH (2011). Donepezil Impairs Memory in Healthy Older Subjects: Behavioural, EEG and simultaneous EEG/fMRI biomarkers. Plos One 6, 9, e24126. http://dx.plos.org/10.1371/journal.pone.0024126
O'Connell RG, Balsters, JH, Kilkullen SM, Campbell, W, Bokde AM, Lai RY, Upton N; Robertson IH (in press) A simultaneous ERP/fMRI investigation of the P300 aging effect. Neurobiology of Aging
Levine, B., Schweizer, T. A., O'Connor, C., Turner, G., Gillingham, S., Stuss, D. T., Manly, T., & Robertson, I. H. (2011). Rehabilitation of executive functioning in patients with frontal lobe brain damage with goal management training. Frontiers in Human Neuroscience, 5, 9. 1-9.
Finnigan S, Robertson IH (2011) Resting EEG theta power correlates with cognitive performance in healthy older adults. Psychophysiology, 48, 1083–1087
Finnigan S, O'Connell RG, Cummins TDR, Broughton M and Robertson IH (2011) ERP measures indicate both attention and working memory encoding decrements in aging. Psychophysiology 48, 601-611.
Research Funding
Science Foundation Ireland, Health Research Board, Intel/Industrial Development Authority, Glaxo SmithKline/Industrial Development Authority, Irish Research Council for the Humanities and Social Sciences, European Science Foundation, Irish Research Council for Science, Engineering and Technology.