Alumni & Friends
Trinity Historians are a diverse community of influential professionals who have shaped government, education, law, business, culture and the arts in both Ireland and the wider world.
Our graduates have been appointed to advance research and teaching in some of the most famous academic institutions in Ireland, Europe and North America. Others are pursuing careers in a range of leading companies in the world of banking, law, publishing, public relations and the media - or as professionals in the public service, where they serve as archaeologists, civil servants, diplomats, librarians and museum curators.
____________________
History Alumni Newsletter
Please click on the links below to view our most recent alumni newsletters:
History Alumni Newsletter 2015-16
History Alumni Newsletter 2014-15
History Alumni Newsletter 2013-14
History Alumni Newsletter 2012-13
---
GradLink Career Mentoring Programme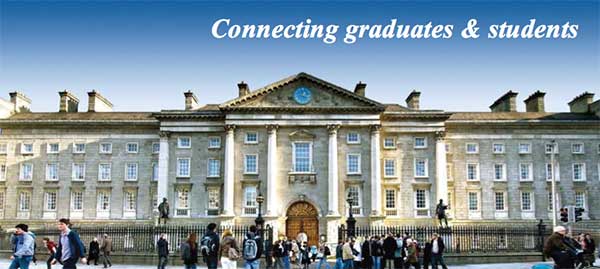 In 2012 the Department launched its first Careers Mentoring Programme - 'GradLink'. This programme offers Junior Sophister students an opportunity to be mentored by graduates of the Department, now working in a diverse range of careers. Students benefit enormously from the exchange of ideas with graduates and gain useful insights into how they can best manage their career development. The programme runs over the course of the academic year, with a launch event in October, a mid-way event in January and 2-3 further meetings. The programme runs over the course of the academic year, with a launch event in October and 2-3 further meetings. If you are interested in becoming a mentor, please contact shhmentoring@tcd.ie
For further information on the programme please see: http://www.tcd.ie/alumni/mentoring/ and also http://www.tcd.ie/history/careers/
Please click here to view a video of the Mid-way mentoring event:
____________________
Alumni News & Events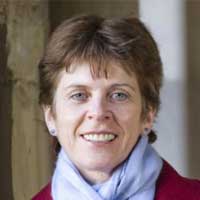 Trinity College Dublin History Graduate Appointed as First Female Vice-Chancellor at Oxford University
Professor Louise Richardson, a graduate of History at Trinity College Dublin, has been nominated as Oxford University's next vice-chancellor. Professor Richardson holds a BA in History from Trinity College, Dublin, an MA in Political Science from the University of California, Los Angeles (UCLA) and an MA and PhD in Government from Harvard University. Professor Richardson, a distinguished academic in the field of terrorism and security issues, worked at Harvard University in the United States before becoming the principal and vice-chancellor at St Andrews, a post she has held since 2009. Her publications include 'What Terrorists Want: Understanding the Enemy Containing the Threat.'
Professor Richardson will be the first female vice-chancellor to be appointed at the University of Oxford since its records began nearly 800 years ago. This will not be the first time that she has filled a historic role: at St Andrews she was the first female Principal in 600 years. The Department of History at Trinity College Dublin would like to congratulate Professor Richardson on her appointment and wish her every success in her new role. Further information
Previous Events
Thursday 27 November: Trinity College Dublin and the First World War
Dr Tomás Irish, Associate Director of the Centre for War Studies, TCD, delivered a lecture on Trinity College Dublin and the First World War at 5.15pm on Thursday 27 November in School of Nursing and Midwifery building at 24 D'Olier Street, Dublin 2. The lecture was delivered as part of the School of Nursing and Midwifery 2014-15 public lecture series entitled 'Tell Me About'. The lecture discussed TCD's experiences of the First World War (1914-18) when over 3,000 students, staff, and alumni of the College enlisted in the British Armed Forces and ended up serving in various theatres of war across Europe and the world. The lecture looked at their motivations for doing so and discussed some experiences of war, which notably included the defence of Trinity during the Easter Rising of 1916. From there it discussed the legacy of both the First World War and the Irish Revolution for Trinity College Dublin. Tom&aacutes Irish is a postdoctoral research fellow and Associate Director of the Centre for War Studies in Trinity College Dublin. He completed his PhD in 2012 and is currently writing a history of Trinity College Dublin in the period 1912-23 which will be published in 2015.
Tuesday 21st October 2014: James Lydon Lectures in Medieval History and Culture. Public Lecture on War, Enslavement and Chivalry in Irish and European History
Professor John Gillingham, London School of Economics, Emeritus will deliver this lecture on Tuesday 21 October 2014 at 7pm in the Thomas Davis Lecture Theatre (Room 2043). Professor John Gillingham (Emeritus Professor of History at the London School of Economics) is an historian of extraordinary range, best known as author of the standard textbook on The Angevin Empire (1984; 2nd edn 2001), and the biography of Richard I ('The Lionheart') in the distinguished Yale English Monarchs series. Professor Gillingham has written a series of seminal essays on the history and historiography of medieval Ireland, many of which appear in his collected essays: The English in the twelfth century: imperialism, national identity and political values (2000). Admission is free and all are welcome to attend.
Further information is available at www.tcd.ie/history/lydon-lectures/
Monday 8th September 2014: Scotland's Past and Futures: Exploring the Bigger Picture
On Monday 8 September 2014, the Centre for Irish-Scottish and Comparative Studies, with the support of the Royal Irish Academy and the Trinity Long Room Hub hosted a half-day conference looking addressing the looming referendum on Scottish independence and its implications not just for Scotland, but for Ireland and Europe.
The conference featured two panel discussions held in the Neill/Hoey Theatre, in the TCD Long Room Hub, beginning at 1.45pm. The first session looked at the histories of Scottish and Irish nationalism, and the second (at 3.30pm) at the referendum campaign and the implications of possible outcomes for Scotland, Northern Ireland, the Republic and the EU. Speakers included Professor Graeme Morton (University of Dundee); Dr Vincent Comerford (NUI Maynooth); Professor Ewen Cameron (University of Edinburgh); Professor Graham Walker (Queen's University Belfast); Professor Jennifer Todd (University College Dublin) and Professor Bob Morris (University of Edinburgh). At 6.30pm Michael Keating, MRSE (Professor of Scottish Politics, University of Aberdeen) will deliver a plenary lecture, in the Royal Irish Academy, Dawson St.
Friday 22nd August: Alumni Lunch The 2014 Trinity Alumni Reunion Weekend took place from 22-24 August 2014. As part of a packed programme of events, all alumni were invited to a Welcome Reception and Lunch on Friday 22nd August from 12pm to 1.45pm. A casual light lunch was be held in a special marquee located in Library Square (next to Front Square). The event was hosted by the Alumni Office to welcome all alumni returning to campus for the weekend.
For further information go to: http://www.tcd.ie/alumni/weekend/
Friday 11th and Saturday 12th April 2014: The Battle of Clontarf Conference
The Department of History hosted a special event on Clontarf 1014-2014: National Conference to mark the millennium of the Battle of Clontarf. The conference took place from 9.15am to 5.30pm over the two days in the Edmund Burke Lecture Theatre, Arts Building, Trinity College. Donnchadh Ó Corráin delivered the opening address. Other guest lectures included: Edel Bhreathnach, Clare Downham, Colmán Etchingham, Marie Therese Flanagan, Bart Jaski, Máire Ní Mhaonaigh, Linzi Simpson, and Alex Woolf.
A full programme is available at: https://www.tcd.ie/history/clontarf/
19th February 2014: Annual Lecture in U.S. History
Gerald Early delivered the third Annual Lecture in U.S. History in the Synge Theater in the Arts Block at Trinity College on 19 February at 7:00. Early is the Merle Kling Professor of English and African American Studies at Washington University in St. Louis. An internationally-known essayist and expert on African American culture, Early is the author of several books, including "A Level Playing Field: African American Athletes and the Republic of Sports" and "One Nation Under a Groove: Motown and American Culture." He has appeared in the television documentaries of Ken Burns on jazz and baseball.
The title of Professor Early's lecture was "Whose Neighborhood is It? An African American Festival and the Fight Against Gentrification?" Early drew from his current book project, co-authored with his daughter, a professional journalist. It examines the history of the Odunde festival in his home town of Philadelphia. Established in 1975 as part of the Afrocentric black consciousness movement of that era, this popular ongoing street festival had recently been the subject of controversy as the once African American neighbourhood in which it takes place has been gentrified by affluent white residents. Early's talk will shed light on the history of African American culture since the 1960s, on the recent reshaping of public space in American cities, and on the political and cultural conflicts over race that remain a prominent feature of American life in the Obama era.

Annual Alumni Event 2013
Friday 13th September: "All but the Kind of Ireland': The Great Earl of Kildare'
The Department of History invited all History alumni to a wine reception in advance of the lecture "All but the Kind of Ireland': The Great Earl of Kildare' delivered by Professor Steven Ellis (NUI Galway) as part of the Inaugural Medieval Ireland Symposium.
The reception took place Friday 13th September at 5:30pm in the Long Room Hub. The group will then move across to the Thomas Davis Lecture Theatre, Arts Building, Trinity College Dublin for the lecture at 7pm.
The inaugural Medieval Ireland Symposium marks the 500th anniversary of the death in September 1513 of Gerald Fitzgerald (Gearóid Mór), the 'Great Earl' of Kildare, by exploring the theme of The Geraldines and Medieval Ireland - The Making of a Myth. The symposium examines the 'myth of the Geraldines' both in terms of the literary and historical evidence from the Middle Ages and its reception from the sixteenth century onwards; and the myths and misconceptions that have encrusted around aspects of the family's history in the professional historical scholarship up to the present day. The Keynote Lecture of the conference is being delivered by Professor Steven Ellis, of NUI Galway, and expert on late medieval and early modern Ireland and Britain. Professor Ellis will examine the career and legacy of the Great Earl of Kildare.
Friday 23rd August: Alumni Coffee Morning
Alumni were invited to re-live your student days by visiting the Arts Building for a special alumni coffee morning on Friday, 23 August 2013. This was an opportunity to celebrate your lifelong connection to Trinity by taking a trip down memory lane with old friends and academics over a cuppa.
Annual Alumni Event 2012
Monday 3rd December: Tabloid Values: on the trail of the world's first news hound
The Department of History held a reception for alumni, followed by The Centre for Early Modern History Inaugural Annual Lecture, which was delivered by Professor Andrew Pettegree, University of St Andrews on: 'Tabloid Values: On the Trail of the World's First News Hound' on Monday 3 December 2012.
The people of Early Modern Europe had a voracious appetite for news, but in an era of slow and uncertain communication, assessing the reliability of rumour, reports and despatches was by no means easy. This lecture explores the contribution to the building of a commercial news market of the world's first news hound, Abraham Verhoeven, who helped shape our concept of how news should be reported and presented. Speaker Andrew Pettegree is Professor of Modern History at the University of St Andrews, and the Director of the AHRC's Universal Short Title Catalogue Project.
____________________
Share Your Experiences
Have you started a company? Climbed the corporate ladder? Done something wild and unexpected? We encourage alumni to come back to campus and speak to undergraduate and graduate students about their experiences. If you are interested, please contact histhum@tcd.ie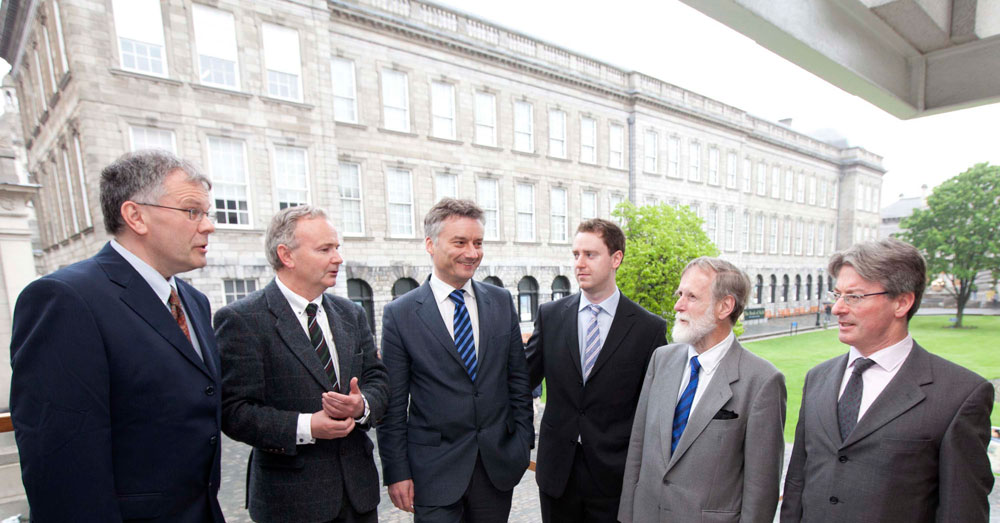 May 2012 Chancery Project Launch - Professor David Ditchburn (Head of Department and PI, Chancery Project); Professor Seán Duffy (Chancery Project, Advisory Board); Professor Patrick Prendergast (Provost); Dr Peter Crooks (Principal Editor, CIRCLE); Professor Robin Frame (University of Durham; Chancery Project, Advisory Board); Dr Brendan Smith (University of Bristol; Chancery Project, Advisory Board)
Be an Ambassador
We invite all alumni to stay connected. The Department of History has an ambitious agenda for the development of its activities for the next decade, aimed at positioning Trinity among the world's top History departments.. Graduates are encouraged to serve as History's ambassadors. For further information, feel free to contact us.
Stay in touch
Feel connected by regularly checking https://www.tcd.ie/alumni/ for the latest alumni news. Update your details, search for and contact fellow alumni, register for events, join the career network and other groups, all in one place!
Find Out More