'GradLink' Career Mentoring Programme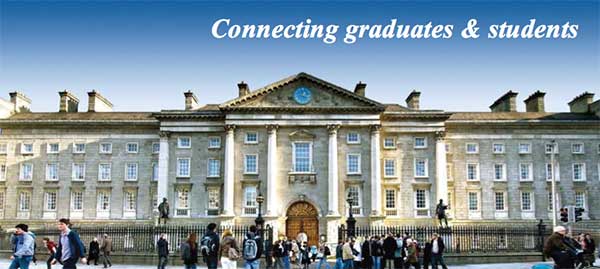 The Department runs a very successful Career Mentoring Programme each year for its third year students. The GradLink Mentoring Programme is an interactive learning and educational experience, provided to Junior Sophister students to assist them in their personal and career development. The programme is run in collaboration with the other Departments based within the School of Histories and Humanities, comprising the Departments of History, Classics and History of Art and Architecture.
Wednesday 26th October: Launch of GradLink Mentoring Programme
Junior Sophister students of the Departments of History, Classics and History of Art are invited to attend the launch of the School of Histories and Humanities GradLink Mentoring Programme on Wendnesday 26th October at 7.00pm in the Trinity Long Room Hub. Please register online at: https://shhgradlinklaunchstudentsignup.eventbrite.ie/
Graduates of each Department within the School are invited to participate in the mentoring programme. Approximately 20 mentors from the Departments of History, Classics and History of Art participate each year in the programme.
Mentors for 2016
Delia Donohoe (teacher, Stratford College)
Hilary Dungan (former Chaplain, TCD)
Dermot Hoiran (Acting Managing Director of Television, RTE)
Tina Leonard (Head of Advocacy and Public Affairs, The Alzheimer Society of Ireland)
John Lush (Head of Omnichannel, Eir)
Frank Lynam (Head of Development, Noho Ltd)
Geoff McEvoy (SIPTU)
Leo McNamee (Documentation Assistant, National Museum of Ireland)
Kevin Murphy (Developer)
Meadh Murphy (Archivist, Royal College of Surgeons in Ireland)
Lewis Purser (Director of Academic Affairs, Irish Universities Asssociation)
View the student/mentee guidelines
Further information on the GradLink Mentoring Programme
The Department of History is delighted to have welcomed the following alumni as mentors, as part of its GradLink programme:
Ciara Kerrigan, National Library of Ireland
Heidi Lougheed, IBEC
Fleachta Phelan, Comhlamh
Lorna Jennings, Hume Brophy
Úna Faulkner, IMPACT
Eileen O'Brian, Blackhall Publishing
Linda Barry, Institute of International and European Affairs
Ruadhán Mac Cormaic, the Irish Times
Sarah Shiel, Tandem Design
Graham Roe, Oxfam
James O'Dowd, Transatlantic Public Affairs
Michael Casey, Goldman Sachs
Kevin Dillon, Houses of the Oireachtas
Mark Redmond, American Chamber of Commerce
Brian Nisbet, HEAnet
Tanya Moeller, MS Solicitors
Iain Donovan, Bank of Ireland
Jessica Cunningham, Fire Station Artists' Studios
Adrian Langan, Public Relations Consultant
Carol Hunt, Freelance Journalist and Broadcaster
Helen Faley, Google
Andrew Hewat, Grafton Merchanting RoI
Following the launch event in late October, students are assigned a graduate mentor, based on their area of interest. The programme runs over the course of the academic year, with mentors and mentees meeting 2-3 times over the duration of the programme.
Click below to view a short overview of the GradLink programme
A Mid-way Mentoring event is also held, which is an opportunity for mentors and mentees to meet again, network and gain some useful tips on success. Guest speaker at last year's event was Prof. Ian Robertson, an internationally recognised psychologist and motivational speaker, who spoke about "The Winner Effect—Success and How to Use it".
Click below to view a short video clip of the mid-way mentoring event
The Department values maintaining strong links with its graduates in order to draw on the wealth and indeed breadth of experience, which they can contribute to undergraduate learning. Students benefit enormously from the exchange of ideas with graduates and gain useful insights into optimising their time abroad and how they can best manage their career development. For their part, graduates feel that as well as "giving something back" to the School and keeping in touch with College, they also benefit on a more personal level. The mentoring programme is coordinated by the School's Global Officer, the Career Advisory Service and the Alumni Office.
Career Prospects
Following four years of intensive study within the Department, students not only obtain an internationally recognised degree from Trinity College Dublin, but also gain a range of transferable skills. These include: writing, debating, presenting, researching and critical thinking in addition to communication, computer, multi-tasking and team building skills - all of which are highly sought after by employers. During your time at Trinity College, these skills are honed both in your academic and extra-curricular activities to enable you to adapt to and succeed in the working world.
Graduates of our Department are well equipped to pursue a multiplicity of career pathways, for example in the museum and cultural sector, as media and communications specialists, in public administration and of course, teaching and research. The range of modules taught and skills acquired during your four years with us ensures that graduates of the Department go on to pursue highly successful careers in a wide range of areas.
The list below includes some of the professions which our graduates are currently working in:
Academia
Accountancy
Banking
Communications
Development
Finance
Industrial Relations
Information technology
Heritage
Journalism
Law
Lecturing
Librarianship
Marketing
Media
Public Policy
Public Relations
Publishing
Teaching
Career Advice
The Careers Advisory Service assists students in all aspects of career planning from career decision making (including the role of further study) through to building CVs and LinkedIn profiles, provides support with interview preparation, and advertises graduate vacancies as well as work experience and internship opportunities.
For further information email: careers@tcd.ie or visit the website at: http://www.tcd.ie/Careers/