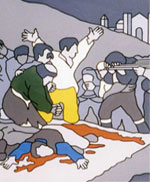 Welcome to TCD History
Welcome to the web-pages of the Department of History. The Department offers extramural, undergraduate and postgraduate programmes in History. Committed to the pursuit of excellence in both research and teaching, students of all backgrounds and levels are welcome into a challenging but friendly environment in which experienced and committed teachers and supervisors will enrich your experience of studying the past.
For further enquires, you can visit us on the third level of the Arts Building (nearest access: Nassau Street Gate). The Departmental Office is located in the conjoined Rooms 3118 & 3143. The Office is usually open from Mondays to Fridays, from 10.30am to 12.30pm and again from 2.30pm to 4.30pm.
You may also contact us by email or telephone. Enquires should be directed to hilliarp@tcd.ie or +353 1 896 1791. You can also reach us by fax at +353 1 896 3995. Alternatively, both academic and support staff may be contacted directly by post, fax, email, or in person: see the staff section for further details.
News & Events
Details of the Cluff Memorial Studentship are available on the Postgraduate Funding Page

Congratulations to Professor Ciaran Brady, who was recently admitted as a member of the Royal Irish Academy, keenly competed for as the highest academic honour in Ireland.
The application deadline for the 2014/15 M.Phil. courses in Medieval History, Early Modern History, Modern Irish History, Classics, Irish Art History and Gender and Women's Studies has been extended to 30th June 2014. Learn more and apply here.
Take a look at the latest edition of our Alumni Newsletter 2013 to keep up to date with the most recent events in the Department.
To view our previous Alumni Newsletter 2012 please click here.