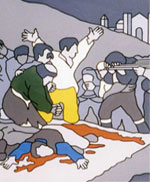 Welcome to TCD History
The Department offers evening & short courses, undergraduate and postgraduate programmes in History. Committed to the pursuit of excellence in both research and teaching, students of all backgrounds and levels are welcome into a challenging but friendly environment in which experienced and committed teachers and supervisors will enrich your experience of studying the past.
For further enquires, you can visit in rooms 3118/3143 on the third level of the Arts Building (nearest access: Nassau Street Gate), Mondays to Fridays, from 10.30am to 12.30pm and again from 2.30pm to 4.30pm, or contact the department directly.
News & Events
Dan Edelstein (Stanford)
'On the Spirit of the Rights'
The TCD Centre for Early Modern History Monday Seminar Series
Neill/Hoey Lecture Theatre
Trinity Long Room Hub
Thursday, 18 March, 5.30 pm
Professor Michael Clanchy (London)
Literacy across the Medieval Millennium, 500-1500: what was driving change? Might it have been the new Irish/Insular manuscript culture?
James Lydon Research Seminars in Medieval History
19th March
26 March 2015: 'Enmity, Loyalty, Empire and Nation: Languages in the Great War' International one day workshop.
Trinity Long Room Hub and IIIS Seminar Room (Arts Building), 2pm - 8pm. The Centre for War Studies in conjunction with Dr. Tamara Scheer of the Ludwig Boltzmann Institute, University of Vienna present a workshop which brings together scholars working on the role of languages in crisis and war. The discussion will range across contexts and case studies in diffferent theatres of operation, both nation-states and multi-ethnic empires, focusing on a variety of communicative practises from interpretation to denunciation. Further Details.
Take a look at the latest edition of our Alumni Newsletter 2014-2015 to keep up to date with the most recent events in the Department. To view our previous Alumni Newsletter 2013-2014 please click here.