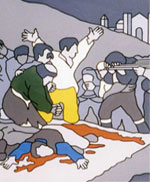 Welcome to TCD History
The Department offers evening & short courses, undergraduate and postgraduate programmes in History. Committed to the pursuit of excellence in both research and teaching, students of all backgrounds and levels are welcome into a challenging but friendly environment in which experienced and committed teachers and supervisors will enrich your experience of studying the past.
For further enquires, you can visit in rooms 3118/3143 on the third level of the Arts Building (nearest access: Nassau Street Gate), Mondays to Fridays, from 10.30am to 12.30pm and again from 2.30pm to 4.30pm, or contact the department directly.
News & Events
Stuart Gorman (TCD)
The Crossbow in the Later Middle Ages: An Archaeological Study
A James Lydon Research Seminar in Medieval History
5th February

The Irish Research Council has launched its 2015 Postgraduate Research Scholarship scheme. Both prospective and continuing PhD students can apply. If you want to apply for IRC-funding to do a PhD in TCD, please contact your intended supervisor as soon as possible. The IRC application deadline is 11 Feb 2015 but the internal TCD vetting deadline will be earlier. Prospective PhD students must also apply for admission to the relevant PhD programme through TCD's application portal, by 11 Feb 2015.
Take a look at the latest edition of our Alumni Newsletter 2014-2015 to keep up to date with the most recent events in the Department. To view our previous Alumni Newsletter 2013-2014 please click here.