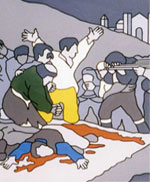 Welcome to TCD History
Welcome to the web-pages of the Department of History. The Department offers extramural, undergraduate and postgraduate programmes in History. Committed to the pursuit of excellence in both research and teaching, students of all backgrounds and levels are welcome into a challenging but friendly environment in which experienced and committed teachers and supervisors will enrich your experience of studying the past.
For further enquires, you can visit us on the third level of the Arts Building (nearest access: Nassau Street Gate). The Departmental Office is located in the conjoined Rooms 3118 & 3143. The Office is usually open from Mondays to Fridays, from 10.30am to 12.30pm and again from 2.30pm to 4.30pm.
You may also contact us by email or telephone. Enquires should be directed to hilliarp@tcd.ie or +353 1 896 1791. You can also reach us by fax at +353 1 896 3995. Alternatively, both academic and support staff may be contacted directly by post, fax, email, or in person: see the staff section for further details.
News & Events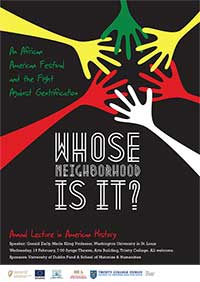 19th February 2014: Annual Lecture in U.S. History
Gerald Early will deliver the third Annual Lecture in U.S. History in the Synge Theater in the Arts Block at Trinity College on 19 February at 7:00. Early is the Merle Kling Professor of English and African American Studies at Washington University in St. Louis.
The title of Professor Early's lecture is "Whose Neighborhood is It? An African American Festival and the Fight Against Gentrification?"
17 Jan 2014
Forthcoming Conference, 21 March 2014
The Curragh Mutiny in Context
This major conference, to be held at the Curragh in Ceannt Officers Mess on Friday 21 March 2014 to mark the centenary of the 'Curragh Mutiny', will bring together leading Irish and British scholars and legal authorities on the crisis.
Participants will include Professor Tom Bartlett (University of Aberdeen), Professor Ian Beckett (University of Kent), Professor Ian Beckett (University of Kent), Dr Tim Bowman (University of Kent), Professor Ronan Fanning (University College Dublin), Professor Keith Jeffery (Queens University Belfast), Professor Eunan O'Halpin (Trinity College Dublin) and Mark Seaman (Cabinet Office), as well as distinguished Irish and British legal authorities including Paul O'Higgins SC and Sir Richard Aikins QC.
Further details will be posted in January 2014, and can also be obtained from tbrace@tcd.ie
Friday 11th and Saturday 12th April 2014: The Battle of Clontarf Conference
The Department of History is hosting a special event on Clontarf 1014-2014: National Conference to mark the millennium of the Battle of Clontarf. The conference will take place from 9.15am to 5.30pm over these two days in the Edmund Burke Lecture Theatre, Arts Building, Trinity College. Donnchadh Ó Corráin will deliver the opening address. Other guest lectures include: Edel Bhreathnach, Clare Downham, Colmán Etchingham, Marie Therese Flanagan, Bart Jaski, Máire Ní Mhaonaigh, Linzi Simpson, and Alex Woolf.
A full programme is available at: https://www.tcd.ie/history/clontarf/
New Scholarship Examination General Paper (PDF, 34kb) (local access only)
30 Oct 2013
Take a look at the latest edition of our Alumni Newsletter 2013 to keep up to date with the most recent events in the Department.
To view our previous Alumni Newsletter 2012 please click here.