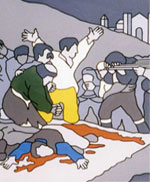 Welcome to TCD History
The Department offers evening & short courses, undergraduate and postgraduate programmes in History. Committed to the pursuit of excellence in both research and teaching, students of all backgrounds and levels are welcome into a challenging but friendly environment in which experienced and committed teachers and supervisors will enrich your experience of studying the past.
For further enquires, you can visit in rooms 3118/3143 on the third level of the Arts Building (nearest access: Nassau Street Gate), Mondays to Fridays, from 10.30am to 12.30pm and again from 2.30pm to 4.30pm, or contact the department directly.
News & Events

New Online History Resource '1641 Depositions Bridge21 Website' for Second Level Students
Trinity Historians and Educational Innovators Collaborate to Bring Primary Historical Records into the Classroom
Professor John Henderson (Birkbeck)
Death in Florence: Plague, Public Health and the Poor in a Late Italian Renaissance State
James Lydon Research Seminars in Medieval History
30th April
Take a look at the latest edition of our Alumni Newsletter 2014-2015 to keep up to date with the most recent events in the Department. To view our previous Alumni Newsletter 2013-2014 please click here.