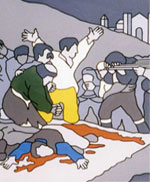 Welcome to TCD History
The Department offers evening & short courses, undergraduate and postgraduate programmes in History. Committed to the pursuit of excellence in both research and teaching, students of all backgrounds and levels are welcome into a challenging but friendly environment in which experienced and committed teachers and supervisors will enrich your experience of studying the past.
For further enquires, you can visit in rooms 3118/3143 on the third level of the Arts Building (nearest access: Nassau Street Gate), Mondays to Fridays, from 10.30am to 12.30pm and again from 2.30pm to 4.30pm, or contact the department directly.
News & Events
2nd TCD-Edinburgh Postgraduate & Early Career Colloquium in Medieval History
Duncan Sneddon: The wisdom of women: sex and suspicion in early medieval Ireland and Scotland; Dr Gianluca Raccagni: The first crusade against a Holy Roman Emperor and its impact: the testimony of Lombard chronicles; Dr Mike Carr: Piety or Profit? Crusade and Illicit Trade in the Late Medieval Mediterranean
James Lydon Research Seminars in Medieval History
19th February

Unconventional Warfare: Guerrillas and Counter-Insurgency from Iraq to Antiquity
Guerrilla warfare, like the guerrilla himself, comes in many guises. Whether defined as la petite guerre, kleiner krieg, the now archetypal guerrilla, the more modern insurgency or the even more recent asymmetric warfare, the phenomenon of fast-moving, irregular forces employing hit-and-run tactics against a more orthodox army has been a constant of armed conflict from antiquity. This one-day workshop in the Centre for War Studies brings together scholars from Ireland, the UK, Europe and the US to trace the lived experience and historical representation of guerrilla warfare from the twentieth century to antiquity.
---
Take a look at the latest edition of our Alumni Newsletter 2014-2015 to keep up to date with the most recent events in the Department. To view our previous Alumni Newsletter 2013-2014 please click here.