Research Events
---
Early Modern History Research Seminar
The seminar meets on Mondays at 4PM in the Neill/ Hoey Lecture Theatre in the Long Room Hub Building, Fellows Square. Full seminar details.
---
The Medical World of Early Modern Ireland, 1500-1750
The Long Room Hub, Trinity College Dublin, 3-4 September 2015
Supported by the TCD Long Room Hub, the University of Exeter and the Wellcome Trust.
Further details and online registration are available at the conference webpage
There is no charge to attend the conference sessions, but advance registration is required for catering purposes.
Any queries relating to the event should be addressed to Dr John Cunningham.
---
Annual Lecture Series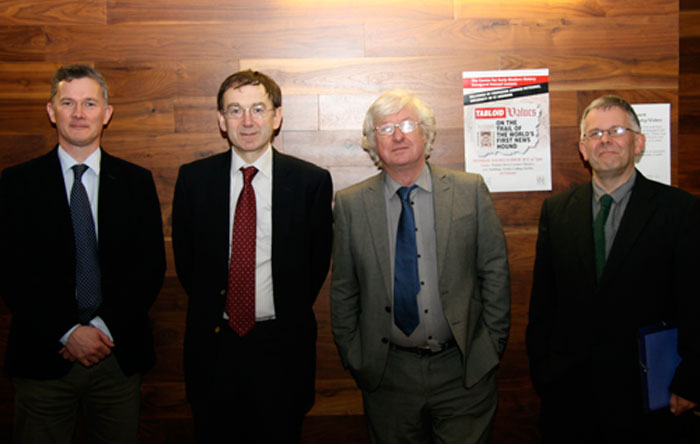 Dr. Graeme Murdock, Professor Andrew Pettegree, Professor Ciaran Brady, Dr. David Ditchburn
On 12 March 2015, Prof. Ulinka Rublack of the University of Cambridge delivered the annual lecture with a paper on 'Dressing up during the Renaissance and Reformation', an innovative exploration of material culture in early modern Europe. Prof. Jeroen Duindam of the University of Leiden delivered the second annual lecture for 2013/14. Prof. Duindam spoke to the title 'Dynasty: a global history' providing a new comparative analysis of the exercise of power in early modern societies. Prof. Andrew Pettegree of the University of St Andrews delivered the first annual lecture for 2012/13 to the title 'Tabloid values: on the trail of the world's first news hound'. Prof. Pettegree explored the contribution to the building of a commercial news market of Abraham Verhoeven, who helped shape our concept of how news should be reported and presented.
---
Conferences and Workshops
Religion and Memory: The 500th Anniversary of the Reformation
This workshop was held in April 2014 to explore the enduring significance of the Reformation within European politics and culture. 2017 will be the 500th anniversary of Martin Luther's challenge to established authority within the Church and we are mid-way through the Luther Decade, dedicated to exploring the significance of the Reformation. In that context, this workshop discussed evolving ideas about the ways in which the Reformation has been remembered and also discussed the varied legacies of the Reformation. Papers were delivered by Dr C. Scott Dixon (Queen's University Belfast), Prof. Herman J. Selderhuis (Director of Refo500), Prof. Alexander Schunka (Universität Erfurt), and Prof. Benjamin Kaplan (University College London). This workshop was supported by the Research Incentive Scheme of the Long Room Hub for 2013-14.