Alumni & Friends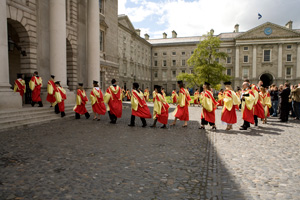 The Political Science Department aims to provide opportunities for alumni to remain involved long after they have graduated. Our goal is to ensure that our alumni can stay connected not only with the Department but also with their fellow graduates. See details of our ALUMNI WEEKEND that took place on 23–24 August 2013.
Political Science graduates have gone on to careers in business, journalism, public relations and other kinds of media work. Others have taken up policy advice roles in the public service, in semi-state bodies, in the European Union institutions and with not-for-profit organisations which require knowledge of how government works. In addition, many alumni of note are now in prominent roles in politics and academia. For a short list of some notable alumni, click here.
Stay Connected
It has never been easier to keep in touch!
Plus you can register on Front Gate online to connect with fellow alumni, register for events, join the career network and other groups, all in one place!
Photo Gallery
Visit the alumni photo gallery to see photos of recent events.
Alumni Interviews
Find out more about fellow alumni in recent interviews and features:
Share Your Experience
Have you started a company? Made a difference in Ireland or the wider world? Done something different and unexpected? We encourage alumni to come back to College to speak to undergraduate and graduate students about their experiences.
Alumni also participate in other events and activities such as the School's Henry Grattan Public Lecture Series which aims to promote informed debate on social, political and economic issues.
If you are interested in getting involved as a speaker please contact sspalum@tcd.ie
Alumni Appeal Thank You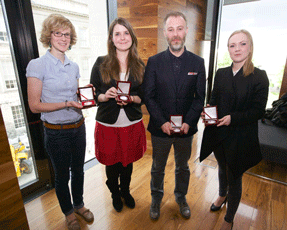 Thanks to the generosity of our graduates who donated to the Alumni Appeal the School has established the Dermot McAleese Teaching Award. This award recognises teaching assistants who have made an outstanding contribution in the pursuit of teaching excellence; it is the first time such an award has been presented in Trinity.
The Grattan Scholars
The School has developed a new Scholarship Programme -The Grattan Scholars- with the aim of advancing cutting-edge social science research and teaching. In a rapidly changing global environment such knowledge is central to our economic and social wellbeing, growth and development.
The Grattan Scholars are a cohort of exceptional PhD students whose work will have a real impact on Trinity and in helping to understand the evolving challenges facing society. Teaching is also an important part of the Scholars remit, contributing to the academic life of the School while enriching the students' learning opportunities.
We are delighted to welcome Lisa Keenan as the first Political Science Grattan Scholar. Lisa will undertake research on "Personality, Ambition and Political Careers" which will be supervised by Professor Gail McElroy, Head of the Political Science Department. This project will examine the decision to run for elected office in the Republic of Ireland to tease out why women are ruling themselves out of the electoral game.
If you are interested in finding out more about The Grattan Scholars, or if you would like information on how to get involved as a supporter please contact:
John O'Hagan
Alumni Director
School of Social Sciences and Philosophy
Phone: + 353 1 896 1065
Email: johagan@tcd.ie
Eileen Punch
Associate Director
Trinity Foundation
Phone: + 353 1 896 1714
Email: eileen.punch@tcd.ie