Department of Political Science
The Department of Political Science at Trinity College, University of Dublin, is one of the top Political Science departments in Europe. It is a vibrant, outward-looking department that combines intensive research activity with the strongest commitment to high quality undergraduate and postgraduate teaching..
News
Prestigious Grattan Scholarships Awarded to Postgraduate Students
The School of Social Sciences and Philosophy awarded Grattan Scholarships to three postgraduate students at a reception hosted by the Provost recently. The scholarship programme supports exceptional PhD students who have the potential to become future academic leaders.
BESS Graduate Conferred with TCD Honorary Degree
David O'Sullivan, EU Ambassador to the US, has been conferred with an Honorary Degree by Trinity College. David, who graduated from Trinity in 1975 with a BA (Mod) in Economics and Sociology, has been an outstanding European public servant who has dedicated his career to the practical promotion of the European ideal.
2014 Patrick Keatinge Undergraduate Prize Presented
We are pleased to announce that Anja Schoen has been awarded the 2014 Patrick Keatinge Prize for achieving the best performance in Political Science alone in her Senior Sophister year. Anja is pictured with her dissertation supervisor, Dr Michelle D'Arcy.
In The Spotlight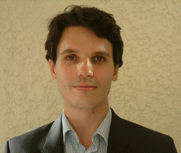 2014 JPR Best Visualization Award Goes To Thomas Chadefaux
The jury consisting of Nils B. Weidmann (University of Konstanz), Hanne Fjelde (Uppsala University) and Michael D. Ward (Duke University) has awarded the second Journal of Peace Research Best Visualization Award to Thomas Chadefaux (Trinity College Dublin).
His prize-winning article is entitled "Early warning signals for war in the news" and was published in the January issue.