Our Research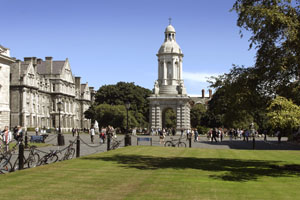 The Department's research activity makes it one of the very top political science departments in Europe, and indeed in the world. Trinity is Ireland's leading university, and the Department of Political Science is especially highly regarded; in the 2016 QS rankings it was rated number 1 in Ireland, number 15 in Europe and number 43 in the world for 'Politics and International Studies'.
Details of recent publications by members of staff can be found on the staff web pages.
The Department has particular strengths in a number of areas. It is known world-wide for its work on the European Union, comparative politics and comparative political institutions, with an emphasis on voting behaviour, political parties, legislatures, elections, and electoral systems. It is also strong in the areas of international relations, public policy, Irish politics, political psychology, democratic theory, and African politics. The list below indicates in broad terms the areas in which department staff specialise. For more detailed information, individual lecturers' own sites give an idea of the kind of research work that staff members are engaged in, and the kind of work by doctoral students that they would be able to supervise.
Political Institutions, with an emphasis on Elections, parliaments and parties
The Department has particular strengths in the comparative study of elections, electoral systems, voting behaviour, parliamentary behaviour, religion and politics, and party membership studies. Members have published extensively in these areas. The Department is home to an archive of Irish survey data and to a database of electoral system indices:
European Union
Members of the Department are active in studying different aspects of the EU, notably the European Parliament, policy-making, implementation, and decision-making within the council. See in particular:
International Relations and Security
Members of the Department, working within the broad framework of IR, place particular emphasis on international organisation, international political economy, inter-state conflict, global governance, the role of the military, and trade policy. See in particular:
Democratisation, development, and African Politics and Chinese Politics
Staff and students in the Department work actively in the field of democratisation and development, with a particular emphasis on African politics, Chinese politics and post-communist politics. See in particular:
Irish Politics
Members of the Department have been heavily involved in a number of studies of aspects of politics in the Republic of Ireland, such as Ireland's first National Election Study in 2002, with subsequent studies after the elections of 2007, 2011 and 2016. Several members of the Department have contributed to the most recent edition of the standard Irish politics textbook, Politics in the Republic of Ireland and to the How Ireland Voted series of election studies including the most recent book, How Ireland Voted 2016. Other work in this area includes Days of Blue Loyalty, the first ever study of the members of an Irish political party, and A Conservative Revolution?, an analysis of electoral change in the first decade of the twenty-first century. See in particular:
Public Policy
The Department has a number of research students working in this area. See in particular:
Political Psychology
This is a field that is generating increasing interest. See in particular:
Political Theory
There is a long tradition at Trinity of research in the field of political theory. See in particular:
Judicial Politics
Several members of the department have published on aspects of judicial politics and the relationship between politics and the courts:


Back to Top