Would you like to mentor Trinity Students?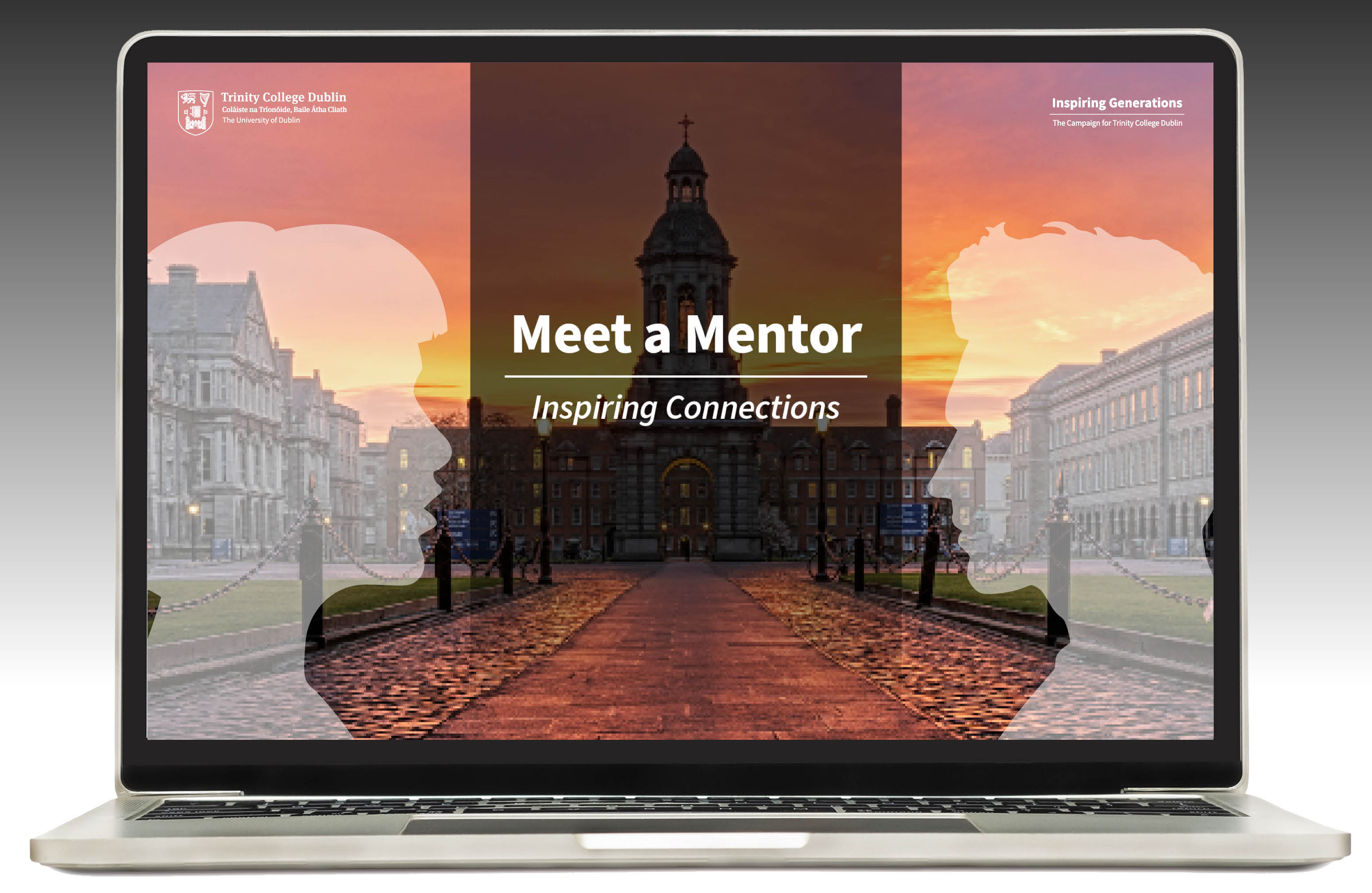 Whether you have a great deal of professional experience or you are a recent graduate of the last ten years, your advice and guidance is invaluable to students and young alumni starting out on their career path. By mentoring you can provide both reassurance and direction to Trinity students who are deciding what to do next after they graduate.
What Mentoring Options are Available for Alumni Volunteers at Trinity?
When you decide to mentor at Trinity, you can choose to become as involved as you want. Whether you have less than an hour to give per month or 20, there is a path for you! Below are some of our available mentoring opportunities.
'Flash' Online Mentoring
To become a flash mentor, please join Trinity Alumni Online. Once you're on the platform, simply click on the mentoring tab and select the ways you'd like to assist students, such as reviewing a CV or providing advice on a particular industry / career path. Students will then be able to message to request help with those specific activities. Flash mentoring is a quick and impactful way to help students and can be great if you aren't able to commit to a longer-term mentoring relationship.
Longer-Term Mentoring
This is a structured relationship between you as mentor and your student mentee that takes place throughout the academic year (typically over about six months). We will provide you with a recommended schedule of meetings, topics and objectives, and suggest having at least three face-to-face meetings.

To become a longer-term mentor, please join Trinity Alumni Online and activate the mentoring tab. Students may contact you directly to set up a relationship. You will also receive invites from us to participate in our annual 'Meet a Mentor' events on campus or online.
Register as a Mentor Today
Mentoring FAQs
Who Can I Mentor?
We encourage all alumni to consider becoming a mentor, regardless of age or experience. Your support can be valuable to students and your fellow alumni at any point in your career.
Can I Mentor from Overseas?
Of course you can! Trinity Alumni Online is an online mentoring platform that allows alumni from across the globe to join and become mentors, wherever you are.
What are the Benefits of being a Mentor?
Increase Communication Skills
Develop Leadership Skills
Increased Self-Reflection and Understanding
Skills to Develop Others
Volunteering Experience
Flexible Arrangements
Networking
Relationship Management Skills
Goal Setting/Planning Skills
Giving back to the College
What Mentoring Events Take Place Throughout the Year?
We run both virtual and in-person, on-campus mentoring events throughout the year. We are working on the schedule of mentoring events for the 2022-23 academic year and will post details here as soon as the schedule is confirmed.

If you are attending in-person or online event, please find guidance here.
Is There Any Training Provided on How to be a Mentor?
We have created a Mentoring Quick Guide document that should provide you with necessary information on how to be a successful mentor. There is also a longer Mentoring Handbook that you can view if you require further clarification. There are also several training videos for mentors, which can be found on our YouTube page and on Trinity Alumni Online. Links to all these resources can be found at the bottom of this page.
What is the Time Commitment and How do I Help?
When volunteering as a mentor, you choose your own level of commitment. This can range from answering a few questions over email through to an on-going mentoring relationship that may last several months.

With Flash mentoring, most questions are quick one-offs, meaning they can be addressed via email or a brief 30-minute chat. With long-term mentoring, in addition to replying to any e-mails/questions/concerns, we recommend that you aim for three to six meetings of about an hour's duration which take place over a six-month period. The ideal number of alumni/students for Long Term Mentoring is one or two at a time.

When you start mentoring, you can help students by discussing a variety of topics, including:
Your own career path
What you do – role, your daily tasks & objectives, skills used
How you got to where you are now
What did you do when you finished college – What you did upon finishing college
If you moved abroad – why, where did you go & how that has impacted your career
If you decided to continue your studies after Trinity and how you decided that
If the student wishes you can also perform a CV, Cover Letter or LinkedIn review.

Please note that this is a mentoring programme, you are not obligated to offer a job/internship or interview students for positions.
Are there School-Specific Mentoring Programmes or Events?
Our mentoring programme is college-wide; however, the School of Law and the School of Dental Science also run bespoke mentoring events for their students each year. We will update this section with the dates for these mentoring events once they are confirmed.
Where Can I Find Additional Resources About Mentoring?
Please find below various resources that can assist you with the mentoring programme. We also have some extra resources that can be found on Trinity Alumni Online. If you feel your question has not been answered, please feel free to contact us at alumni@tcd.ie and we will be happy to help.