Would you like to mentor Trinity Students?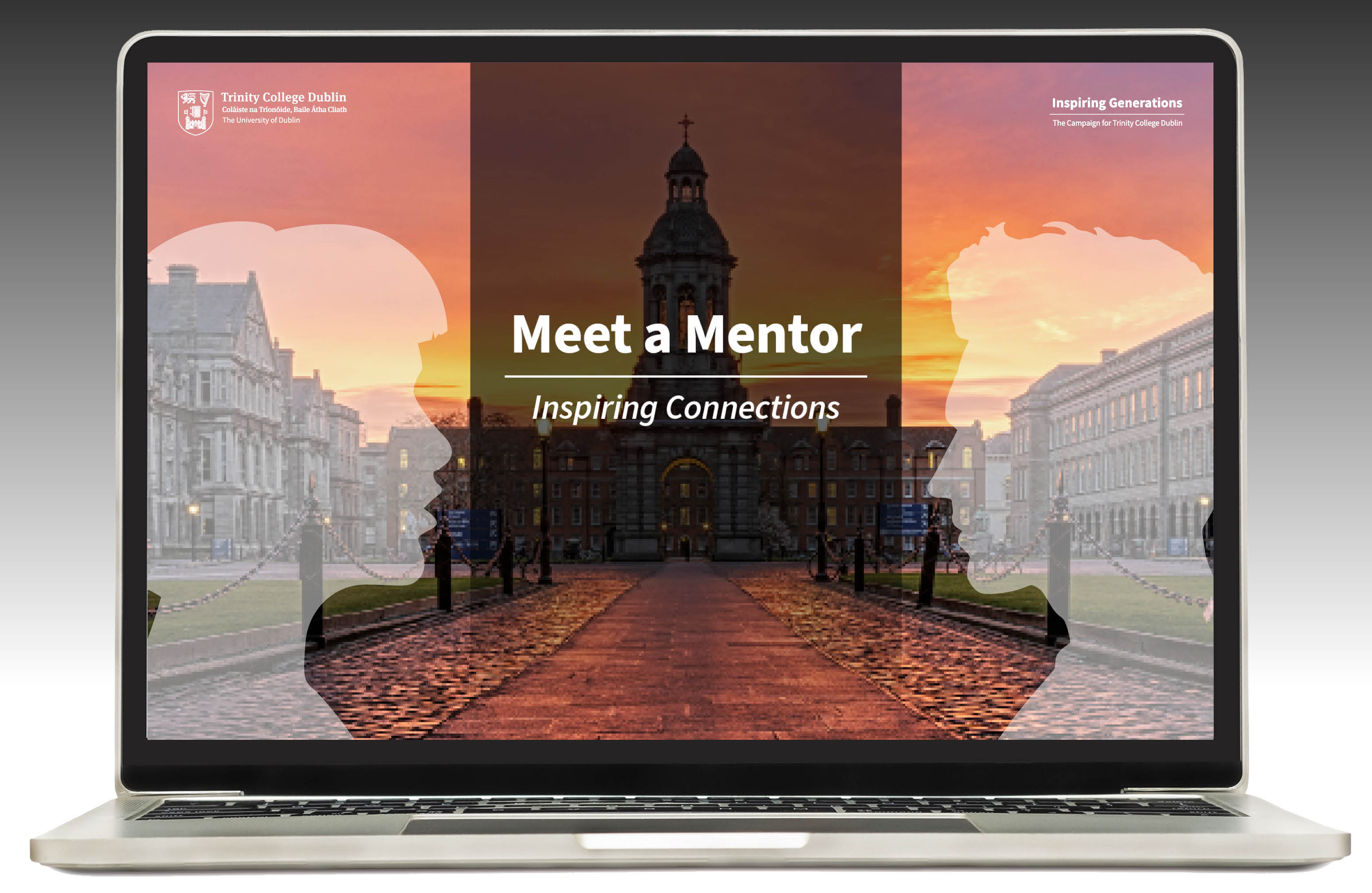 Whether you have a great deal of professional experience or you are a recent graduate of the last ten years, your advice and guidance is invaluable to students and young alumni starting out on their career path. By mentoring you can provide both reassurance and direction to Trinity students who are deciding what to do next after they graduate.
What Mentoring Options are Available for Alumni Volunteers at Trinity?
When you decide to mentor at Trinity, you can choose to become as involved as you want. Whether you have less than an hour to give per month or 20, there is a path for you! Below are some different mentoring options available.
'Flash' Online Mentoring:
This involves quick, one-off assists on things like reviewing a CV or helping a student prepare for an interview. You can do this for one or multiple students, depending on how much time you have to commit.

To become a flash mentor, please join Trinity Alumni Online, click on the mentoring tab and select those ways that you are available to assist students, such as reviewing CVs or cover letters or providing advice on a particular industry or career path. Students will then be able to message you to request support for those specific activities and you can engage in a short mentoring relationship with a fixed outcome.
Longer-Term Mentoring:
This involves a structured mentoring relationship that takes place over the course of six months, usually throughout the academic year. With this programme we recommend at least three face-to-face meetings, as well as setting some SMART objectives.

In normal times you could meet your mentee here on campus, in a coffee shop or in a workplace, but due to current COVID restrictions these meeting should be online.

To become a Longer-Term mentor, please join Trinity Alumni Online and activate the mentoring tab.
Mentor Training:
Once you register with Trinity Alumni Online and register for either of the above programmes you will be asked to watch a short training video on what it means to be a mentor.
Mentoring Events:
Throughout the year we will also organise various online mentoring events and discussion panels by industry sector or area of interest to give alumni and students a chance to learn, interact and connect.
Mentoring Certificate of Completion:
Students who register for Longer-Term mentoring have the option of completing an additional Mentoring Certificate of Completion, whereby the student and their alumni mentor will connect three times over a six-month period (via phone, email, in-person). The student will then need to complete a "Track My Mentoring Journey" and submit it to the Careers Office to receive their certificate.
Getting Started / How to Become a Mentor:
Whether you're interested in structured longer-term or flash mentoring, the first step we recommend is signing up to Trinity Alumni Online and then clicking on the "Mentoring Tab" to register.
School of Law and School of Dental Science Mentoring Programmes
Every year, the School of Law and the School of Dental Science also run bespoke mentoring events for their students. We will update this section once the dates for these mentoring events are confirmed.
Mentoring Resources
To learn more about your role as mentor, please read the Trinity Career Mentor Handbook, which includes Mentor FAQs, Guidelines and Top Tips.