TRiSS Short Courses 2018: 'Learning by Doing' Quantitative Research Methods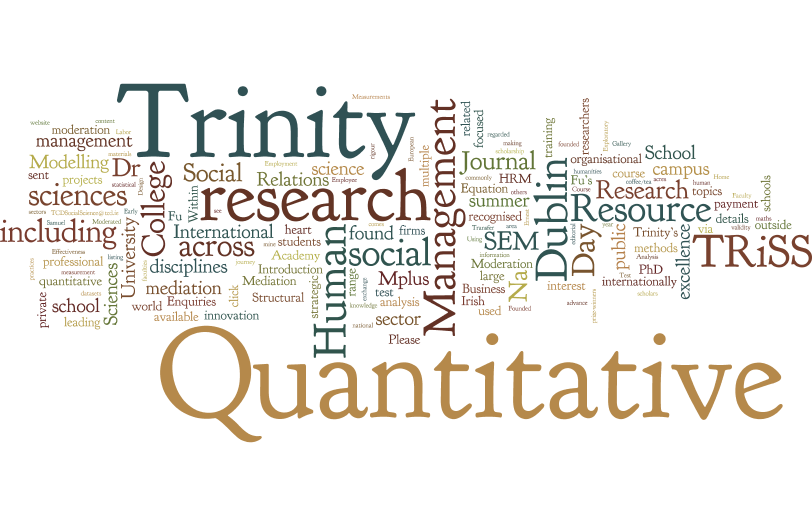 Trinity Research in Social Sciences (TRiSS) invites you to the "Learning by Doing" Quantitative Research Methods Short Course, Mon 16 – Fri 20 April 2018 at Trinity College Dublin
The 5-day course is designed to provide postgraduates, PhD students and researchers in the social science area with training in both basic and advanced quantitative research methods using commonly used statistical tools including SPSS, AMOS and Mplus. Topics include research design, measurement, reliability, validity test, multiple linear regression, mediation, moderation, moderated mediation test, structural equation modelling (SEM), and mediation & moderation SEM. After the course you will be able to understand a range of quantitative research methods and apply these techniques to you own data analysis journey.
Day 1: Survey Design, Measurements, and Reliability
Day 2: Validity Test (Exploratory and Confirmatory Factor Analysis)
Day 3: Linear Regression, Mediation and Moderation Models
Day 4: Structural Equation Modelling (SEM)
Day 5: Introduction to Mplus and Using Mplus for analysis
Fees and Registration
Registration is now closed as we have reached the maximum number of participants.
If you have any questions, please contact triss@tcd.ie or funa@tcd.ie
Travel and Accommodation
Trinity College Dublin is located in the heart of Dublin and is easily accessed to. How to get to Trinity College Dublin.
There are many options for accommodation in Dublin, from hotels and BnBs to Airbnbs and hostels. Arranging accommodation is the responsibility of the participant. Early booking is always advised.
Instructor: Dr Na Fu at Trinity Business School
Dr Na Fu is an Associate Professor in Human Resource Management at Trinity Business School. She achieved her PhD from Dublin City University. Dr Fu's primary research interest is focused on strategic human resource management issues relevant to organisational growth and development. She has led a number of research projects in both the private and public sectors. Within the private sector, she is interested in the strategic HRM of the professional service firm (PSF). PSFs such as accounting, consulting and law firms, are regarded as knowledge-intensive firms in which knowledge creation, exchange and combination is critical to innovation. Within the public sector, Na has conducted projects with large public sector organisations investigating how employees' experience of organisational HRM practices influences their attitudes and behaviours. Her secondary research interest is focused on the Statistical Modelling Techniques that can be used to mine large datasets (e.g. Structural Equation Modelling-SEM, Multi-level Modelling, Moderation SEM, Moderated Mediation etc.). In this regard, she has been invited to work with people on a broad range of management topics. Dr Fu's research has been published in leading journals, including Human Resource Management, Human Resource Management Journal, and Human Relations among others. Her research has been recognised national and internationally via winning multiple prestigious awards from the Academy of Management (largest professional association for management and organisation scholars), Emerald, the Labor and Employment Relations Association, Irish Research Council, International Human Resource Development Conference and Irish Academy of Management. Currently, Na is on the editorial board of Human Resource Management Journal, International Journal of Human Resource Management, Employee Relations and Journal of Organisational Effectiveness: People and Performance (JOE).
Enquiries related to the payment should be sent to triss@tcd.ie. Enquiries related to the course content should be sent to funa@tcd.ie
About Trinity College Dublin, the University of Dublin
Founded in 1592, Trinity is at the nexus of tradition and innovation, offering undergraduate and postgraduate programmes across 24 schools and three faculties: arts, humanities, and social sciences; engineering, maths and science; and health sciences. Spread across 47 acres in Dublin's city centre, Trinity's 17,000-strong student body comes from all 32 counties of Ireland, and 16% of students come from outside the country. Of those, 40% are from outside the European Union, making Trinity's campus cosmopolitan and bustling, with a focus on diversity. As Ireland's leading university, the pursuit of academic excellence through research and scholarship is at the heart of the Trinity education. Trinity is known for intellectual rigour, excellence, interdisciplinarity, and research-led teaching. Home to Nobel prize-winners such as scientist Ernest Walton and writer Samuel Beckett, Trinity draws visitors from across the world to its historic campus each year, including to the Book of Kells and Science Gallery which capture the university's connection to both old and new.
Learn more about Trinity College Dublin
About TRiSS
Trinity Research in Social Sciences (TRiSS)at Trinity College, Dublin was founded in 2015 as a vehicle to support and advance world-leading research in the social sciences at Trinity by bringing together social sciences researchers from across the University. TRiSS currently represents 14 disciplines involved in social science research across 8 different schools. The excellence of the social sciences at Trinity has been recognised internationally with the most recent QS subject rankings listing five of the member disciplines of TRiSS (Politics and International studies, Education, Law, Sociology and Social Policy and Administration) in the top 100 in the world in their disciplines. TRiSS funds this course via the Faculty of Arts, Humanities and Social Sciences Strategic Fund.
Find out more about TRiSS