Trinity Access Ambassadors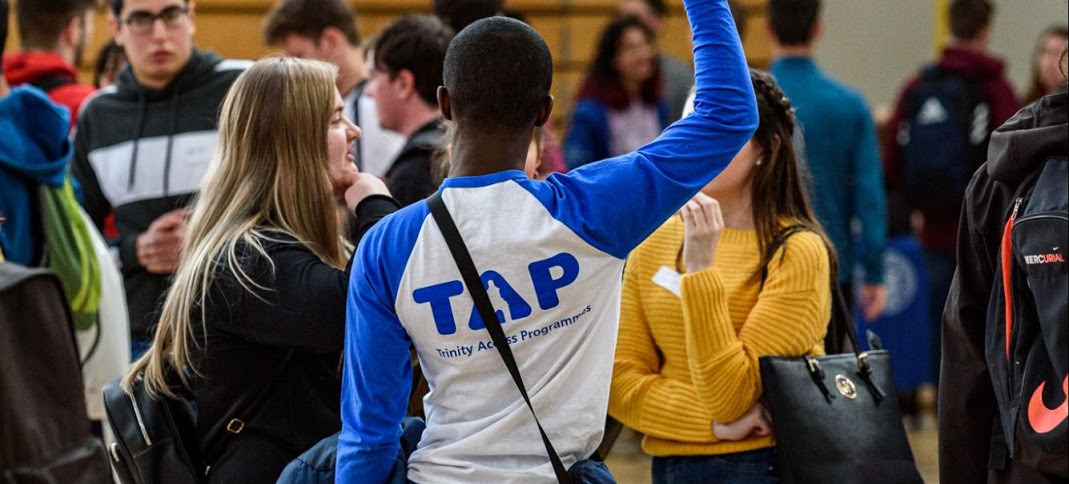 At Trinity Access, Ambassadors are at the core of our work. Ambassadors volunteer on a range of different programmes throughout the year. Being an Ambassador is a great opportunity to give back, make friends and feel a sense of community. When students sign up they can volunteer for the year, but most stay committed for their whole college experience. We want to build a community and carry that through all of your years in college; Trinity is a big place with thousands of students, finding your place can be challenging but our Ambassador Programme offers you an opportunity to become a part of a community. The Trinity Access Ambassadors programme recruits, trains and rewards students for giving time to help run over 20 different Trinity Access activities each year. Below are some frequently asked questions you might have about the Ambassador programmes, and for any other questions feel free to contact Fiona O'Reilly at fiona@ta21.ie. Sign up takes place at the beginning of the academic year- however, if you're interested in becoming an Ambassador in the future or want to find out more, email Fiona at fiona@ta21.ie. Bridge to College is another programme run within Trinity Access, with a special focus on 21st-century learning, computers, and other technology. If you are interested in volunteering with Bridge to College please contact Kevin Sullivan at kevin@bridge21.ie. Community Mentoring is also run within Trinity Access. It pairs students with counterparts from other colleges to deliver 3 mentoring sessions in schools, further education and training colleges and/or community groups. If you are interested in volunteering as a Community Mentor please contact Daire at dahennes@tcd.ie.
Is being a Trinity Access Ambassador paid work?
Being a Trinity Access Ambassador is a voluntary role. However, throughout the year we can pay ambassadors for programmes such as Summer School and Pre-Uni. These paid opportunities will be allocated to the Ambassadors who have helped us the most throughout the year.
If I don't get paid, what do I get?
We realise this isn't a paid role so we do as much as we can to support our Ambassadors. We've developed various opportunities to thank our Ambassadors for all their hard work; every year we have an appreciation evening, and we also have events exclusive to our ambassadors such as CV workshops, Career Fairs and Special Guest talks. We also offer references for Ambassadors when they finish their time at Trinity. The skills learned as an Ambassador are lifelong and will stand to you throughout college and your career.
How much time is required to be a Trinity Access Ambassador?
This year we're looking for at least a commitment of 2 campus tours and 3 Community Mentoring sessions. Including training for the sessions and tours, it's approximately ten hours across the academic year. There isn't a huge level of commitment expected from Ambassadors as we know your studies will always take priority.
I'm a bit worried I won't be good at it... should I still apply?
Regardless of where you come from or what your experience is, you should apply to be an Ambassador. You and your unique experience add to Trinity Access and inspire other young people to go to College. We don't expect you to be experts in all things Trinity or academics. This is a chance for you to learn, grow and develop. We'll always provide training for Ambassadors. We have specific training for each of our programmes, like Campus Tours or Pre-Uni. For the majority of our programmes, there will be a staff member at hand to support Ambassadors. Finally, we will never have Ambassadors do work on their own, being part of a team is central to our work and we always ensure you have a fellow Ambassador with you.
What schools do you work with?
You can check out all the schools we work with here.
The secondary school I went to isn't one of the schools you work with, why?
There are so many schools around the country that it just isn't possible to work with all of them. However, if you ever want to reach out to your school, we can offer some support and help in making it happen.