Network Member Profiles
Graeme Warren, University College, Dublin.
Biography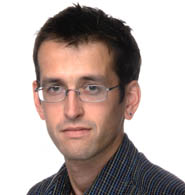 My primary research is on the early prehistoric archaeology of Ireland and Britain in European context. In particular, I focus on hunter-gatherers and the adoption of agriculture (Mesolithic & Neolithic). I have a range of research specialisms: e.g. stone tool analysis and landscape archaeology. Within the early prehistoric field, I am engaged in a number of site, or landscape, specific fieldwork projects; inter-disciplinary projects examining the interplay between archaeology and environmental change over time; and numerous minor projects examining stone tools. I lead a cluster of research students in my field, with five PhD students under my sole supervision; one having just completed.
Contact
graeme.warren@ucd.ie
University Homepage
Click here.
Research Interests
Mesolithic - Neolithic - archaeology - landscape - lithics - Co. Mayo - Céide Fields.
Collaborative Interests
I am currently involved in collaboration on reconstructing the palaeoclimate of NW Ireland.
Themes
Earth, Air, Water.
Selected Publications
For a full list of Graeme's publications, see here.