TriCON - Trinity Centre for Constitutional Law & Governance
Trinity College Law School
About TriCON
The Trinity Centre for Constitutional Law and Governance (TriCON) is a Research Centre based in the School of Law which undertakes and promotes research, teaching and public engagement on all aspects of constitutional law and governance, both in Ireland and across the world. Scholars at the Centre share a broad range of research interests, spanning the fields of constitutional law, comparative constitutional studies, administrative law, human rights, EU law, international public law, democratic theory, legal philosophy and more. Set up in 2019, TriCON hosts a vibrant seminar series which provides a focal point for scholars and practitioners interested in constitutional law from a theoretical, comparative, interdisciplinary and practical perspective. It also runs a regular research forum for graduate students researching in the area of constitutional law. In future years, TriCON will host Visiting Scholars at the Centre and run conferences on cutting-edge themes in constitutional law and governance.
TriCON is host to the Law and Human Rights Observatory, which monitors, analyses and comments on Ireland's response to Covid19. Headed by Professor Oran Doyle, the Observatory will examine the response to Covid19 in terms of its impact on healthcare, human rights, democratic accountability and the rule of law.
The Director of TriCON is Professor Aileen Kavanagh who moved to Trinity College Dublin from the University of Oxford in September 2019.
Contact details - Email: aileen.kavanagh at tcd.ie
Researchers
Postgraduate Researchers
Mr Conor Casey
Mr Li-Kung Chen
Ms Roisin Costello
Mr Daire McCormick-George
Mr Juan Diego Galaz Carvajal
Ms Marta Lasek
Ms Finola Flanagan
Mr Alex Layden
Mr James Rooney
Mr Samuel Lemire
Associate Researchers within TCD
Professor Will Phelan (Department of Politics)
Professor Etain Tanam (Irish School of Ecumenics)
Professor Jane Ohlmeyer (Director of the Trinity Long Room Hub)
Professor Adina Preda (Philosophy Department)
Research Clusters
Research at the Centre currently clusters around the following three themes:
Constitutionalism Beyond Borders (focusing on the issue of a potential Border poll on a United Ireland in Northern Ireland and the Republic of Ireland, as well as other constitutional issues surrounding the relationship between Ireland and the UK in a post-Brexit world);
Constitutional Change (focusing on the use of referendums and citizens' assemblies to change constitutional norms, with particular reference to recent and forthcoming experiments in Ireland using these mechanisms, also addressing the demands of democratic constitutionalism as compared to populist governments in Eastern Europe and elsewhere);
Constitutionalism Beyond the Courts (looking at the constitutional role of key actors such as the Executive, Parliament, Ombudsmen, the Attorney General, Parliamentary Committees, Interest Groups and broader Civil Society).
TriCON News and Events
School of Law Author Series 2020/21. Seminar 13 with Professor Jack Balkin.
School of Law Author Series 2020/2021 - Conversations with Donna Lyons together with Trinity Centre for Constitutional Governance (Tri.CON). Seminar 13 with Professor Jack Balkin.
Professor Jack Balkin (Yale Law School) will speak at Trinity College Dublin on 30 November, on his new book, 'The Cycles of Constitutional Time'. The School of Law is delighted to be co-hosting this event with the Trinity Centre for Constitutional Governance (Tri.CON).
Date and time: 3 - 4pm (Dublin) / 10 - 11am (EST), Monday, 30 November 2020
Attendees can join the webinar directly via Zoom and the event will be simultaneously live-streamed on the Law School Facebook page. This event is free and open to all and there will be an opportunity for Q&A. The webinar can accommodate 100 attendees and participants will be admitted on a first come, first served basis. If the webinar fills to capacity, it will be possible to watch the Facebook Live Stream, and a recording will also be made available following the event. We look forward to seeing you there!
Jack M. Balkin is Knight Professor of Constitutional Law and the First Amendment at Yale Law School. He is the founder and director of Yale's Information Society Project, an interdisciplinary center that studies law and new information technologies. He also directs the Abrams Institute for Freedom of Expression, and the Knight Law and Media Program at Yale.
Professor Balkin received his Ph.D in philosophy from Cambridge University, and his A.B. and J.D. degrees from Harvard University. Professor Balkin is a member of the American Academy of Arts and Sciences and the author of over a hundred articles in different fields, including constitutional theory, Internet law, freedom of speech, reproductive rights, jurisprudence, and the theory of ideology. He has written widely on legal issues for such publications as the New York Times, the New England Journal of Medicine, the American Prospect, the Atlantic Online, Washington Monthly, the New Republic Online, and Slate. His books include Living Originalism; Constitutional Redemption: Political Faith in an Unjust World; The Constitution in 2020 (with Reva Siegel); Processes of Constitutional Decisionmaking (5th ed. with Brest, Levinson, Amar, and Siegel); Cultural Software: A Theory of Ideology; The Laws of Change: I Ching and the Philosophy of Life; What Brown v. Board of Education Should Have Said; and What Roe v. Wade Should Have Said.
About 'The Cycles of Constitutional Time':
What will happen to American democracy? The nation's past holds vital clues for understanding where we are now and where we are headed. In The Cycles of Constitutional Time, the eminent constitutional theorist Jack Balkin explains how America's constitutional system changes through the interplay among three cycles: the rise and fall of dominant political parties, the waxing and waning of political polarization, and alternating episodes of constitutional decay and constitutional renewal. If America's politics seems especially fraught today, it is because we are nearing the end of the Republican Party's political dominance, at the height of a long cycle of political polarization, and suffering from an advanced case of what he calls "constitutional rot." In fact, when people talk about constitutional crisis, Balkin explains, they are usually describing constitutional rot―the historical process through which republics become less representative and less devoted to the common good. Brought on by increasing economic inequality and loss of trust, constitutional rot threatens our constitutional system.
But Balkin offers a message of hope: We have been through these cycles before, and we will get through them again. He describes what our politics will look like as polarization lessens and constitutional rot recedes. Balkin also explains how the cycles of constitutional time shape the work of the federal courts and theories about constitutional interpretation. He shows how the political parties have switched sides on judicial review not once but twice in the twentieth century, and what struggles over judicial review will look like in the coming decades. Drawing on literatures from history, law, and political science, this is a fascinating ride through American history with important lessons for the present and the future.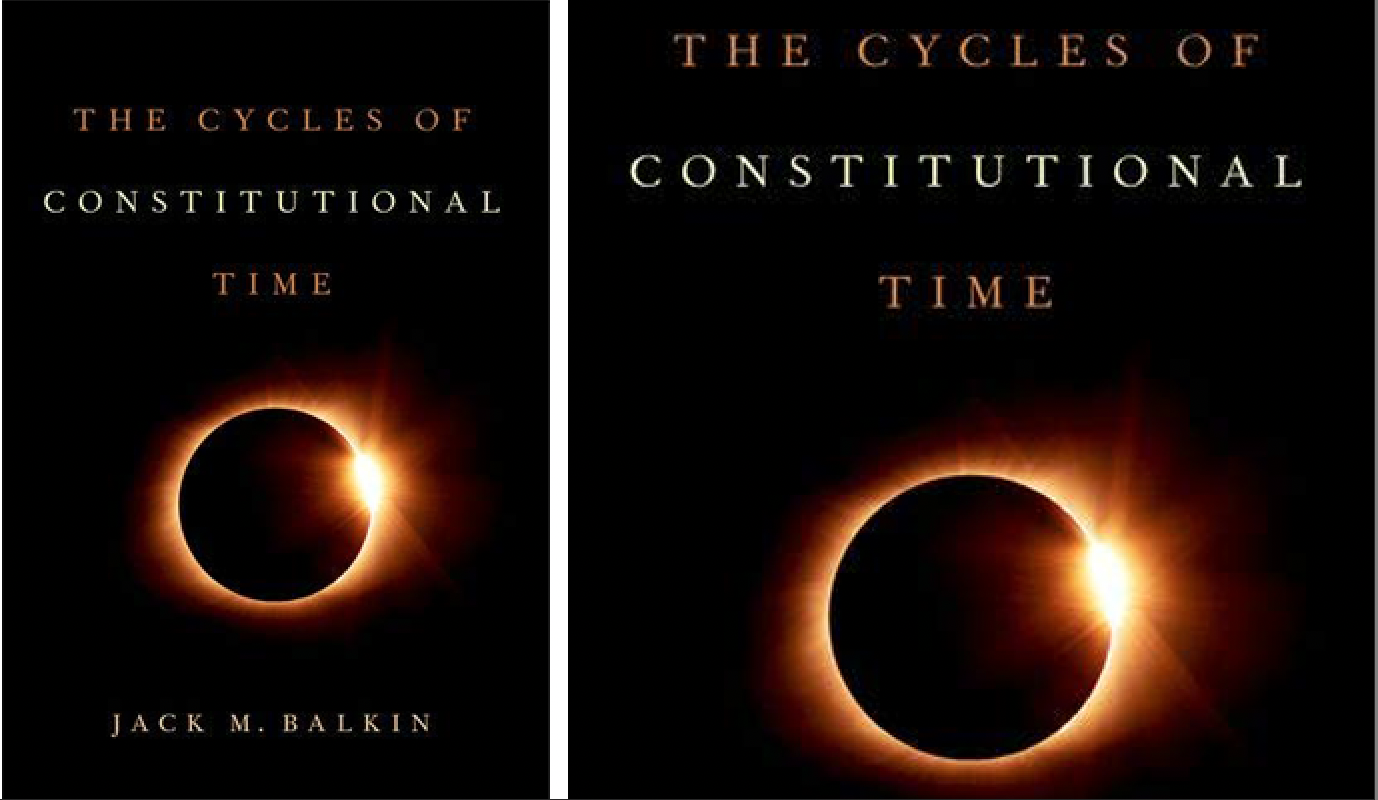 Professor Cass Sunstein, Harvard Law School In Conversation with Donna Lyons, Aileen Kavanagh and Conor Casey
Professor Cass Sunstein, Harvard Law School in Conversation with Donna Lyons, Aileen Kavanagh and Conor Casey on his new book, co-authored with Professor Adrian Vermeule entitled Law and Leviathan: Redeeming the Administrative State (HUP, 2020).
'Is the modern administrative state illegitimate? Unconstitutional? Unaccountable? Dangerous? Intolerable? American public law has long been riven by a persistent, serious conflict on these questions. This book sets out to answer them.'
It should be a fascinating discussion and all are welcome. Many thanks to Donna for organising this seminar, as part of her excellent ongoing seminar series in the Law School.
Date and time: 3pm - 4pm Irish Standard Time, Friday, 2 October 2020
This event will take place at 3pm Irish Standard Time (which is 10am EST). The event is free and open to all. It will be possible for attendees to join the webinar directly via the link on Zoom and the event will be simultaneously live-streamed on the Law School Facebook page. There will be an opportunity for attendees to ask questions of Professor Sunstein during the session.