Éigse na Tríonóide 2011:
The Festival!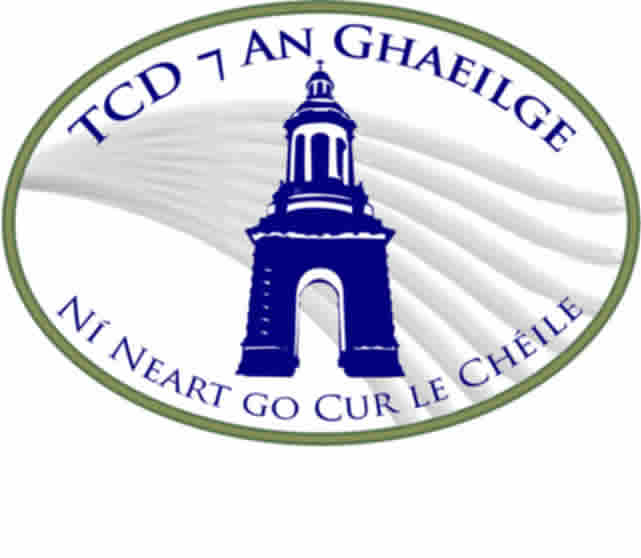 An exciting and varied programme of events is planned for Éigse na Tríonóide 2011, Trinity College's annual Irish language festival. The festival will run from Monday 31 January –Friday 4th February.

Events will commence at 2.00pm on Monday with a photocall for which the TCD Irish language community will gather in Front Square in bright green t-shirts, highlighting the vibrancy of the language here. The leading TG4 personality Mairtín Tom Sheáinín will join us at 6.00pm for the official launch, with a wine reception and music from the talented musicians of Tradsoc! Máirtín will present Fáinní to speakers of Irish at various levels of proficiency.

On Tuesday (St Brigid's Day), a Choral Mass will be celebrated with the Choir of An Cumann Gaelach at 1.15pm. Afterwards, the Éigse debate- Díospóireacht na hÉigse – will be held in association with the "Phil". The motion before the House is: "Marches are not an effective method of protest"- certainly a topical theme! In the evening, there will be an "Open Mike" in Peadar Kearney's on Dame Street.

Wednesday sees a Coffee Morning for the Irish language community at the Buttery restaurant from 10.00-11.30am, and it has been designated as Lá na bhFoghlaimeoirí/ Learners' Day (with a special taster session for beginners at 1pm).

On Thursday at 2.00pm, you will have the opportunity to take an historical tour of the campus (gathering at the Chapel steps). The service of Evensong will be sung in the Irish language in the Chapel at 5.15pm. Gig Mór na hÉigse will be held at the Village from 9.00pm onwards, with top-class musicians and plenty of craic. All are welcome, and it is hoped to see a large crowd at the event- a great chance to see TCD letting their hair down as Gaeilge!

The GAA and Irish language icon Mícheál Ó Muircheartaigh will be in TCD on Friday at 2.00pm to provide a live commentary on a Gaelic Football March between TCD and UCD: the competition will be fairly keen and it will make for a thrilling occasion. The Éigse programme will be drawn to an appropriate close with ceol agus craic in the College's "Pav" bar from 3.30pm, as the events of the week are good-humouredly dissected!
Join us then, a chairde, for Éigse na Tríonóide- as the seanfhocal/proverb says: "Ní neart go cur le chéile" (in unity is strength).
For further information, see the Facebook page for An Cumann Gaelach TCD and the Irish Language Office website www.tcd.ie/gaeloifig.

INFORMATION
An Cumann Gaelach Email: coiste@cumann.ie Mobile: 085 7088638 agus 085 7178597
Oifigeach na Gaeilge Fón 896 3652 Póca: 087 6232841 www.tcd.ie/gaeloifig