(Click on the image above to read the text of the scheme in English)
Trinity College Dublin's third Irish Language Scheme comes into effect
Following confirmation by the Minister for Arts, Heritage, Regional, Rural and Gaeltacht Affairs, Trinity College Dublin's Third Irish Language Scheme officially came into effect on June 1st, 2017. The Scheme sets out a range of commitments on the part of College to the provision of bilingual services, and will cover the period June 2017 to June 2020.
The preparation of the Scheme was overseen by a subcommittee of Coiste na Gaeilge chaired by the Provost, and featured an online consultation with staff and students and a Town Hall meeting where many helpful suggestions and observations were made.
This is Trinity's third Irish language Scheme, the first Scheme having come into effect in January 2010. In the period since then, substantial work has taken place in service provision, including a suite of Irish language mini-websites, the introduction of bilingual customer services in the BLU Library, the strengthening of the Irish language residency schemes, the opening of Seomra na Gaeilge, the maintenance of a programme of free Irish language classes to students and staff and the introduction of an Irish Language Policy in College.
The third Scheme contains further commitments to service provision, within the context of resources available, including the exploration of online course provision and the introduction of a voluntary emblem for staff and students prepared to interact or do business through Irish.
(Click on the image above to read the text of the scheme in English)
An implementation subcommittee chaired by the College Secretary will oversee implementation of the new Scheme and the Irish Language Officer will be in contact in the near future with areas which have bilingual service commitments under the Scheme to advise and assist with implementation procedures.
Submissions
The following are links to submissions received during the preparation process for the Scheme:
Aighneacht Chonradh na Gaeilge
Aighneacht Chumann Gaelach Choláiste na Trionóide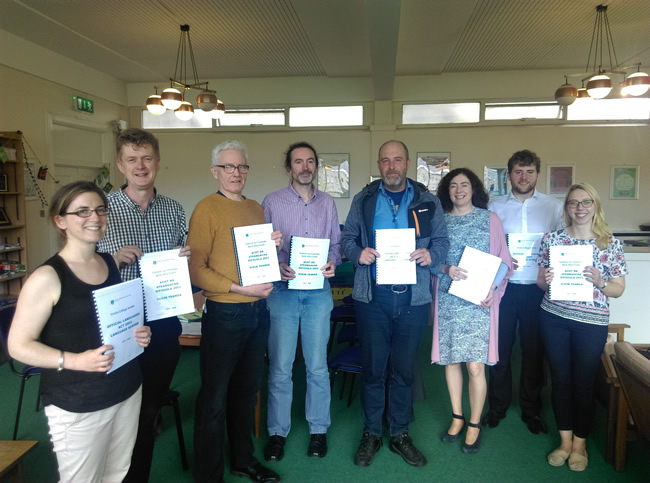 Members of Coiste na Gaeilge with copies of the Third Irish Language Scheme