Trinity Development & Alumni, administered from the offices of Trinity Foundation, is responsible for supporting Trinity's ambitious educational, research and outreach programmes and maintaining a connection between the College and its alumni & friends.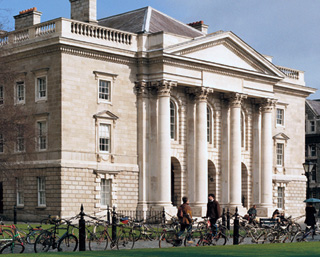 Trinity Development & Alumni keeps alumni connected to the College through regular communications, events, regional branches and affinity groups. Alumni simply means graduates or former students of the College. Just because you've graduated doesn't mean your link with Trinity has been broken – your alumni connection is for life. With over 90,000 alumni scattered across the globe, there is a tremendous resource for networking and staying in touch with people who have shared the Trinity experience. Take a look around the website for more information on the benefits, services and networks available. Should you have any questions or queries see our FAQ's or contact us for more information.
Trinity College is playing a pivotal role in helping Ireland to be the most creative and productive place to invent, work, and learn, and the most civilised place to live and contribute to local and global society. It plays a vital role in ensuring that the College has the financial resources to remain a leading, internationally recognised university. Trinity Development & Alumni helps the College to achieve this mission through the extraordinary support of donors, alumni and friends.
There are hundreds of good reasons to give to Trinity, browse the different ways you can support trinity or contact a member of our team to learn more.
*Trinity Foundation was established as an independent charity (CHY10898) in 1994 to support Trinity's funding priorities. Since 1994 the Trinity Foundation has been instrumental in raising funds in excess of €280 million.