The 2018 Trinity Alumni Reunion Weekend will take place from 24 - 26 August.


Welcome back!
We look forward to welcoming you back to Trinity on 24 - 26 August 2018.
This is your chance to revisit your favourite places, reconnect with classmates, reminisce about the good old times and see what is new on campus.
Please see 2018 Alumni Weekend programme here.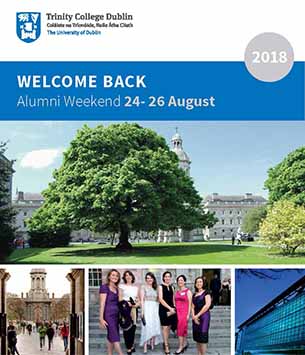 Accomodation on Campus
To check availability of accommodation on campus please contact the Accommodation Office referencing the Alumni Weekend 2018.
E: reservations@tcd.ie
T: +353 1 896 2747
Photos
You can check out the photo gallery of last year's event here.