We have a significant community of Trinity Alumni based across the USA. This page provides more information on how to connect with fellow alumni, friends and students.
Interviews with our Alumni & Friends
Hear more from our alumni & friends in the U.S., please see below for a selection of interviews. If you'd like to get in touch with us with more news or updates please contact us.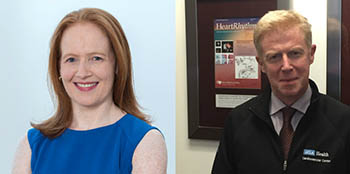 US Photo Galleries
Centre for Literary Translation New York Event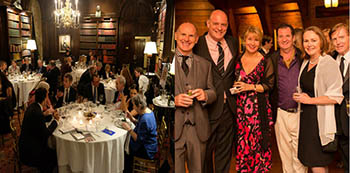 International Welcome Programme
The Trinity International Welcome Programme connects Trinity students going abroad to study with Trinity alumni who live in the region. 
Thank you to all our US alumni who mentored Trinity Students studying in the US this year
If you would like to get involved in the 2017 programme please contact alumni@tcd.ie.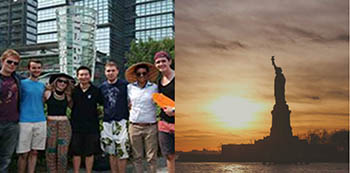 Trinity students in Havana with the Ivy League
In 2016 Trinity joined CASA, the Consortium for Advanced Study Abroad, becoming the first non-US member University, alongside nine leading Ivy League US research universities. CASA facilitates student mobility through the establishment of dedicated study-centres around the world.
Thanks to a generous legacy gift of a Trinity alumnus, two Trinity students have spent their Spring semester this year at the CASA Study Centre in Havana, Cuba, studying side by side with students from other CASA member universities and Cuban students from the University of Havana. Membership of CASA opens up a network of exciting opportunities for Trinity for the future.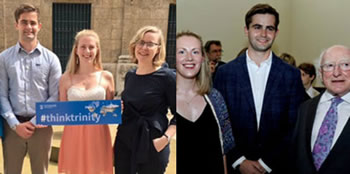 Upcoming U.S. Branch events
There are many events for US alumni throughout the year which will be featured on our Trinity Alumni events page - please check back for a booking link to the upcoming events.
June
US Alumni Events
US Open Days - Experiencing Trinity Stateside
Trinity Open Days have been gathering momentum and this year landed in five US cities with a record number of 600 people attending. Attendees learnt about Trinity and heard about the impact the University has had on our US alumni. A 2016 Trinity graduate, Dan O'Brien, participated at the Open Days in DC and Philadelphia:
I think it is important that I take these opportunities to share my own experiences from Trinity, so that future students can better understand why I am proud of my time there and why Trinity may be a fantastic fit for them. I would encourage all alumni to consider giving back in this way, because every additional voice can make a difference to someone new.
Thank you to alumni and friends for your continued support at these events, you are the best example of what it means to be a Trinity graduate. Look forward to seeing you next year!

New York Alumni Branch Event
Impending Storm Stella didn't deter the New York alumni who showed up in force to hear the Provost on March 13th. Speaking at The Players Club in Gramercy Square, the Provost updated alumni on recent college developments and global partnerships. A wonderful evening, with an inspiring message and all made it home before the snow descended.

Mid-Atlantic Spring Event
DC alumni gathered at James Hoban's at DuPont Circle on April 6th. Great to meet some new faces and a few others that are returning back to DC. The cherry blossoms may have faded but the DC alumni are holding strong, sharing a few drinks and connecting with fellow grads and friends.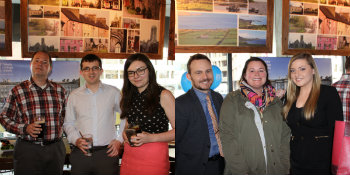 New York Literary Discussion
The NY Trinity alumni met on April 11th at the Pig 'n' Whistle in Times Square for some lively and engaging discussion around Irish Theatre. The evening was hosted by fellow alumni and published authors Fiona Coleman Coffey and Elizabeth Mannion. Both read from their recently released publications around twentieth century Irish theatre. It was an entertaining and enlightening evening.