Joint Honours in Italian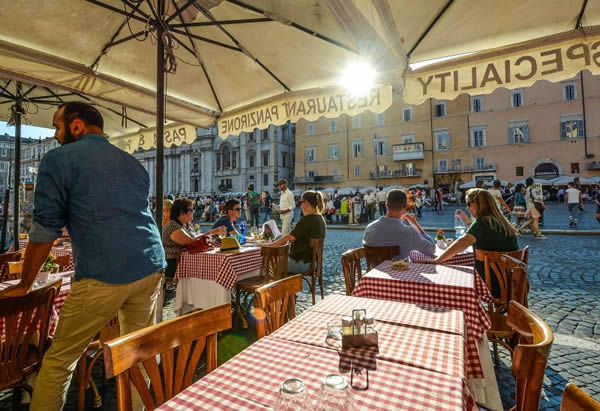 This is a uniquely enjoyable degree. We are delighted to introduce you to the pleasures of Italy: its rich and beautiful culture, literature, film, sunshine, landscape and food.
Advanced language and communication skills are in high demand – especially here in Ireland, a vibrant knowledge economy which depends on European and international trade.
If you work hard with us, you can expect to join our successful graduates with careers in international business, fashion, the arts, law, journalism, charities, translation, tourism, PR, diplomacy, finance, football management, teaching, university leadership, and banking. Some of our graduates have global careers and now live and work in Italy, or work in Paris, Brussels, London, New York, and Hong Kong.
Our Department is historic. We have one of the oldest traditions in Italian studies in the world. Italian has been taught here since 1776. Some very significant people have studied Italian in Trinity:
the first President of Ireland, Douglas Hyde, who won the prize in Italian in 1884;
playwright and Nobel prize winner Samuel Beckett, who studied Italian and French in the 1920s;
the notable intellectual Walter Starkie, Professor of Spanish and Italian.
OUR COURSES
In Joint honours, you will both study the
language
and
culture
of Italy.
Language courses
We accept both beginners and advanced:
Beginners have an intense and enjoyable course of language (6 hours a week in Year 1). You will be in a small group, with excellent support and carefully selected materials and methods.
Advanced: We tailor and advise on a pathway for advanced students after individual discussion.
SUBJECT-LEVEL LEARNING OUTCOMES FOR ITALIAN TJH
Enthuse you to learn the language and to become proficient in spoken and written Italian.
Provide you with a clear learning arc to achieve concrete goals.
Language modules are based on the Common European Framework of Reference (CEFR); you will start learning Italian ab initio and will attain up to level C1+ on successful completion of your degree.
Give you access to the rich culture associated with the Italian language by facilitating you in gaining cultural knowledge and developing intercultural awareness.
Help you to understand Italy's history and political systems.
Help you explore and appreciate the complexities of Italian identity.
Provide you with opportunities to exercise critical and independent thinking, learner autonomy, effective communication, self-directed learning, mediation skills, and research skills.
Equip you with the knowledge and academic and employability skills that will make you ready for the job market and for further studies.
Culture courses
Italian culture is one of the richest and most beautiful in the world, and our degree will open Italy's doors to you. It allows you to understand and articulate this richness.
Italy has more Unesco world heritage sites than anywhere else in the world, magnificent coasts, cities and landscapes. It has highly influential writers (Petrarch, Dante, Boccaccio), wonderful contemporary literature, one of the world's most fascinating cinema industries and a profound sense of beauty and design. It's darkly interesting history of princely (mis) conduct, fascism, mafia and populism provides our programme with its touch of intrigue.
Our culture courses include modules and classes on:
Literature
Italian history, politics and society
Theatre
Cinema
Poetry
Music
Art
Please have a look at our Joint Honours Handbook if you want to see in more detail what we do.
Study Modern Languages at Trinity College