Masters in Speech and Language Processing (M.Phil.)
"one of the few courses in the world which can provide you with a fundamental foundation in experimental phonetics and speech science combined with a more technical background in speech processing and computational linguistics ... opened career opportunities I never considered possible"
---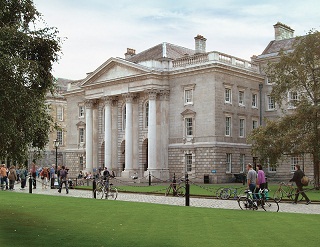 Detailed information (all M.Phil. courses): Frequently Asked Questions
For queries regarding the M.Phil in Speech and Language Processing please contact: Prof. Ailbhe Ní Chasaide
Course Co-ordinator: Dr. Gessica De Angelis
To apply please see: Postgraduate Taught Courses
Full-time: one year, 6 to 8 hours per week of classes.
Part-time: two years, two to six hours per week of classes.

Course Handbook 2016-17: PDF| MS Word
---
Speech processing is the science concerned with how speech communication works: how speech is produced by the speaker and understood by the listener. It is also concerned with how these processes can be analysed and modelled, and with how these models can be used to develop technologies that also produce and understand speech (synthetic voices, speech recognisers). The science and technology involved are fundamental to the understanding and remediation of disordered speech. The science of speech is thus at the intersection of many disciplines, particularly linguistics, psychology, acoustics, and engineering.
Language processing, in parallel, deals with computational theories of grammar and meaning, and provides access to fundamentals of linguistics as a science and as an engineering discipline. As a science, it is concerned with the fact that language is used as a medium for thought as well as for communication. As an engineering discipline, it is concerned with tools that work: predictive text in telephones, automated personal assistants, web search, and so on. The fact that you are reading this sentence entails that you have taken advantage of one or more language technologies; it would not be visible to you otherwise. The fact that you understand this sentence (or any sentence) begs all of the questions of cognitive science such as what "meanings" are and how people reason with them.
Our students come from many backgrounds. Some have a background in language study, some have an interest in clinical speech and language analysis, some have a background in psychology, computer science or engineering. In general, they are people who have an analytical bent (they may be interested in how dialects differ, they may love crossword puzzles or find legal reasoning entertaining) and wish to know more about what makes human language work.
Our alumni have followed various career paths, with many opting to pursue research at a higher level through the Ph.D., in CLCS (e.g., becoming involved in research projects in the Phonetics and Speech Lab), with the computational linguists in TCD's School of Computer Science and Statistics, and in other leading institutions, internationally. Some have also used this course as a foundation to enter Speech Therapy programmes in Ireland and abroad.
What does the programme look like?
You take four obligatory 'core' modules:
Speech Processing 1: spectral analysis
Formal foundations of linguistic theories
Laboratory Phonetics and Phonology
Computational theories of grammar and meaning
...and choose two from among the following menu of elective modules:
Corpus Linguistics (not available in 2017-18)
History and Globalisation of English (not available)
Technology, Language, and Communication
Speech Production, Hearing and Perception
Advanced Syntactic Theory
Speech Processing 2: acoustic modelling
Bilingualism and the Maintenance of Irish (updated)
An Ghaeilge mar mheán teagaisc [Irish as a medium of instruction] (new)
Linguistics Landscapes (new)
Speech and Language Technology in Education (new)
The modules are taught in Michaelmas and Hilary terms, and students prepare and write a 15,000-word dissertation in Trinity term and the long vacation (April-August).
What will I learn?
On successful completion of the course, graduates should be able to:
engage in the description and analysis of language
debate central concepts in speech science
debate central concepts in language processing, with particular regard to computational models of language
discuss more advanced topics in speech science or language processing
undertake research in a chosen field of speech science or language processing, having due regard to the ethical, empirical, and theoretical aspects of this research
communicate the results of their research on topics in speech science and language processing through written papers, oral presentations, and other means where appropriate.
Further information
Read our Frequently Asked Questions on the M.Phil. in Speech and Language Processing and related M.Phil. programmes.
For a more in-depth insight into the shape and content of the programme, please consult our current course handbook. Note that the information provided in the handbook is subject to change from year to year.
Telephone: +353-1-8961560
Email: clcsinfo@tcd.ie
Applying
To apply please see: Postgraduate Taught Courses