Masters in Linguistics (M.Phil.)
"not only gave me a competency in linguistics, but also a sense of professional focus and personal confidence ... enjoyed it thoroughly" ... "good mixture of theoretical models and practical examples ... allowed me to see the bigger picture ... gave me a chance to explore the fascinating world of human languages from a more scientific perspective"
---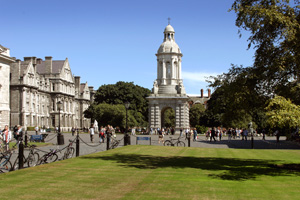 Detailed information (all M.Phil. courses):Frequently Asked Questions
For queries regarding the M.Phil in Linguistics please contact Professor John Saeed
Mphil. Course Co-ordinator: Dr. Gessica De Angelis
To apply please see: Postgraduate Taught Courses
Full-time: one year, 6 to 8 hours per week of classes.
Part-time: two years, two to six hours per week of classes.
Course Handbook 2016-17: PDF | MS Word
---
Linguistics is the systematic study of human language. It has its roots in antiquity, though the the past hundred years has seen an explosion of research and the development of new theories and approaches. Linguistics has become an exciting and vigorous area of study, with strong connections to many fields including psychology, sociology, anthropology, cognitive science, computer science, and philosophy.
Language is complex, and linguistics attempts to describe and explain the full range of that complexity, especially speech sounds, the grammar of words and sentences, and how meaning relates to words, grammar and context. The M.Phil. in linguistics gives due weight to all of these, with core modules in Describing Grammar, Describing Meaning, Describing the Sounds of Languages, and Laboratory Phonetics and Phonology. A varied menu of optional modules gives students the opportunity to investigate  a range of topics, including variation and change in languages and in language communities, multilingualism, typology (the comparison of languages), the global role of English and the influence of technology on language.
The M.Phil. in Linguistics has been running for over 30 years. Our students -- who are not expected to have any background in linguistics -- have in some cases come from language professions (such as translating, interpreting, teaching, speech and language therapy, publishing), or directly from undergraduate degrees which include language-centred elements (for example, English, modern languages and literature, anthropology, classics, psychology, sociology). In other cases, they have simply been people who are intrigued by language and wish to study it in a more systematic fashion. In general, the M.Phil. in Linguistics is likely to appeal to students with a talent for careful, systematic argument, and who wish to understand the mysteries of language.
Our alumni have followed various career paths including the language professions and information sciences, with many opting to pursue research at a higher level through the Ph.D., in CLCS or elsewhere. For some, Ph.D. research has led to professional academic employment.
What does the programme look like?
You take four obligatory 'core' modules:
Describing Grammar
Describing Meaning
Describing the Sounds of Languages
Laboratory Phonetics and Phonology
...and choose two from among the following menu of elective modules:
Language Variation and Change
Linguistic Typology
Corpus Linguistics (not available in 2017-18)
History and Globalisation of English (not available)
Advanced Syntactic Theory
Technology, Language, and Communication
Linguistic Pragmatics
Multilingualism
An Ghaeilge mar mheán teagaisc [Irish as a medium of instruction] (new)
Linguistics Landscapes (new)
Speech and Language Technology in Education (new)
The modules are taught in Michaelmas and Hilary terms, and students prepare and write a 15,000-word dissertation in Trinity term and the long vacation (April-August).
What will I learn?
On successful completion of the course, graduates should be able to:
engage in the description and analysis of language
debate central concepts in linguistics and phonetics
discuss advanced topics in linguistics, incorporating cognitive, formal, and social perspectives on language
undertake research in linguistics, having due regard to the ethical, empirical, and theoretical aspects of this research
communicate the results of their research on topics in linguistics through written papers, oral presentations, and other means where appropriate.
Further information
Read our Frequently Asked Questions on the M.Phil. in Linguistics and related M.Phil. programmes.
For a more in-depth insight into the shape and content of the programme, please consult our current course handbook. Note that the information provided in the handbook is subject to change from year to year.
Telephone: +353-1-8961560
Email: clcsinfo@tcd.ie
Applying
To apply please see: Postgraduate Taught Courses