Masters in English Language Teaching (M.Phil.)
Applications for 2015/16 will open on 2 November 2014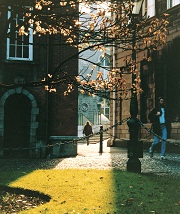 Detailed information (all M.Phil. courses): Frequently Asked Questions
For queries regarding the M.Phil in English Language Teaching please contact
Dr. Heath Rose
Application deadline: 30 April 2015 (online application system open from 2 November 2014)
Full-time only: one year, 6 to 8 hours per week of classes.
Information on how to apply: Graduate Studies Office website
Apply from 2 November 2014 onward via this page
Course Handbook 2013-14: PDF | MS Word. (Subject to change for 2014-2015)
Course Co-ordinator: Dr. Breffni O'Rourke
---
As the importance of English as a global language has continued to grow, English teachers have increasingly sought to deepen their understanding of the nature of language teaching and learning in light of the diverse challenges they face. The M.Phil. programme in English Language Teaching is aimed at meeting the needs of teachers who wish to enhance their career options.
The programme will give practicing teachers the opportunity to explore current issues in ELT, and to deepen their understanding of the theoretical and practical concerns that underlie their teaching. The programme benefits in particular from the CLCS's involvement in the development and implementation of two Council of Europe tools that are important in the current debate about language learning, teaching and assessment world-wide: the Common European Framework of Reference for Languages and the European Language Portfolio.
Applicants should have a good honours degree (at least an upper second or equivalent; GPA of at least 3.2). Preference is given to applicants with relevant teaching experience. Students whose first language is not English are provided with a four-week induction programme in September to prepare them for postgraduate study in Ireland. All applicants are expected to show proficiency in at least one language other than their first language.
What does the programme look like?
You take four obligatory 'core' modules:
Second Language Curriculum Planning and Implementation
Describing English Grammar
Language Testing
Pedagogical Grammar of English
...and choose two from among the following menu of elective modules:
Technology, Language, and Communication
Language Variation and Change
Corpus Linguistics
History and Globalisation of English
Bilingualism and the Maintenance of Irish
Linguistic Pragmatics
Multilingualism
Second Language Teaching
The modules are taught in Michaelmas and Hilary terms, and students prepare and write a 15,000-word dissertation in Trinity term and the long vacation (April-August).
What will I learn?
On successful completion of the course, graduates should be able to:
engage in the description and analysis of the English language
analyse aspects of English in relation to other languages
debate central concepts in the applied linguistics of English language teaching
discuss more advanced topics in the study of the English language and demonstrate the application of this knowledge to the solution of linguistic problems
integrate theory and practice in the teaching of English such as English language teaching and learning, language policy, language and technology, and the globalisation of English
undertake research relevant to the applied linguistics of English language teaching, having due regard to the ethical, empirical, and theoretical aspects of this research
communicate the results of their research on topics in the linguistics of English language teaching through written papers, oral presentations, and other means where appropriate
Further information
For further information about the M.Phil. in English Language Teaching please contact Dr. Heath Rose
Read our Frequently Asked Questions on the M.Phil. in English Language Teaching and related M.Phil. programmes.
For a more in-depth insight into the shape and content of the programme, please consult our current course handbook. Note that the information provided in the handbook is subject to change from year to year.
Telephone: +353-1-8961560
Email: clcsinfo@tcd.ie
Applying
Applications for 2015/16 accepted from 2 November 2014.
For information on how to apply, go to the Graduate Studies Office website
To apply, please follow this link.
The Graduate Studies Office website provides details of College's general entry requirements as well as detailed information on the application procedure. International students whose first language is not English should see in addition Trinity's English language requirements.