Follow us at www.facebook.com/TCD.languagecentre

Centre for English Language Teaching
The Centre for English Language Teaching provides English language learning support for prospective and future students of the college, as well as offering specialized courses for the general public. Located in the School of Linguistic, Speech and Communication Sciences, the centre delivers pre-sessional (summer), in-sessional, and pathway English for Academic Purposes courses within the college.
Welcome to the CELT
Welcome to the Centre for English Language Teaching at Trinity College, The University of Dublin. Our centre specifically focuses on the development of students' academic English skills, in order to support them in their current or future university studies. Our centre is located in the School of Linguistic Speech and Communication Sciences, where I also coordinate the university's masters programme in English Language Teaching. This dual role means that the programmes in the language centre have strong links with the latest research in language teaching, and best practices in teacher training. Our programmes are student-centred, project-based, and focus on the use of English as a global language. Our courses are open to current or future university students, as well as other learners who want to improve their English language skills. Information on each of the programmes can be found on this webpage.
Dr. Heath Rose
Director of the Centre for English Language Teaching
Click on the boxes below to access course information, dates, prices, and eligibility:
---
Trinity - Eurozone's No. 1 English language university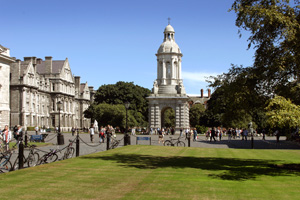 Trinity College is Ireland's premier university and one of the world's leading research-intensive universities. In 2014, it ranked 61 overall in the QS World University Ranking, and it was number 1 for English Language and Literature in the Eurozone (ranked 25th in the world).
And it's not just English language... Trinity's School of Business was ranked 37th in the world by Eduniversal in 2013, and the Trinity MBA was among the top 39 globally, as recognised in the 2013 QS Elite Global Business Schools.
Trinity campus - rich history in the city centre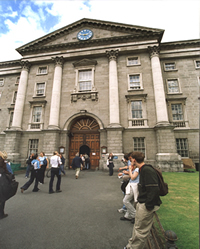 Trinity College was opened in 1592. The 47-acre campus is situated in the centre of Ireland's bustling capital city, where cobbled squares, historic buildings and playing fields stand alongside state-of-the-art facilities. Some of the world's most famous English language writers and playwrights attended Trinity.
Today, the campus has a vibrant international community of almost 17,000 students, and 2,860 members of staff. The student population represents 122 nationalities.
History meets state-of-the-art, a global network in the heart of Dublin
Dublin - IT global hub; the best place to live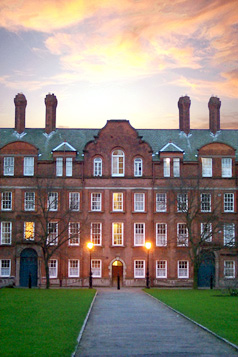 Dublin is home to headquarters of the world's most prolific high-tech IT and social-networking multinationals, employing thousands from around the globe.
In 2014, Dublin ranked 34th out of 223 world cities according to the Mercer Quality of Living survey (beating out London). Educational facilities, lower levels of air pollution and recreational and social activities make Dublin one of the best places in the world to live.
Dublin quality of living is hard to beat!
About Trinity College
Language Study at Trinity College
About Trinity College
Trinity College is recognised internationally as Ireland's premier university. It was founded in 1592, and is one of the great universities of the world, situated on a beautiful historical campus in the centre of Dublin. There are some 17,000 students registered in our three Faculties of Arts, Humanities and Social Sciences, Health Sciences, and Engineering, Mathematics and Sciences.
Language study at Trinity College
Trinity College is a world-leader in university language learning, and has earned many plaudits for the innovative language learning tools and courses designed and delivered by its Centre for Language and Communication Studies. Trinity College is a multilingual university, and offers many opportunities for you to improve your language skills. English for Academic Purposes courses run regularly at the Centre for Language and Communication Studies (part of the School of Linguistic, Speech and Communication Sciences) for students registered at TCD and for other students from who wish to improve their English before they start a course at another university.
English language teaching and learning is an important part of the School's academic activities, not just through teaching English for Academic Purposes, but also by training and upskilling English language teachers, testers and course designers in our postgraduate courses (for instance, M.Phil. in English Language Teaching), and by conducting cutting-edge research on many aspects of English language, such as the varieties and status of English, its sound system and its morpho-syntax.