People
Visitor Programme
The IIIS runs a visitor programme that allows leading international researchers to spend periods of time at the IIIS ranging from one week to one year. This programme expands the research capability of the IIIS and encourages the development of collaborative projects between local and external researchers.
The visitor programme is intended to help build the research capacity of the IIIS and its associated Schools by promoting interaction between the visitors and IIIS researchers. This is done by the presentation of work in seminars, collaborating with IIIS researchers, being available to talk to IIIS postgraduate students, participating in IIIS conference & seminars as well as other informal activities.
We are currently reviewing our nomination process for IIIS visitiors, please contact iiis@tcd.ie if you have any queries.
IIIS would like to welcome the following visitors to the Institute
| Visitors Name | Institute | Dates |
| --- | --- | --- |
| Assoc. Prof Caner Bakir | International Political Economy, Koc University, Istanbul, Turkey | Feb - Aug 2014 |
| | Innovation Management, International Operations Strategy, Ozyegin University/ University of Strathclyde | Feb - Aug 2014 |
| | Sociology, Pontificia Universidade Catolica de Sao Paul0-PU-SP | Feb - July 2014 |
| Dr Rowena Gray | Economics, University of Essex | Jan - Dec 2014 |
| | Afyon Kocatepe University. Faculty of Economic and Administrative Sciences Department of Public Administration Afyonkarahisar/Turkey | Sep 2013 - Aug 2014 |
---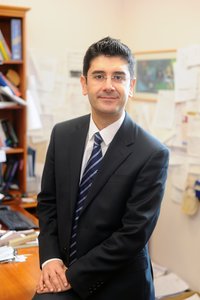 Caner Bakir
Feb 2014 - Aug 2014
Caner Bakir is an Associate Professor of International Political Economy of the College of Administrative Sciences and Economics at Koç University. He is co-director of the Center for Globalization, Peace and Democratic Governance (GLODEM). Dr. Bakir has published three research books, co-edited a book, 15 indexed journal publications (9 SSCI), 8 book and encyclopedia chapters, and presented his works in over 30 international conferences/meetings. He was the recepient of Incentive Award in Political Science in 2010 and a Early Career Researcher Award in 2008 from Scientific and Technological Research Council of Turkey (TUBITAK). He publishes in the top journals in his field including Governance, Public Administration, Development and Change and New Political Economy. His comments on the Turkish economy, financial system and central banking appeared in the leading newspapers and TV channels including the Wall Street Journal and CNN Tuk.
Dr. Bakir will collaborate with Professor Louis Brennan of the School of Business during his stay at IIIS. He will focus on strategies, motivations and impact of emerging country multinationals, Turkish multinationals in particular. Dr. Bakir is interested in how interactions among context dependent and interrelated structural and institutional complementarities and agency-level enabling conditions affect MNC behavior.
Seminar: Dr Caner Bakir will present a seminar
Title: Turkish Multinationals Abroad: Effect of structures, institutions and agents
Date: TBA
Time:TBA
Venue: IIIS Seminar Room
Abstract: This paper investigates how structural, institutional and agency-level enabling conditions affect internationalization motivations and strategies of Turkish Multinational Corporations. It offers an overview of TMNC investments and structure, institution and agency-based (SIA) framework to explain internationalization behaviour of selected TMNCs. The implications for future research, practice, and policy making are discussed.

Contact or IIIS
---
Nuran Acur
Feb 2014 - Aug 2014
Dr. Nuran Acur is an Associate Professor in Innovation and Technology Management at Ozyegin University in Turkey and senior at the University of Strathclyde in Glasgow, United Kingdom. Dr. Acur received her her PhD in Strategic Management (2001) from the University of Strathclyde. Prior to her appointment as Senior Lecturer at the University of Strathclyde (2008-2011), she worked at Aalborg University (2002-2005) and Bilkent University (2005-2008) as an Assistant Professor of Innovation Management. Dr. Acur has also worked as a business analyst in DAKS-Simpson Ltd. (1998-2000) and quality systems engineer at Worldmark Ltd. (2001-2002).Dr. Acur also held Visiting Scholar positions at the Sloan School of Management at the Massachusetts Institute of Technology (2003), and at the London Business School (2007-2008). She served as a board member of European Operations Management Association between 2006-2010. Dr. Acur's research primarily focuses on the intersections of three topics:
(1) New capability development and interconnectedness of resources and capabilities in Technology, Management and Service Innovation in the Global Context, (2) Managerial competence, attributes, and the evolution of the firm's innovation and operations strategy, and (3) Crowdsourcing and open innovation. She has received Research Council funding to support several projects related to the fields of technology and service innovation. She has also been serving as a board member of EurOMA (The European Operations Management Association) since 2006. Her work has appeared in numerous journals including the Journal of Product Innovation Management, International Journal of Operations & Production Management, Creativity and Innovation Management, and Supply Chain Management: An International Journal. Dr. Acur teaches courses on innovation management, business strategy, change management, and strategic technology management. She is in the editorial board of the Journal of Product Innovation Management and Creativity and Innovation Management.
Dr. Acur will collaborate with Professor Paul Coughlan, Professor Louis Brennan and Dr. Majella Giblin at the School of Business during her stay at IIIS. She is currently developing an EU proposal together with Prof. Coughland and Dr. Giblin about Business Model Innovation and Crowdsourcing. She will also focus on multinationals strategies, innovation in pharmacetucial industry and compare with multinationals in Ireland and Turkey. Dr. Acur is also work in IMSS (International Manufacturing Strategy Survey) project.
Dr Nuran Acur will present the following seminar
Title: Opening The Box of knowledge in absorptive Capacity Development in the Context of Service Innovation

Date: Friday 21st March 2014
Time: 13.00 - 14.00 (sandwiches provided)
Venue: IIIS Seminar Room, 6th Floor Arts Building, TCD
Chair: Professor Louis Brennan, School of Business, TCD

Abstract: How does the flow of different knowledge forms develop absorptive capacity in a service innovation? We interpret empirical findings from our five year longitudinal case of a business-to-consumer service through the multiple theoretical perspectives of absorptive capacity development, knowledge management and service innovation to address this question. We move beyond acknowledging the importance of the customer to understand how customers might more effectively assist in absorptive capacity development if a firm consciously shifts the focus of their customer engagement during the life of a service innovation. We characterize how alignment of a champion's motives with the interests of the firm can direct the path of knowledge during absorptive capacity development. We generate insight into how relational, experiential and structural elements develop absorptive capacity at a team level by forming a knowledge mosaic from individual employees. An emergent model is articulated to represent the path of knowledge processes that support the flow of different forms of knowledge between individuals, teams and the firm. The model is conceptualized as mutually reinforcing knowledge spirals, facilitating knowledge conversations and transformation between knowledge levels during absorptive capacity development.
---
Eliane Marchetti Silva
Feb - July 2014
Eliane Marchetti is a teacher at the technological education federal center (CEFET-MG) in Belo Horizonte, MG, Brazil. She is a member of the Language and Technology Department - DELTEC. Besides teaching, she is also a member of the research group NALET which investigates language learning and technological education. Having graduated in Arts (Language and Literature), Eliane Marchetti obtained her Master's degree in Sociology (2010) and since 2012 she is a PhD student in Social Sciences at "Pontifícia Universidade Catolica de Sao Paul - PUC-SP.. In Trinity her work is under the supervision of Dr. Antje Roeder under Sandwich Scholarship - funded by CAPES Foundation, Ministry of Education of Brazil, Brasilia. Her thesis title is "Brazilian immigrants in Ireland: the construction of citizenship and identity". This study aims to investigate and analyze Brazilian immigrants who chose to reside in Ireland. Her work focuses on identifying how these Brazilians construct their citizenship in the host country and the identity construction they perform during this process. She is interested in migration, identity, and citizenship.

Seminar: Eliane Marchetti Silva will present a seminar
Title: TBA
Date: TBA
Time:TBA
Venue: IIIS Seminar Room

Collaborator: Eliane will be collaborating with Antje Roeder in the Department of Sociology
Contact or IIIS
---
Rowena Gray
January-Decemebr 2014
Dr Gray received her PhD in economics in 2011 at the University of California, Davis, and works on nineteenth and twentieth century American economic history, focusing on topics concerning labor market change and immigration. During her stay at the IIIS she will construct and analyze a new database of urban U.S. crime rates for the period 1880-1930.

Seminar: Dr Gray will present a seminar
Title: "Importing Crime? The Effect of Immigration on Crime in the United States, 1880-1930"
Date: February 4th 2014
Time: 9-10 am
Venue: IIIS Seminar Room

Collaborator: Dr Gray will be collaborating with Philip Lane in the Department of Economics
---
Bernard Calais
Sept 2013-June 2014
My involvement could come in line with one of the IIIS flagship research programs: the "Development challenge".  This fits my own research interests and I dare to think that my own research focus is relevant for it. During my visit in IIIS, I intend to write a book on "African Rose"; it will be a work on the global geo-economy of an iconic object of the global culture and its socio-spatial implications for developing, mainly African, countries. Following an iconic object such as cut-rose along its global value chain offers good perspectives on the different stakeholders, trends, dynamics and contradictions which shape actual and present globalization and on the different places where it condenses. I have already carried out field enquiries with breeders, farmers, freight and forwarders and air carriers, mainly in Kenya, India. I also have finance for a field-mission on water and hydropolitics issues in Naivasha-Kenya to be carried out this summer and I applied for a small sponsorship to carry out interviews in the Netherlands in November 2013 during the Aalsmeer International Hortifair. These are the empirical data I want to invest in my writing and to bring as a case study in the IIIS "Development challenge" research program. The cut-rose is the driver for a world-wide "symbolic, just in time economy", worth 7 billions US $ with an average annual growth rate of 10%. While Holland remains a key actor of the Cut-rose Global Value Chain, its shares in the world production (30%) but also in the global market (50 %) keep on decreasing. Flowers from the South are now sharp competitors to Dutch roses and direct saes do progressively short-cut the Dutch auctions where the cut-roses were traditionally sold. Starting from the 1970's, Western growers (Us Americans, Dutchs, Italians, Israelis, etc.) began to shift some of their farms in specific places of the Global South. Eventually later big southern companies such as Karuturi Ltd from Bangalore in India began to invest in flower farms targeting the northern hemisphere supermarkets, wholesalers and mass-retailers. These investments were only located in some high altitude equatorial places in Ecuador, Columbia, Ethiopia, Kenya where they build up new geographical (socio-spatial) structures. Clusters and "small social worlds" have condensed, and are highly connected to global markets through regional metropolis and logistic hubs. Thus the rose industry contributes to "economic (re)structuring in Africa" (Carmody) and, through contracts, certifications and patents to the rising of a kind of globalized governance. These new spatial forms of economics activities highly depend on physical connections. An analysis in term of logistic chain is thus required, taking into account the freight and forwarders', the air-carriers', the airport authorities' strategies making the airport plateforms key places for enquiries. The use of India as a counterexample will be of some use to understand the explaining factors of the successful settlement of cut-roses farms in the other countries. I want to analyse the evolution of the African cut-rose sector. But hiring a lot of workers (20 pax/ha when in Holland the employment density is only 3 pax/ha!), these farms are labor intensive. My second focus will thus be "on the economic wellbeing of households in rural [Kenya], with a particular focus on access to, and use of, productive resources". Do households benefit from the wages, salaries and advantages of the cut-rose industry? How do they benefit? How do they use the money they earn from the farm? My third focus will be on related hydropolitics issues. One of the physical amenities which attracted foreign investors in these specific areas was even and free water availability. Since a 1 roses trees sqm needs in between 3 to 9l. per day, this was a key factor. Thus 80 % water made, cut-roses pose serious hydro-political issues. That is why after some in depth field-researches in flower farms in Eastern Africa, I am already partially sponsored by a comparative research program (ANR Terre-Eau) dealing with hydropolitical issues in different places (Kenya, Uganda, Nepal, Malagasy, Israel-Cisjordanie-Lebanon, French Brittany) to carry out a field mission in Kenya in July 2013. I shall focus on Lake Naivasha debates as a local expression of global environmental controversies. In conclusion, my study will not avoid questioning the impact of international integration. Does it promote development and change power balances between rich and poor groups within African countries and between rich and poor countries in the world or rather as P. Carmody puts it a "thin integration ("thintegration") into the global economy, which does not fundamentally alter the continent's dependent position"? (Carmody, IIIS DP n° 279).
---
Ethem Kadri Pektas
Sept 2013-Aug 2014
The main purpose of this research is to examine the participation ways and levels of citizens in the decisions and practices of the local governments in Ireland and Turkey and to compare them. In this regard, the principles of the European Urban Charters (1996 and 2008) will be used as a base in this research. Turkey and Ireland are both unitary countries. So, a comparison between two countries' local government systems from the perspective of citizen participation would yield fruitful suggestions. This study will contribute to the current discussions on how to improve local governance and democracy. Main processes of this research are; Making a scientific literature review related to the research subject, Determining and examining of the current legal rules related to the research subject and also laying the groundwork/examining and planning, Making observations and examinations at participation platforms of Irish local governments, Preparing and applying questionnaire form to determine the different degrees of citizen participation in Irish local governments the third work package: making observations and examinations at participation platforms of Irish local governments, Analyzing the results, identifying the problems and suggesting some solutions, and Presenting the research to international literature as an article and preparing results of research as a report.
Seminar: Dr Kadri Pektas will present a seminar
Title: Citizen Participation in Turkish Local Government System

Date: Wednesday 26th 2014
Time: 13.00 - 14.00 (sandwiches provided)
Venue: IIIS Seminar Room, 6th Floor Arts Building, TCD
Chair: Professor Daniel Faas, Head of Department of Sociology, TCD
Abstract: Good governance is a new approach that contains all the necessary principles for the establishment of a democratic government. Citizen participation is also one of the basic principles of good governance at local level. Nowadays, citizens want to participate in local governments by using different instruments, such as voting in elections and being a member of various councils/NGOs, with the ultimate aim of realizing good governance. Citizen participation in deciding and implementing on local issues enhance legitimacy and efficiency of these decisions. There are some regulations in the Turkish Constitution (1982) and acts that have improved citizen participation in recent years. "Municipal Act" (2005), "Metropolitan Municipality Act" (2004) and "Special Provincial Administration Act" (2005) include some relevant citizen participation rights. The main purpose of this study is to determine the ways and levels of citizen participation in public decision-making processes and practices of the local governments in Turkey.


Contact or IIIS
---
David Cairns
Mar - April 2014
David Cairns is a Senior Researcher at the Centre for Research and Studies in Sociology, ISCTE-University Institute of Lisbon, Portugal. His main research interest are in youth and mobility, and he has published extensively in these areas in journals including recent articles in International Migration, Journal of Youth Studies and British Journal of Sociology of Education. While visiting IIIS during March and April, he will be conducting research with students on the impact of the economic crisis on their lives, including future mobility and migration plans. This study forms part of follow-up research to a study of mobility during the crisis, the results of which were presented at a seminar as part of the 2013 Migration Seminar Series.
Dr Cairns will collaborate with Dr Elaine Moriarty, Department of Sociology
Contact or IIIS