Trinity Biobank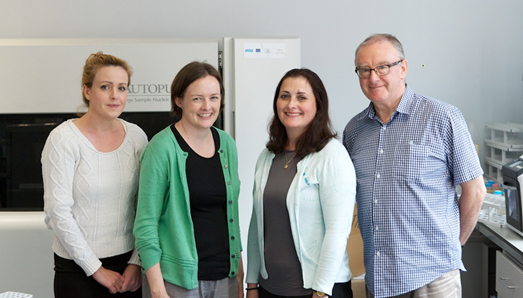 Left to Right: Valerie Logan, Ruth Dooley, Mary Cunneen, Joe McPartlin
Biospecimen quality is of fundamental importance for biomedical research particularly in the realm of translational research and systems biology through all types of –omics applications. Universally-recognised management procedures of biospecimens are now regarded as critical for the development of new drugs and procedures in medical practice. Furthermore, it is accepted that the international exchange of such material can only be achieved successfully by adaption of harmonised procedures throughout the handling chain.
The Trinity Biobank was established in 2004 to facilitate processing, storage and distribution of biospecimens related to clinical and epidemiological research undertaken in Trinity College-St James's Hospital.
The Biobank serves a broad remit in the areas of epidemiology, population genetics and pharmacogenomics and provides laboratory support for several current case-control and longitudinal studies. We aim to foster and facilitate research into new disease markers and therapeutic targets by providing logistical support and advice for clinical trials with the capacity to store trial samples for additional or future testing.
We promote the use of sample processing procedures under accepted international harmonisation guidelines and in line with Trinity College Health & Safety Policy.