TrinSeq - Genomics Core Facility
TrinSeq
delivers high-throughput, next generation sequencing on a range of platforms.
TrinSeq, the Trinity Genome Sequencing Laboratory is located in the Trinity Translational Medicine Institute (TTMI), Trinity College Dublin. The laboratory now houses an Illumina MiSeq, NovaSeq 6000 Sequencing System both of which can undertake a range of ultra-high throughput genomics applications. Additionally, we provide access to a BD Rhapsody™ Single-Cell Analysis System which is capable of analysing hundreds of genes across tens of thousands of single cells in parallel. Furthermore, the Ion Personal Genome Machine (PGM) System & the Ion Chef System provide affordable sequencing for small genomes and targeted panels. This is a core facility supported by full-time research staff available to all academic and industry-based researchers in Ireland.
NovaSeq 6000 Sequencing System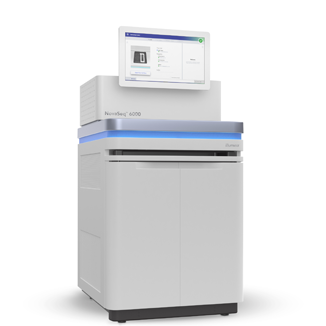 Illumina's NovaSeq 6000 provides access to the most powerful, high-throughput sequencing instrument available that allows for faster and more cost-effective genomic analyses. The largest benefit is provided for applications that require large amounts of data, such as human Whole Genome Sequencing (WGS), Exome Sequencing (WES) and tumor–normal profiling. These projects can be analyzed at a sharply reduced price per sample compared to sequencing on all other HiSeq instruments and require only 1 or 2 sequencing days.
MiSeq Technology
This ultra high-throughput sequencing system enables a wide range of genetic analysis applications including de novo sequencing of novel genomes, resequencing of whole genomes or target regions (e.g. candidate disease genes), transcriptome profiling and the study of DNA regulatory mechanisms. The MiSeq system is powered by Illumina sequencing technology, which uses a massively parallel sequencing-by-synthesis approach to generate billions of bases of high-quality DNA sequence per run.
Applications
DNA Sequencing

Transcriptome analysis

Gene Regulation and Control

Whole genome resequencing
Targeted or amplicon resequencing
De novo sequencing
16S Metagenomics
Clone Checking / Plasmid Sequencing

Relative expression of transcripts
Analysis of splice variants/coding SNPs
Analysis of non-coding RNAs
Transcript discovery
Small RNA sequencing

Genome-wide analysis of

Epigenetic modifications
DNA-protein interactions (ChIP-seq)
BD Rhapsody™ Single-Cell Analysis System
Single-cell experiments are very expensive due to sequencing costs associated with high-throughput experimental methods. The BD Rhapsody Single-Cell Analysis System was designed with multiple features that help reduce experimental costs by utilizing sequencing reads more efficiently. The following provides an example of the BD Rhapsody workflow including cell isolation (FACS optional), cell capture and molecular indexing, sequencing and data analysis

Core Facility
The Trinity Genome Sequencing Laboratory provides the following assistance to researchers interested in undertaking a project using the Illumina MiSeq Benchtop Sequencer:
Advice on study design and costs
Advice and guidance on sample library preparation
Access to automated liquid handling for large scale projects
Sequencing and primary data analysis
Advice and guidance on secondary data analysis
How To Get Started
For online information on how to set up your MiSeq sample prep and sequence run: http://www.illumina.com/informatics/research/experimental-design/basespace-prep.html
For more information on MiSeq reagent kits:
http://support.illumina.com/sequencing/sequencing_kits/miseq_reagent_kit.ilmn
For a list of publications using the Illumina Sequencing Technology go to:
For project enquiries/project quotes please contact: Dr Elaine Kenny
The Trinity Genome Sequencing Laboratory was established with funding from Science Foundation Ireland through a grant awarded to Dr. Derek Morris.
June 2009 press release : Minister Lenihan Opens Ireland's First 'Next-Generation' DNA Laboratory at TCD's Institute of Molecular Medicine