Our Deliverables
The Seven Pillars of Wisdom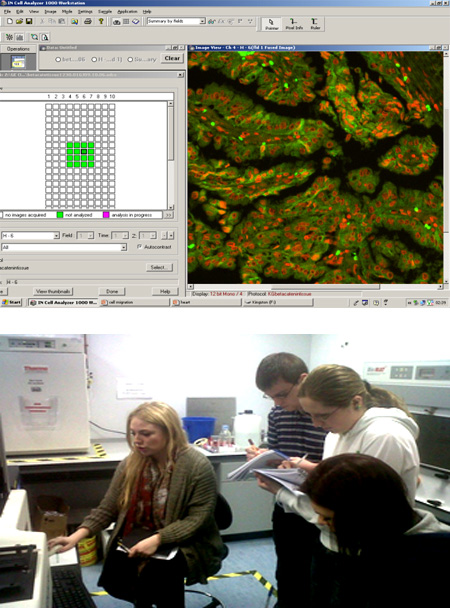 Exploitation
Education
Innovation
Collaboration
Commercialisation
Remuneration
Propagation
Exploitation
To ensure that technology contained within the INCHSA is fully utilised. Demonstrable by publication record and number of healthy collaborations
Education
A National Facility WE provide scientific leadership in the form of;
Training (Theoretical, practical and applications based)
Compliance (The Implementation and fostering of internationally recognised industry standards (e.g. MIACA, MIARI etc)
Elevating the awareness of the capabilities of our technologies within the scientific community.
The First Academic Course In High Content Screening/Analysis

Course is now in its 7 th year
Course aim To prepare students for work in academic and industrial drug discovery labs.
Attended by students from academia and industry from as far away as US, Asia, Europe and Ireland.
Students attended from AZ, Novartis, Genzyme, GSK, Pfizer
Teaching and training given by experts from academia and industry.
These include; Astra Zenica, Pfizer, Thermo fisher, GE health care, BD, MD, NKI, Max Planc
Selected International HCS Workshops and meetings and events organised.
Cellular Imaging Analysis 2009
Co-organiser's European Pharmaceutical Review and The High Content Screening Facility Trinity College Dublin.
Innovation
To ensure that our scientists (clients) are provided with the very latest and best possible tools, technologies and techniques available. We are constantly innovating, developing and improving our technologies and working practices.
We Constantly strive to provide our users with technologies that will ensure their research remains on the cutting edge.
We are currently focusing in the following areas:
Software
Cellular Probes
Advanced micro bio-reactors and multi welled plates.
Novel 3 dimensional culture systems.
Scientific and educational collaborations Past and present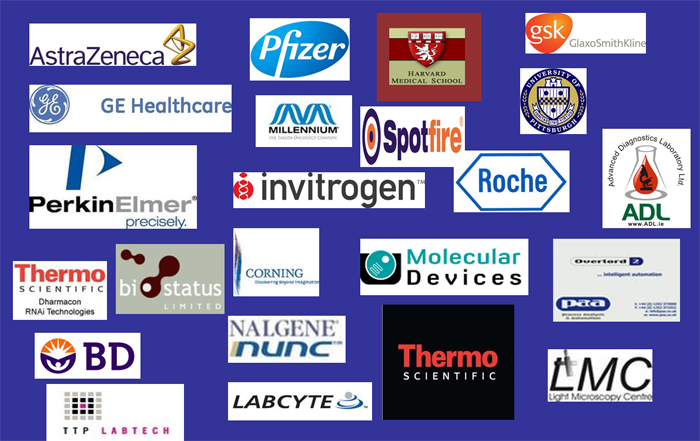 Commercialisation
We have recently out licensed IP developed in within INCHSA to a newly formed campus company Biocroi.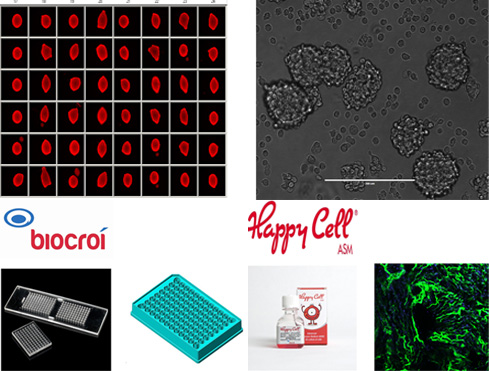 Remuneration
We attempt where possible to keep costs as low as possible.
We charge an hourly rate to users and where possible subsidise the use of the facility by raising alternative funding and support.
Sources of extra support include
Running conferences and workshops
We have also benefited from a huge amount of support from vendor companies.
Propagation
International speaking engagements (approx 10/ year)
Covering how to set up HCS facilities
Technological advancements developed in house

January 2010 Cambridge Health Institute (HCA) San Francisco
Pre-Conference Advanced Workshop
Title: Setting up an HCA Lab.
Main session
Title: High-Content Cell-Based Assays Used for Study of the Toxic Effects of Antiviral Drugs in Cardiac Cells.
January 2010 lifting the lid on academic laboratory automation
Hinxton Hall Cambridge UK.
Title: Automation Strategies for High Content Research at Trinity College Dublin.
November 2008 HUGO High Content cellular Screening workshop Singapore.
Title: Assay miniaturisation and multiplexing strategies.
June 2010: Oxford global Drug Discovery Leaders Summit (Switzerland)
Title: Assay Development Strategies for High Content Analysis using Primary cells.
Committees, editorial boards and review panels
Editorial Board European Pharmaceutical Review (Russell Publishing)
Advisory Pannel Americam Pharmaceutical review (Russel Publishing)
High Content Screening Work Group Leader RNAi Global Initiative
Advisory Panel member drug discovery leaders summit Oxford Global