History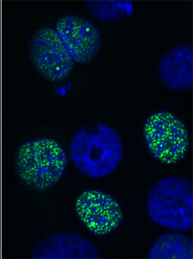 2004 Setup began in 2004 to service translational research projects which were conducted within the Institute Of Molecular Medicine Trinity College Dept of Clinical Medicine. Setup was initiated and supported Prof's Dermot Kelleher and Yuri Volkov who with funding from PRTLI, HRB and Ethel Davis Bequest (Trinity foundation) provided the financial resources to establish the facility.
2005 Dr Anthony Davies was invited to manage the setup and running of the Trinity College High Content Facility.
2006 The facility was fully operational and became central to many in-house research projects focused in the areas of drug discovery, target identification and validation, biomarker studies, genome wide siRNA screening and nano materials research. The first academic course was launched as part of the Masters in Molecular Medicine MSc program.
2007 Facility became financially independent and Academic / industry outreach program was launched.
2008Facility was officially opened and as national centre. Opening was officiated by Dr Ruth Barrington (Chief executive Officer MMI)
2009 to Date INCHSA holds prominence both Nationally and Internationally as a centre of excellence for training and research in the field of High Content Screening.