Network Member Profiles
John Sweeney, National University of Ireland, Maynooth.
Biography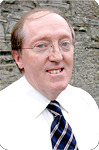 Emeritus Professor John Sweeney has been at Maynooth University since 1978. He is originally from Glasgow and received his B.Sc. and PhD from the University of Glasgow. His original thesis topic was entitled: 'The Meteorology and Climatology of Air Pollution in the Glasgow Basin'. His teaching in Ireland has primarily related to climatology, but he has also taught biogeography, geomorphology and environmental resource management. Professor Sweeney has also taught and researched at a number of universities in North America and Africa and has also been involved in course design and curriculum development matters at second and third levels. Over the past 38 years he has published over 100 papers, chapters and texts on various aspects of climatology and climate change in Ireland (H-Index 25). He has supervised 13 PhDs to completion and is a regular contributor to print and broadcast media. In 2014 he was the recipient of 1st Award for Achievements in Journalism on Meteorology and Climatology from the European Meteorological Society. He has served a number of national academic societies as President, Secretary and Treasurer as well as being the Irish representative on a number of European academic bodies. He has also led a large number of nationally funded research projects examining various aspects of climate change in Ireland. Professor Sweeney was a Review Editor and Contributing Author to the 4th Assessment Report of the IPCC for which that organisation was jointly awarded the 2007 Nobel Peace Prize. Most recently he was President of An Taisce, the National Trust for Ireland.
Contact
John.Sweeney@nuim.ie
University Homepage
Click here.
Research Interests
Climate change - climatology - air pollution.
Themes
Air.
Selected Publications
Sweeney, J. (ed.) (2008) Climate Change in Ireland: Refining the Impacts. Environmental. Johnstown Castle, Wexford: Environmental Protection Agency.
Sweeney, J. (2007) A Revision of our Attitudes towards the Natural World is Required, In: Mulholland, J.(Ed.), The Challenge for Government: Priorities for the Next Five Years. Essays from the 2007 MacGill Summer School. Dublin: The Liffey Press, 212-223.
Fealy, R. and Sweeney, J. (2008) Statistical Downscaling of Temperature, Radiation and Potential Evapotranspiration to Produce a Multiple GCM Ensemble Mean for a Selection of Sites in Ireland, Irish Geography, 41 (1), 1-27.
McElwain, L. and Sweeney, J. (2007) Key Meteorological Indicators of Climate Change in Ireland. Johnstown Castle, Wexford: Environmental Protection Agency.
McElwain, L. and Sweeney, J. (2007) Implications of the EU Climate Protection Target for Ireland. Johnstown Castle, Wexford: Environmental Protection Agency.
Sweeney, J., Murphy, C., Charlton, R. and Fealy, R. (2007) Climate change scenarios and challenges for the water environment, In: Ireland at Risk No. 1: The impact of climate change on the water environment. Dublin: The Irish Academy of Engineering, 9-11.
Fealy, R and Sweeney, J. (2007) Identification of frequency changes in synoptic circulation types and consequences for glacier mass balance in Norway, Norsk Geografisk Tidsskrift - Norwegian Journal of Geography, 61 (2), 76-91.
Fealy, R and Sweeney, J. (2007) Statistical downscaling of precipitation for a selection of sites in Ireland employing a generalised linear modelling approach, International Journal of Climatology, 27, 20083-2094.
Sweeney, J. (2007) Ulster faces Floods and Droughts, Irish Woodturners' Guild Journal, 40, 20-21.
Sweeney, J. (2007) The Impact of Climate Change on Irish Agriculture, Proceedings of the Agricultural Forum, Tullamore, 12th March, 145-50.