Network Member Profiles
Ingelise Stuijts, Discovery Programme.
Biography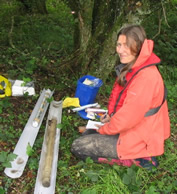 Ingelise Stuijts studied in Groningen, Netherlands, where her biology studies were finished in 1979. Besides biology, she studied archaeology at the Biological Archaeological Institute (now GIA). She obtained her PhD at Groningen University in 1993 in the faculty of Mathematics and Natural Science following a grant by WOTRO. In 1998 she came to Ireland to work for Margaret Gowen & Co. Ltd. on wood and charcoal studies from Lisheen, Co. Tipperary, and West End, Dublin. In 2004, she taught a semester on environmental archaeology at Sligo IT. She has been working as an environmentalist for the Discovery Programme in Dublin since 2002.
After initially being interested in palaeontology and geology, her interests shifted towards botanical material through her studies in Groningen with Professor W. van Zeist and Dr. Wil Casparie. After finishing her thesis, on Indonesian pollen, she worked on archaeobotanical material for the private sector, primarily for ARC in the Netherlands. In addition, she worked part-time on research studies in Netherlands, Turkey and Italy. In 1996 she translated the book Through Nature to Eternity: the bog bodies of Northwest Europe from Dr. W.A.B. van der Sanden from Dutch to Danish for Drents Museum in Assen. In 1997, she co-edited a book on the Kings of the North Sea (with Xandra Bardet).
The creation of the palaeo-environmental module within the Lake Settlement Project was the first work in the Discovery Programme. This led to a collaboration project with Exeter University in the Lough Kinale area. Later, work shifted towards excavation-based research on wood, charcoal and pollen from the late-mesolithic excavation within that area. Since 2004 she also contributes to the Medieval Rural Settlement Project with its excavations in Tulsk and Carns (Co. Roscommon).
Contact
ingelise@discoveryprogramme.ie
Research Interests
Archaeology - archaeobotany - wood/charcoal - palynology.
Collaborative Interests
Ingelise is the contact person within the Discovery Programme for a new envisaged research module focusing on environmental conditions in the period 1500BC through 1200AD that were important for prehistoric people. This module will run parallel to an archaeological module with a somewhat shorter time frame.
Themes
Earth, Fire, Water.
Selected Publications
Stuijts, I. (2007) Wood and charcoal research in Ireland, In: Murphy, E. M. and Whitehouse, N. J. (eds.), Environmental archaeology in Ireland. Oxford: Oxbow Books, 179-193.
Stuijts, I. (2006) Charcoal sampling sites and Procedures: Practical Themes from Ireland, In: Dufraisse, A. (ed.), Charcoal Analysis: New analytical tools and methods for archaeology. BAR International Series 1483, 25-33.
Moore, C. and Stuijts, I. (2006) A Bronze Age Enigma: Some Unusual Artefacts from County Meath, Seanda, 1, 44-45.
Stuijts, I. (2005) Wood and charcoal identification, In: Gowen, M., Ó'Neill, J. and Phillips, M. (eds.) The Lisheen Mine Archaeological Project 1996-8. Bray: Wordwel, 137-185.
Stuijts, I. (2005) Appendix IV. Analysis of charcoal samples from Kilmahuddrick, In: Doyle, I., Excavation of a prehistoric ring-barrow at Kilmahuddrick, Clondalkin, Dublin 22, Journal of Irish Archaeology, 14, 69-72.
Selby, K. A., O'Brien, C. E., Brown, A. G. and Stuijts, I. (2005) A multi-proxy study of Holocene lake development, lake settlement and vegetation history in Central Ireland, Journal of Quaternary Science, 20, 147-68.
Brown, A. G., Hatton, J., O'Brien, C. E., Selby, K. A., Langdon, P. G., Stuijts, I. and Caseldine, C. J. (2005) Vegetation, landscape and human activity in Midland Ireland: mire and lake records from the Lough Kinale-Derragh Lough area, Central Ireland, Vegetation History and Archaeobotany, 14, 81-98.
O'Brien, C., Selby, K., Ruiz, Z., Brown, A., Dinnin, M., Caseldine, P., Langdon, P. and Stuijts, I. (2005) A sediment-based multiproxy palaeoecological approach to the environmental archaeology of lake dwellings (crannogs), central Ireland, The Holocene, 15 (5), 707-719.
Fredengren, C., McClatchie, M. and Stuijts, I. (2004) Connections and Distance: Investigating Social and Agricultural Issues Relating to Early Medieval Crannogs in Ireland, Environmental Archaeology, 9, 161-166.
Stuijts, I. (2004) Charcoal and Wood Report 2004, In: O'Donovan E. et al. Excavations at Friar Street, Cashel: a story of urban settlement, Tipperary Historical Journal, 80-84.
McCormac, G. and Stuijts, I. (2004) Radiocarbon Dating, In: O'Donovan, E. et al. Excavations at Friar Street, Cashel: a story of urban settlement, Tipperary Historical Journal, 84-85.
Stuijts, I. (2004) Charcoal Remains. Appendix II, In: O'Donovan, E. A Neolithic house at Kishoge, Co. Dublin, Journal of Irish Archaeology, 13-14, 18-21.
Stuijts, I.and Gowen, M. (2003) Trackways and Fulachta fiadh in rural Ireland: Wood results from Derryville bog, County Tipperary, Ireland, In: Bauerochse, A. and Haßmann, H. (eds.), Peatlands; Proceedings of the Peatland conference 2002 in Hannover, Germany, 13-24.
Stuijts, I. 2002. Wood and charcoal identifications. Appendix 2. The Excavation, in: C. Fredengren, Crannogs. Cd.rom Appendix 2. The Excavation. Wordwell: 114-136.
Caseldine, C. J., Gearey, B., Hatton, J., Stuijts, I., Reilly, E. and Casparie, W. (2001) From the wet to the dry: palaeoecological investigations at Derryville, Tipperary, Ireland, Recent Developments in Wetland Research, Wetland Archaeology Research Project Occasional Paper, 14, 99-114.
Stuijts, I. (2001) Bronze Age landscape changes in the Midlands of Ireland, In: Metz, W. H., van Beek, B. L. and Steegstra, H. (eds.), Patina, essays presented to J.J. Butler on the Occasion of his 80th Birthday. Amsterdam: Groningen, 527-537.
Stuijts, I. (2000) A prior's herb garden? Archaeology Ireland, 53, 12-14.