Network Member Profiles
Ellen O Carroll, Trinity College Dublin.
Biography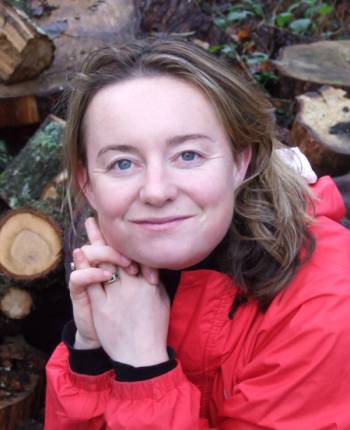 I graduated from University College Dublin in 1991 with a BA Honours Degree in Celtic archaeology. After working on various wetland excavations with the Irish Archaeological Wetland Unit I became interested in wood anatomy and consequently anthropogenic wood selection and use as well as research investigations towards woodland dynamics and woodland management practices in pre-historic, medieval and recent times. I completed an MA in archaeological methods and practices from University College Cork. My thesis was on ''The Analysis of Two Wooden Assemblages from Corlea Bog Co. Longford and King John's Castle Co. Limerick." Since 1994 I have worked on various excavations and research projects as well as completing many environmental woodland reports associated with the analysis of charcoal and wood as well as wooden artefacts from archaeological excavations. I am currently undertaking a PhD on 'Quantifying woodland resource usage in the Irish midlands using archaeological and palaeoecological techniques' under the supervision of Professor Fraser Mitchell at the Botany Department, Trinity College Dublin. This PhD is funded through the National Roads Authority Fellowship Programme.
Contact
External Webpages
Ellen O Carroll Archaeological Consultancy.
Research Interests
Environmental archaeology - peatland archaeology - woodland dynamics - woodland management - palaeocology.
Themes
Earth, Fire.
Selected Publications
O Carroll, E. (forthcoming) Woodland Re-constructions from Wooden Structures Excavated at Kilbegly Watermill, Co. Galway, In: Archaeological Excavations at Kilbegly, Co. Galway. NRA Monograph Series.
O Carroll, E. (2010) Ancient Woodland Use in the Midlands: Understanding Environmental and Landscape Change through Archaeological and Palaeoecological Techniques, In: Creative minds, Production, Manufacture and Invention in Ancient Ireland. NRA Monograph Series issue 3.
O Carroll, E. & Whitaker J. (2009) Peatland Excavations 1999-2000: Lemanaghan Excavations. Bray: Wordwell Ltd.
O Carroll, E. (2001) The Archaeology of Lemanaghan – The story of an Irish Bog. Bray: Wordwell Ltd.
O Carroll, E. (2001) An Analysis of Archaeological Wood found in Irish bogs, In: Raftery, B. and Hickey, J. (eds.), Recent Developments in Wetland Research. Seandálaíocht: Monograph 2, Department of Archaeology, UCD and WARP Occasional Paper 14, 27-35.
O Carroll, E and Mc Dermott, C (1997) Recently Identified Archaeological Sites in Lemanaghan Works, Co. Offaly, In: The Quaternary of the Irish Midlands. Dublin: Irish Quaternary Association.
Moloney, A., Bermingham, N., Keane, M. McDermott, C. and O Carroll, E. (1995) Blackwater Survey & Excavations, Artefact Deterioration in Peatlands, Lough More, Co. Mayo. Transactions of the Irish Archaeological Wetland Unit 4. Dublin: Crannóg Publications.
O Carroll, E. (1999) A Trek Through the Bogs in Co. Offaly, Archaeology Ireland, 13 (49).
O Carroll, E. (1999) Archaeological Excavations in Lemanaghan, Co. Offaly, Sceal na Mona, 13 (27).