Network Member Profiles
Steve McCarron, National University of Ireland, Maynooth.
Biography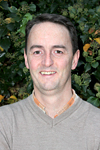 I am a member of the national and international Quaternary geoscience research community, having been involved in Quaternary research and teaching since 1994. I have been employed at the University of Ulster, the Geological Survey of Ireland, in Trinity College Dublin, and lately in the National University of Ireland, Maynooth, in Geography, in posts involving both teaching and research into GIS and Quaternary glacial geology. I am Secretary, Newsletter editor, and past Chair of the Irish Quaternary Association. I am actively expanding palaeoenvironmental analysis facilities in NUIM with the recent addition of a sediment Core Scanning Laboratory (ISCORF) based around a GEOTEK Multi-Sensor Core Logger, as a nationally accessible research facility.
Contact
stephen.mccarron@nuim.ie
University Homepage
Click here.
Research Interests
Palaeoenvironmental - sediment - physical properties - Irish Quaternary Association (IQUA).
Collaborative Interests
I am involved as PI on two INFOMAR funded projects examining the marine sedimentary record of glacially derived environmental change on the Irish Continental shelf. I am also interested in collaborating on the investigation of the palaeoenvironmental record of any onshore sediment archives including peat bogs and lakes, bringing the non-destructive investigative techniques of the MSCL core logger to bear in any collaborative work..
Themes
Earth, Water.
Selected Publications
Clark, J., McCabe, A.M., Schnabel, C., Clark, P.U., McCarron, S.G., Freeman, S., Maden, C., Xu, S. (2009) A Cosmogenic 10Be Chronology of the Last Deglaciation of Western Ireland, Bulletin of the Geological Society of America, 121, 1, 3-16.
Coxon, P. and McCarron, S.G. (2009) Cenozoic: Tertiary and Quaternary (until 11,700 years before 2000), In: Holland, C.H. and Sanders, I.S. (eds.), The Geology of Ireland. 2nd ed. Edinburgh: Dunedin, 355-396.
Whitehouse, N., Roe, H.M., McCarron, S. and Knight, J. (eds.) (2008) Field Guide to the north of Ireland. London: Quaternary Research Association.