Network Member Profiles
Paul Leahy, University College, Cork.
Biography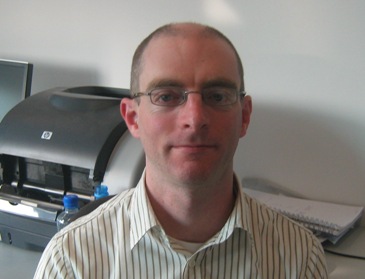 Paul Leahy is SFI Stokes Lecturer in Wind Energy Engineering at University College, Cork, since 2009. Previously Paul was Postdoctoral Fellow at University College, Cork, studying "Extreme weather, climate and natural disasters in Ireland". This project was funded under the Environmental Protection Agency STRIVE programme. This was an interdisciplinary study of weather extremes, climatic shifts and natural disasters and their effects on Ireland, combining historical documentary evidence, proxy climate indicators and modern instrumental records, carried out in collaboration with archaeologists and historical geographers. Paul obtained his PhD in Engineering in University College Cork in 2001. His research interests include weather extremes, past present and future and their impacts on Ireland, land-atmosphere interactions including eddy covariance measurement of surface energy and greenhouse fluxes, wind energy, particularly the temporal and spatial variability of the wind resource, and applications of artificial intelligence in engineering.
Contact
Paul.Leahy@ucc.ie
University Homepage
Click here.
Research Interests
Extreme weather - climate change - climatic shifts - greenhouse gases - precipitation intensity - wind energy.
Themes
Air, Water.
Selected Publications
Leahy, P., Kiely, G. and Corcoran, G. (2008) Structural optimisation and input selection of an artificial neural network for river level prediction, Journal of Hydrology, 355 (1-4), 192-201.
Eaton, J. M., McGoff, N. M., Byrne, K. A., Leahy, P. and Kiely, G. (2008) Land cover change and soil organic carbon stocks in the Republic of Ireland 1851-2000, Climatic Change, 91 (3-4), 317-334.
Byrne, K. A., Kiely, G. and Leahy, P. (2007) Carbon sequestration determined using farm scale carbon balance and eddy covariance, Agriculture, Ecosystems and Environment, 121, 357-364.
Lawton, D., Leahy, P. Kiely, G., Byrne, K., and Calanca, P. (2006) Modeling of net ecosystem exchange and its components for a humid grassland ecosystem, Journal of Geophysical Research - Biogeosciences, 111 (G04013).
Jaksic, V., Kiely, G., Albertson, J., Oren, R., Katul, G., Leahy, P. and Byrne, K. (2006) Net ecosystem exchange of grassland in contrasting wet and dry years, Agricultural and Forest Meteorology, 139 (3-4), 323-334.
Hsieh, C.-I, Leahy, P., Kiely, G. and Li, C. (2005) The effect of future climate perturbations on N2O emissions from a fertilized humid grassland, Nutrient Cycling in Agroecosystems, 73 (1), 15-23.
Byrne, K. A., Kiely, G. and Leahy, P. (2005) CO2 fluxes in adjacent new and permanent temperate grasslands, Agricultural and Forest Meteorology, 135 (1-4), 82-92.
Leahy, P., Kiely, G. and Scanlon, T. M. (2004) Managed grasslands: A greenhouse gas sink or source? Geophysical Research Letters, 31 (L20507).