Network Member Profiles
Kieran Hickey, University College Cork
Biography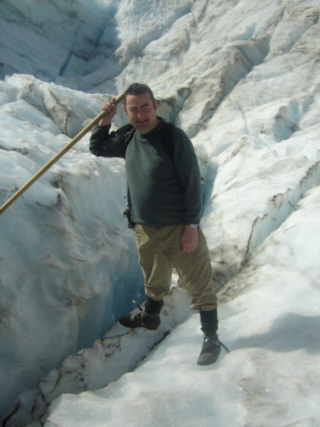 From Cahir, Co. Tipperary, a town dominated by a castle, abbey, the River Suir and the Galty Mountains, it was impossible to grow up without an interest in all things geographical and to know and understand the environment of the town and its hinterland from a physical and human perspective. One of the best ways to know your own place is to explore other places and come back to it with a fresh perspective and gain new insights. As a result I have studied and worked in Armagh, Cork, Coventry, Kilkenny, Maynooth, Oxford and Scotland. I have been fortunate to have travelled to many European countries including Iceland, Slovenia and Turkey as well as Egypt, Dubai, China, Japan, Australia, New Zealand, Cuba, the USA and Canada. My main research focus falls under the heading of historical and current climate change and global warming. Particular foci have been on patterns of storminess, historical and contemporary climate change in Ireland and elsewhere, coastal vulnerability to climate and sea-level rise in Ireland and elsewhere and the natural and cultural history of wolves in Ireland.
Contact
kieran.hickey@ucc.ie
University Homepage
Click here.
Research Interests
Climate history of Ireland - climate change - global warming - storms - natural disasters and impacts - natural history of Ireland - wolves - role of humans - coastal environmental change.
Themes
Earth, Air, Fire, Water.
Selected Publications
Hickey K.R. (2009) A review of the 2008 Hurricane, Tropical Cyclone and Typhoon Season, International Journal of Meteorology, 34 (341), 233-236.
Hickey K.R. (2009) Where have all the wolves gone? In: Fenwick, J. (ed.), Lost and Found II: Discovering Ireland's Past. Dublin: Wordwell, 29-40.
Hickey K.R. (2008) Five Minutes to Midnight, Ireland and Climate Change. Belfast: White Row Press.
Hanna E., Cappelen J., Allan R., Jonsson T., Le Blanq F., Lillington T. and Hickey K.R. (2008) New insights into North European and North Atlantic surface pressure variability, storminess and related climate change since 1830, Journal of Climate, 21 (12), 6739-6766.
Dawson A.G, Hickey K.R., Mayewski P. and Nesje A. (2007) Greenland (GISP2) ice core and historical indicators of complex North Atlantic climate changes during the fourteenth century, The Holocene, 17 (4), 425-432.
Ansell T., Jones P.D., Allan R.J., Lister D., Parker D.E., Brunet M., Moberg A., Jacobeit J., Brohan P., Rayner N., Aguilar E., Alexandersson H., Barriendos M., Brandsma T., Cox N., Della-Marta P., Drebs A., Founda D., Gerstengarbe F., Hickey K.R., Jansson T., Luterbacher J., Nordli O., Oesterle H., Petrakis M. Philipp A., Rodwell M., Saladie O., Sigro J., Slonosky V., Srnec L., Swail V., Garcia-Suarez A.M., Tuomenvirta H., Wang X., Wanner H., Werner P., Wheeler D. and Xoplaki E. (2006) Daily Mean Sea Level Pressure Reconstructions for the European - North Atlantic Region for the period 1850-2003, Journal of Climate, 19 (12), 2717-2742.
Hickey K.R. and Devoy R.J.N. (2005) The Climate of Cork, In: Crowley J.S., Devoy R.J.N., Lenihan D. and O'Flanagan P. (eds.), Atlas of Cork City. Cork: Cork University Press, 17-24.
Hickey K.R. (2005) Flooding in the City, in Crowley J.S., Devoy R.J.N., Lenihan D. and O'Flanagan P. (eds.), Atlas of Cork City. Cork: Cork University Press, 25-31.
Hickey K.R. and Healy M.G. (2005) The reclamation of the Shannon Estuary inter-tidal flats: A case study of the Clare Slobland Reclamation Company Irish Geography, 38 (1), 96-106.
Dawson A., Elliott L., Noone S., Hickey K.R. Holt T. Wadhams P and Foster I. (2004) Historical Storminess and climate 'see-saws' in the North Atlantic Region, Marine Geology, 210, 247-259.
Dawson A.G., Elliott L., Mayewski P., Lockett P., Noone S., Hickey K.R., Holt T., Wadhams P., Foster I. (2003) Late Holocene North Atlantic climate "seesaws" and Greenland ice sheet (GISP2) paleoclimates, The Holocene, 13 (2), 381-392.
Hickey K.R. (2003) The Storminess Record from Armagh Observatory 1796-1999, Weather, 58 (1), 28-35.
Hickey K.R. (2003) A Preliminary Assessment of the Meteorological Archives from N.U.I. Galway 1861-1966, Journal of the Galway Historical and Archaeological Society, 55, 117-126.
Dawson A.G., Hickey K.R., Dawson S., Elliott L., Foster I.D.L., Wadhams P., Holt T., Jonsdottir J., Wilkinson J., Smith D.E. and Davis N. (2002) Complex North Atlantic Oscillation (NAO) index signal of historic North Atlantic storm track changes, The Holocene, 12 (3), 363-369.
Healy M. and Hickey K.R. (2002) Land Reclamation on the Shannon Estuary, Journal of Coastal Research, 36, 365-373.
Hickey K.R. (2002) Water Quality Issues in the West Of Ireland, In: McDonagh, J. (ed.), Economy, Society and Peripherality: Experiences from the West of Ireland. Dublin: Arlen Academic, 241-250.
Hickey K.R. (2001) The Impact of the 31st January 1953 Storm on Scotland, Scottish Geography Journal, 117 (4), 283-295.
Hickey K.R. (2000) A Geographical Perspective on the Decline and Extermination of the Irish wolf Canis lupus – An Initial Assessment, Irish Geography, 33 (2), 134-147.
Dawson A.G., Hickey K.R., McKenna J. and Foster I.D.L. (1997) A 200-Year Record of Gale Frequency, Edinburgh, Scotland: Possible Links with High-Magnitude Volcanic Eruptions, The Holocene, 7 (3), 337-342.
Tyrrell J.G. and Hickey K.R. (1992) A Flood Chronology for Cork City and its Climatological Background, Irish Geography, 24 (2), 81-90.