Previous Events
---
Invasion 1169
The National Conference on the Occasion of the 850th Anniversary of the Anglo-Norman Invasion, 2–4 May 2019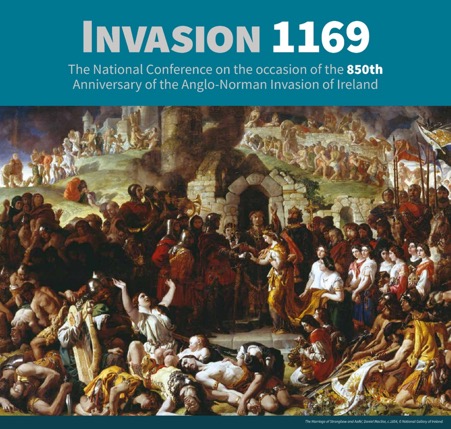 Thursday 2nd – Saturday 4th May 2019
Edmund Burke Theatre,
Arts Building, Trinity College Dublin



---

PROFESSOR ROSAMOND MCKITTERICK will deliver the JAMES LYDON LECTURES IN MEDIEVAL HISTORY AND CULTURE on ROME AND THE INVENTION OF THE PAPACY IN THE EARLY MIDDLE AGES Monday 15th October 2018 @ 6.30pm
Thomas Davis Lecture Theatre, Arts Building Room 2043, Trinity College Dublin Admission Free - All Welcome
Organised by the Trinity Medieval History Research Centre
---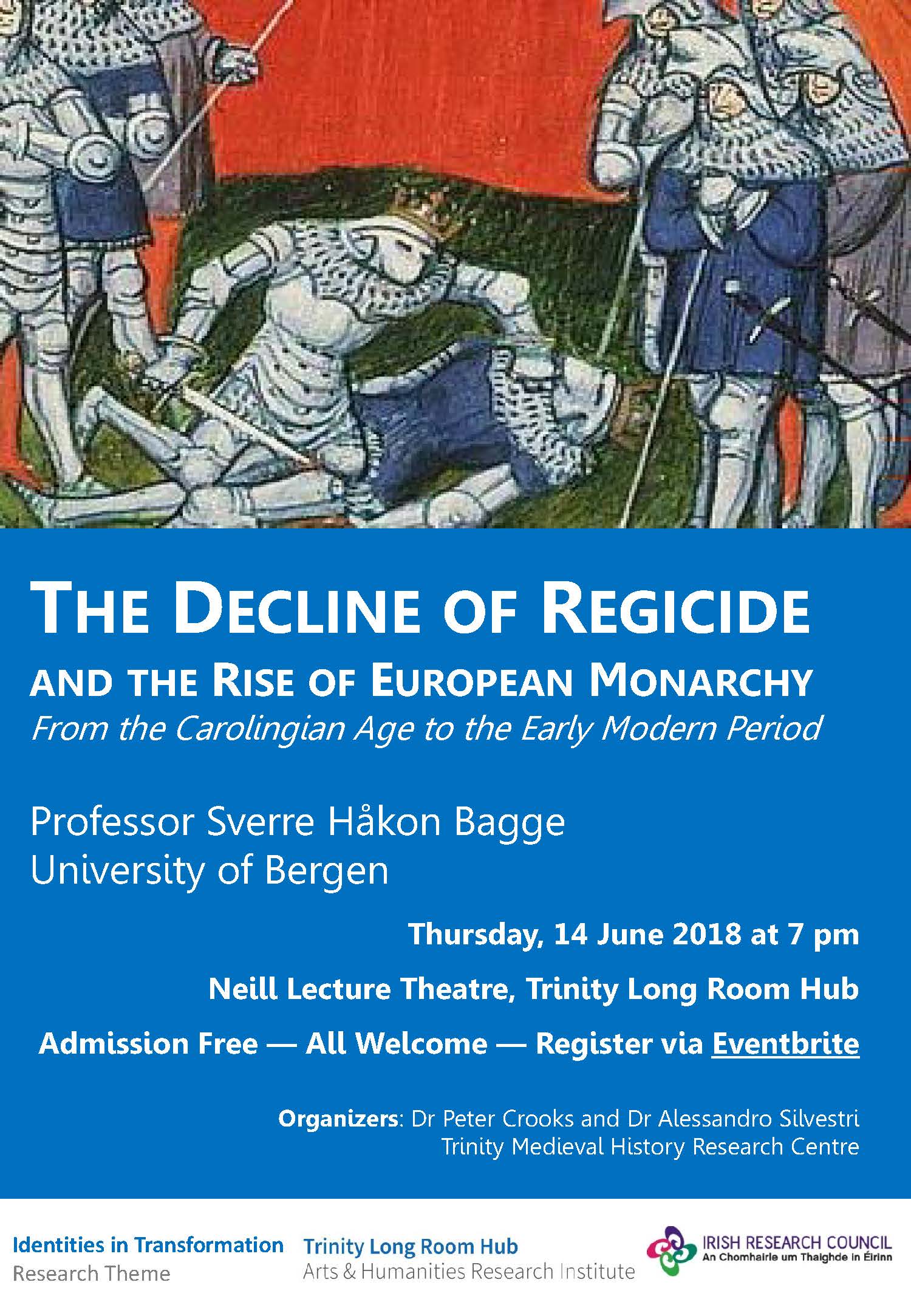 ---
PROFESSOR ROBERT BARTLETT
will deliver the
JAMES LYDON LECTURES IN MEDIEVAL HISTORY AND CULTURE
on
DYNASTIES
FAMILY POLITICS IN MEDIEVAL EUROPE
Monday 24th to Thursday 27th April 2017
Trinity College Dublin

Public Lecture 1
Monday 24 April 2017 @ 7 pm
Thomas Davis Lecture Theatre, Arts Building Room 2043
Lectures 2–4
Tuesday 25, Wednesday 26 and Thursday 27 September 2017 @ 5.30 pm
The Classics Seminar Room, Arts Building B6.002
ADMISSION FREE • ALL WELCOME • REGISTER HERE
For information:
T: 00 353 1 896 1791
E: lydon.lectures@gmail.com
Organized by the Trinity Medieval History Research Centre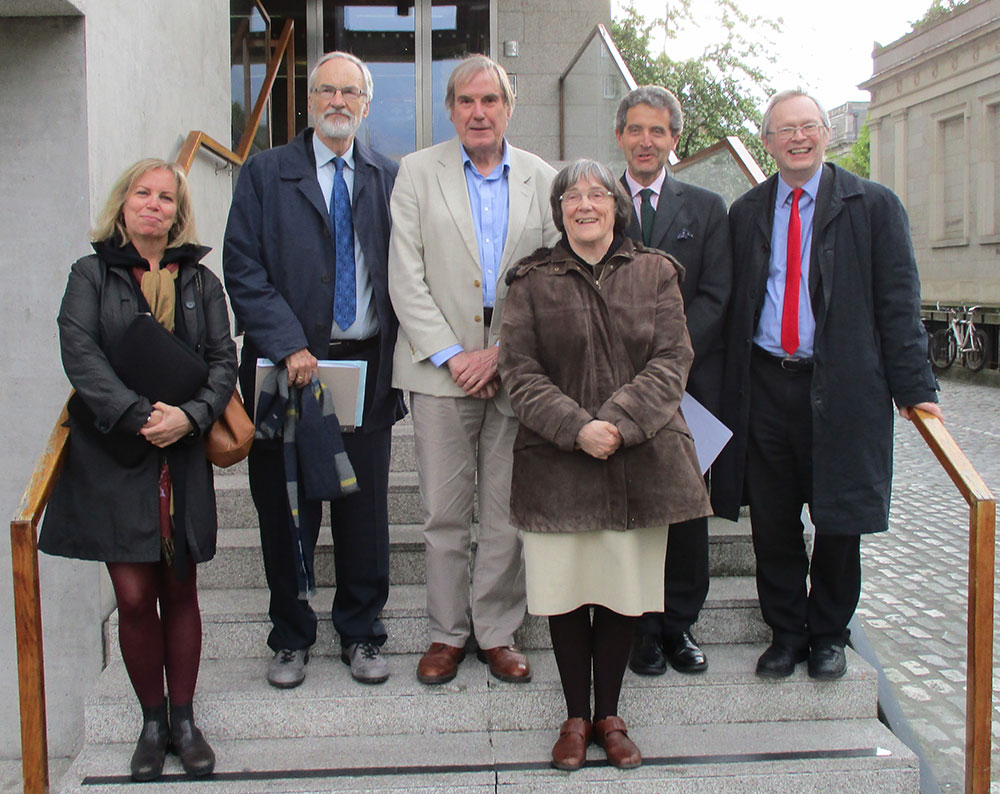 The James Lydon Lectures 2017
R-L: Dr Ana Rodríguez (Madrid), Professor Sverre Bagge (University of Bergen), Professor Robert Bartlett (St Andrews, The Lydon Lecturer 2017), Dr Katharine Simms, FTCD (Emerita), Professor Nicholas Vincent (University of East Anglia), Dr Stuart Airlie (Glasgow)
Programme of Events
Public Lecture 1: Dynasties: Family Politics In Mediaeval Europe
Monday 24 April 2017 @ 7 pm
Thomas Davis Lecture Theatre, Arts Building Room 2043
Subsequent lectures all take place in the Classics Seminar Room
Lecture 2: The First Female Sovereigns in Mediaeval Europe
Tuesday, 25 April 2017 @ 5.30 pm
Lecture 3: Pretenders and Returners: Dynastic Imposters in the Middle Ages
Wednesday, 26 April 2017 @ 5.30 pm
Lecture 4: A Sense of Dynasty: Names, Numbers and Family Trees
Thursday, 27 April 2017 @ 5.30 pm
---
Distinguished guest participants:
Dr Stuart Airlie, University of Glasgow
Professor Sverre Bagge, University of Bergen
Dr Ana Rodríguez, Centro de Ciencias Humanas y Sociales, Spanish National Research Council
Dr Katharine Simms, FTCD (Emerita)
Professor Nicholas Vincent, University of East Anglia

Law and The Idea of Liberty in Ireland: From Magna Carta to the Present
What is the place of Ireland in the story of Magna Carta's global dissemination? Four centuries before the Great Charter crossed the Atlantic, it was already implanted across the Irish Sea. A two-day conference in the Music Room of Christ Church Cathedral will explore the legal-historical background to Magna Carta in Ireland, the reception of the charter into English law in Ireland, the political and polemical uses to which the charter was put, and its twentieth and twentieth-first century invocations as a living presence in contemporary Irish law.
The conference takes place on 25 and 26 November and places can be booked via Eventbrite.
View and download the programme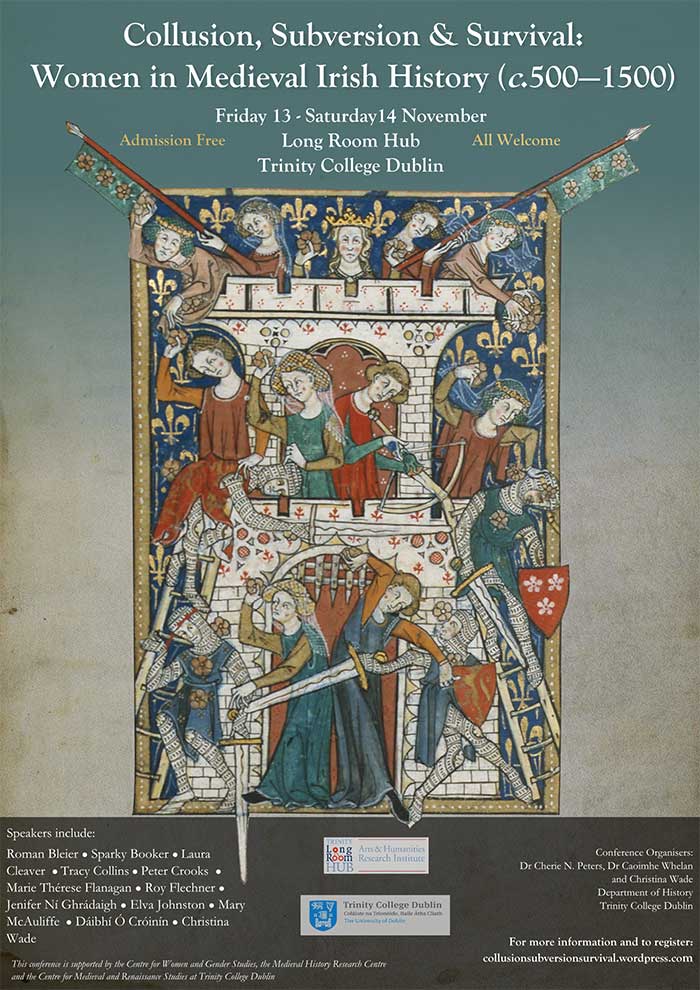 The Centre for Gender and Women Studies, the Medieval History Research Centre and the Centre for Medieval and Renaissance Studies are hosting a conference next week, 13 Friday - 14 Saturday of November, entitled 'Collusion, Subversion & Survival: Women in Medieval Irish History (c. 500-1500).
The conference will take place in the Neil Hoey Lecture theatre in the Trinity Long Room Hub and admission is free, but registration is required.
Information about the conference can be found here: collusionsubversionsurvival.wordpress.com, and registration can be done here: http://collusionsubversionsurvival.eventbrite.ie.
For any questions, people can contact Dr Cherie N. Peters, Dr Caoimhe Whelan and Christina Wade (conference organisers) at collusionsubversionsurvival@gmail.com.
This 9th-century text, Tecosca Cormaic, paints a vivid and horrific portrait of women struggling against strident medieval systems of patriarchy. How does the attitude depicted by this text reflect medieval opinions about women? How did women navigate their society, and how were they perceived in that society?
This conference aims to reveal the ways in which medieval women colluded, subverted, and survived in the face of their societies' prejudices, ultimately revealing the hidden world of women in medieval Ireland.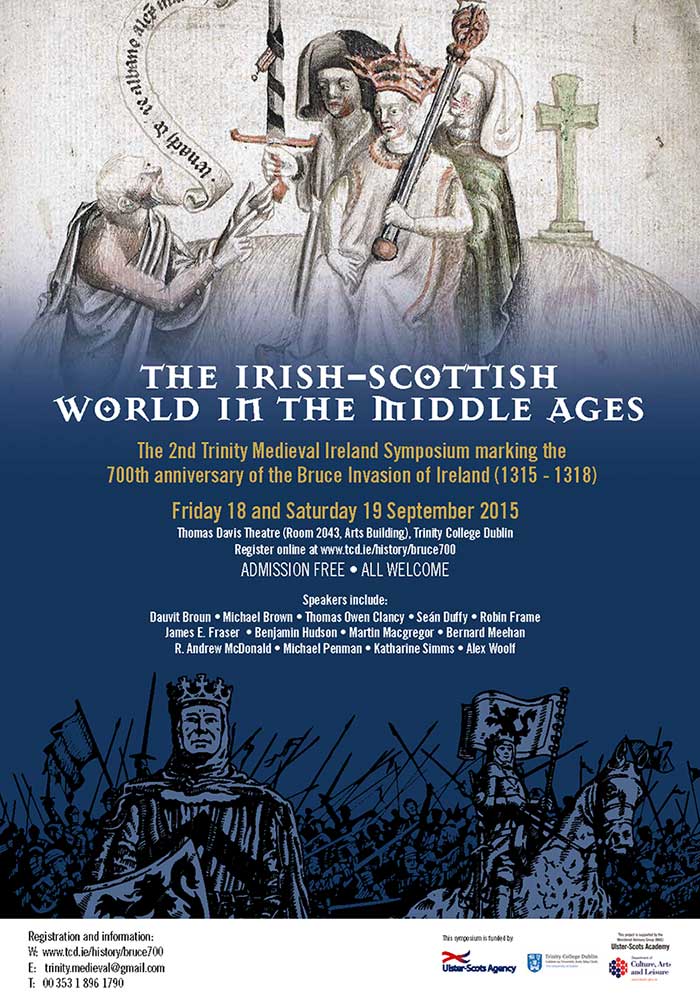 T: 00 353 1 896 1790