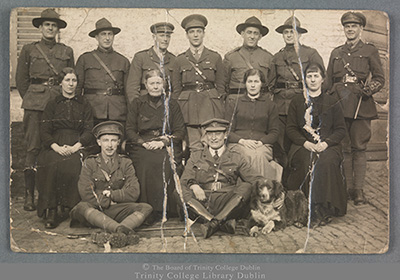 TCD MS 11196
Military personnel with French civilians. c. 1916
Research
The Centre for Contemporary Irish History and the Centre for War Studies are among a number of research centres which draw on the interests and expertise of the staff of the Department of History and which promote interdisciplinary and collaborative approaches to the study of history.
The Centre for Contemporary Irish History encourages the use of new approaches and technology in historical research into recent Irish history. It runs a weekly seminar which provides a forum where those engaged in research in contemporary Irish history can discuss their work with likeminded people. It is open to all.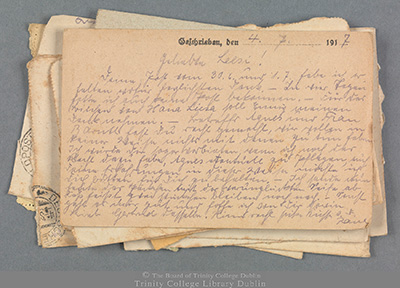 TCD MS 11327
German postcards. 1913-1918
The Centre for War Studies was founded to promote the study of the origins, nature and consequences of war in history and in the contemporary world. It encourages and supports research which examines violence and revolution from the 17th century up to the mid-twentieth century, with a particular emphasis on the First World War. The Centre runs conferences, symposia and lecture series.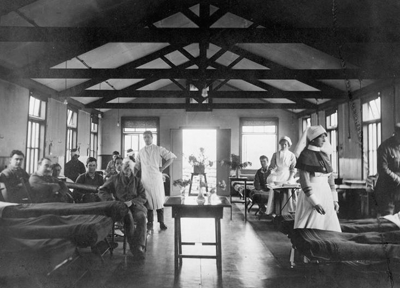 83rd Hospital ward. Courtesy Imperial War Museum.
Individuals across the campus are engaged in their own research. Joseph Harbison, Associate Professor in Medical Gerontology and Conor Larney have delved into the archives and produced two intriguing sidelights into the history of Irish medics serving in the War. Harbison has found a lost war hospital (PDF 120 KB)and Larney shows how even so humble an artefact as a table (PDF 218 KB)takes on an honourable role after the passage of time.