The Library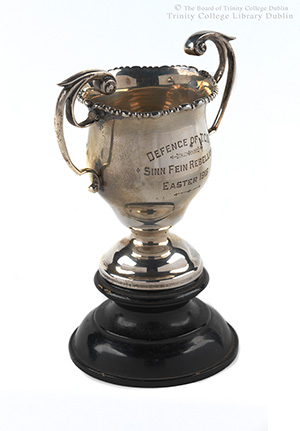 TCD MS OBJECT 1998/17 Dublin University Officer Training Corps. R. Tweedy silver cup.
The Library and the 1912-1923 era
Research materials in the Library relevant to the Decade of Commemoration
The Manuscripts & Archives Research Library (M&ARL) and the Early Printed Books and Special Collections (EPB) have a wide range of research materials covering the period now being commemorated. We continue to add to these collections wherever possible.
One of the most visually impressive parts of the EPB material, from the time of the Great War, is the collection of recruiting posters; these have been digitised and may be seen at http://digitalcollections.tcd.ie
Also available through our Digital Collections is the Samuels Collection of Irish printed political ephemera of the 1916 Rebellion, World War I, the War of Independence and the Civil War, which was collected by the Solicitor General because it was thought to be subversive.
The Manuscripts & Archives Research Library has many unpublished letters, diaries and photographs from the First World War, from a number of theatres of action. Our online catalogue is to be found at www.marloc.library.tcd.ie/onlinecatalogue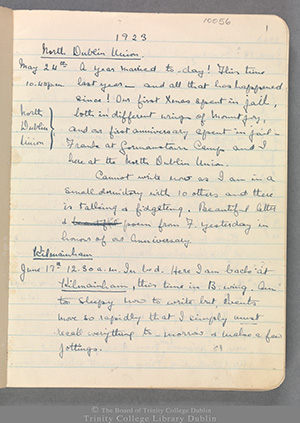 TCD MS 10056 fol 1r. Prison diary of Cecelia Gallagher née Saunders, 1922-3.
There are also materials relating to the Easter Rising – from both sides of the conflict. These include letters from John Dillon enquiring into the treatment of Francis Sheehy Skeffington; papers concerning the family of Pádraig Pearse and records reflecting the defence of the College by the Dublin University Officers' Training Corps.
The material concerning the War of Independence includes the papers of Erskine Childers with photographs of the Howth Gun Running. The papers of Cecelia Saunders Gallagher and Frank Gallagher and of poet Joseph Campbell, all of whom were imprisoned, give insight into the early-century political world view. 
Information on all of these collections may be accessed through the main Library homepage https://www.tcd.ie/Library/
We welcome queries regarding these and other materials.
Blogs
For the M&ARL blog, see Manuscripts at Trinity
For the EPB blog, see Tales of Mystery and Pagination
For information on Trinity College Dublin, see Trinity College Library
Changed Utterly the Research Divisions 1916 blog