Stories of Impact
Inspiring Generations Since 1592
Trinity has welcomed many remarkable people to our campus over the centuries. Researchers have made brilliant discoveries, educators have inspired young minds, and students have been inspired to go out into the world to create, contribute, lead and succeed. Here are a few of those stories.
Inspiring Young Writers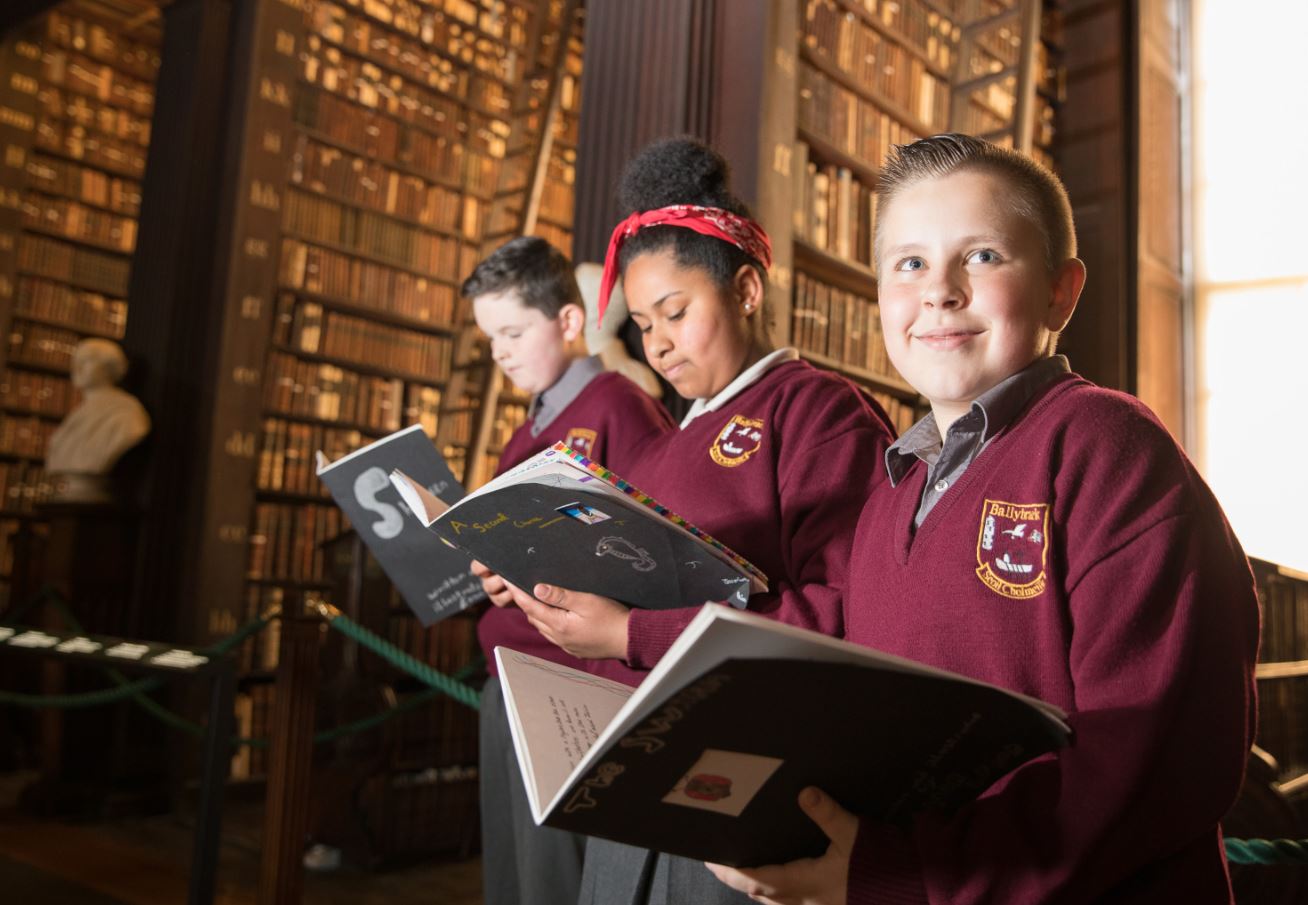 Every year, the Bookmarks programme managed by Trinity Access brings young schoolchildren in to Trinity and inspires them to create their own books and artwork. Set up in 1993, Trinity Access is now a world leader in educational access and runs school outreach programmes as part of its work to widen access to Trinity for people from under-represented communities.
The books and artwork created each year by the children are displayed in the Old Library Long Room and go on to become part of Trinity's permanent collection of over six million printed volumes including the world-renowned Book of Kells.
"We are very proud of the Bookmarks initiative and the unique opportunity it provides for children to acquire new skills and to be exposed to the world of children's literature in a very hands-on way... Our outreach programmes attract over 10,000 students annually, and with continued involvement, these students and their peers will successfully make the transition to both second and third level". — Kathleen O'Toole-Brennan, Trinity Access Programmes.
Proud authors Joshua Lynch, Evan Massey and Jasmine Ekro are pictured with their books, produced in the 2018-19 Bookmarks programme.
Learn more about our Access Programmes
Inspiring Lifelong Learning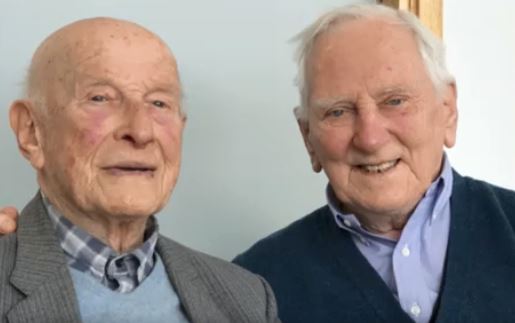 Trinity's oldest students are an inspiring example of the joy of lifelong learning. Joe Veselsky (100) and Joe McGovern (92) both attend evening and short courses at Trinity College Dublin.
Mr Veselsky has taken extra-mural courses in the School of Histories and Humanities every year since 2010. Mr McGovern, a former garda, has recently returned to education after a gap of 75 years to study Latin.
Hear more about their stories in this video: https://www.rte.ie/news/ireland/2019/0328/1039089-joe-veselsky-joe-mcgovern/
The first woman President of Ireland - Mary Robinson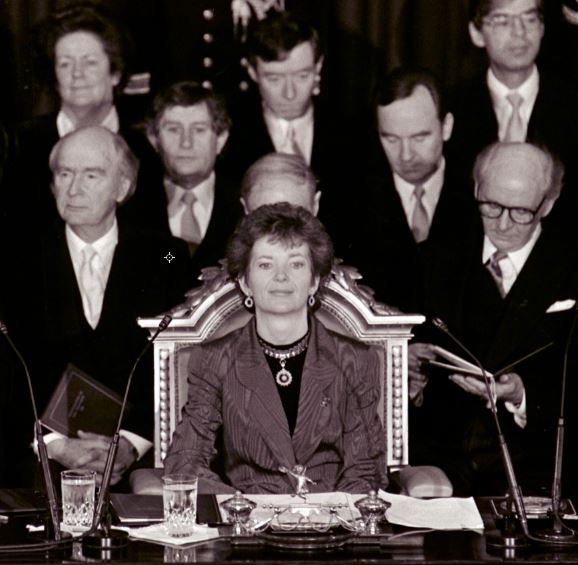 The first woman President of Ireland (1990-1997) and former United Nations High Commissioner for Human Rights (1997-2002), has spent most of her life as a human rights advocate. Born Mary Bourke in Ballina, County Mayo (1944), the daughter of two physicians, she was educated at the University of Dublin (Trinity College), King's Inns Dublin and Harvard Law School to which she won a fellowship in 1967.
As an academic (Trinity College Law Faculty 1968-90), legislator (Senator 1969-89) and barrister (1967-90, Senior Counsel 1980, English Bar 1973) Dr Robinson has always sought to use law as an instrument for social change, arguing landmark cases before the European Court of Human Rights as well as in the Irish courts and the European Court in Luxemburg. A committed European, she also served on the International Commission of Jurists and on expert European Community and Irish parliamentary committees.
In 1988 Dr and Mr Robinson founded the Irish Centre for European Law at Trinity College Dublin. In 1998 Dr Robinson was elected Chancellor of the University, a position she held until 2019.
The recipient of numerous honours and awards throughout the world including the Presidential Medal of Freedom from President Obama, Dr Robinson is a member of the Elders, former Chair of the Council of Women World Leaders and a member of the Club of Madrid. She is chair of the GAVI Alliance Board and President of the International Commission of Jurists.
She is now President of the Mary Robinson Foundation - Climate Justice.
Making space flight possible - William Rowan Hamilton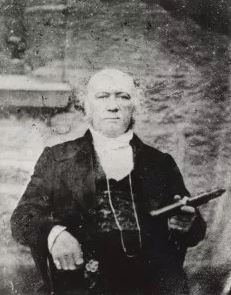 One of the reasons Erwin Schrödinger , 1933 Nobel Laureate in Physics, chose to come to Dublin during the Second World War, was the chance to walk in the footsteps of one of his heroes, Sir William Rowan Hamilton (1805-1865), one of Ireland's most renowned scientists. Hamilton's work was of major importance to physics, and his reformulation of Newtonian mechanics - now called Hamiltonian mechanics - was crucial to the development of quantum mechanics. His discoveries have been used by countless scientists including both Schrödinger (who delivered his famous 'What is Life' series of lectures in Trinity in 1943) and Stephen Hawking (1942-2018). The Library of Trinity College Dublin holds the vast archive of Hamilton's personal and professional papers.
Hamilton made numerous advances in maths and science but he is most famous for developing Quaternions, the mathematical notation for representing orientations and rotations of objects in three dimensions.
Quaternions are essential for calculating orbital rotation in space flight; they are routinely employed by NASA, and are also relied upon by the computer gaming industry. Trinity's Library is home to the tiny notebook containing Hamilton's first scribbled recording of the Quaternion equation made as he walked by the Royal Canal at Broome Bridge in Dublin.
Splitting the Atom - the work of Ernest Walton, Nobel Prize Winner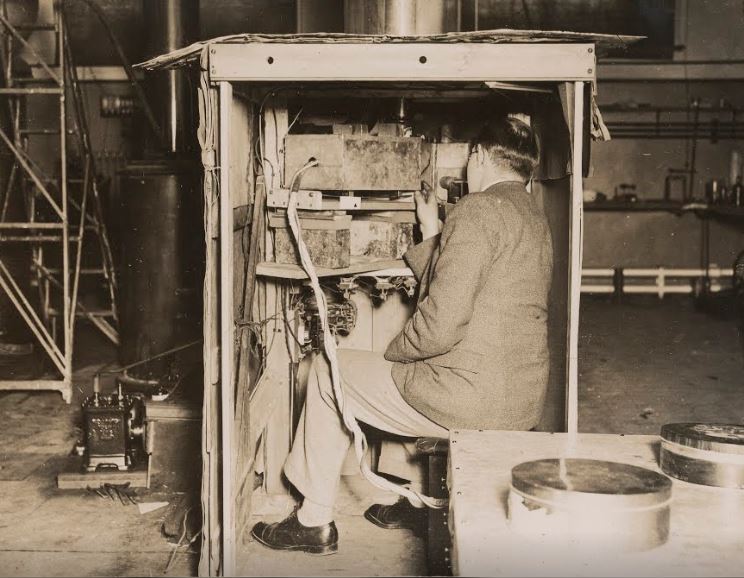 Nobel Prize-winner, Ernest Walton (1903-1995) was a Trinity graduate. He is most famous - along with John Cockcroft - for the splitting of the atom (the physical demonstration of Einstein's law E=mc²) in 1932.

Ernest Walton graduated in mathematics and physics from Trinity College Dublin in 1926 and completed an M.Sc. in hydrodynamics under John Lighton Synge in 1927. He subsequently moved to Cambridge to undertake further postgraduate studies in the Cavendish Laboratory under Ernest Rutherford. Working with John Cockcroft (1897-1967), he successfully split the nucleus of the lithium atom in April 1932. They were subsequently jointly awarded the Nobel Prize in 1951 for 'their pioneering work on the transmutation of atomic nuclei by artificially accelerated atomic particles'.

Walton returned to Trinity College in 1934 where he later became Professor of Natural and Experimental Philosophy. He was well known for his personal integrity, his compelling lectures and his commitment to the improvement of the standards of science education in Ireland.

This photograph shows Walton in the observation hut beneath the accelerating tube of the Cockcroft-Walton machine, which could generate voltages of up to 700 kV. It was largely due to Walton's talent as an experimentalist that such a feat was achieved at that time.
Learn more about in our online Library exhibition
A vision for Trinity's Library - James Ussher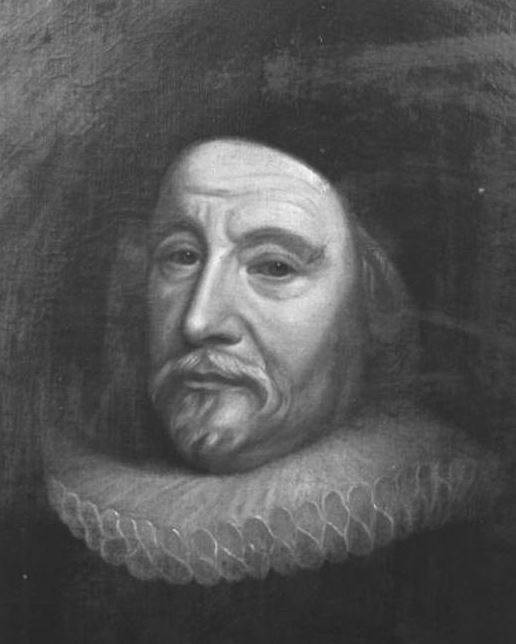 Ussher played a key role in the assembly of the collection of the Library of Trinity College Dublin.  Belonging to the first generation of students educated at the recently-founded College, which he entered in 1594, aged 13, he went on to become one of its first scholars and remained there as a member of staff until he was elevated to the bishopric of Meath in 1621. Four years later, he was appointed Archbishop of Armagh.
In the early 17th century he was responsible, together with Luke Challoner, for buying books to build the Trinity College holdings. They went on 'shopping trips' to England and liaised with numerous eminent scholars and  collectors of the time, such as Sir Robert Cotton, whose library would later be one of the foundation collections of the British Museum, now held at the British Library.  Ussher himself also assembled a great library, estimated at c. 10,000 volumes, most of which made their way into the collections of Trinity College Dublin.