On-campus Residency Scheme
This scheme is administered by Oifig na Gaeilge/Coiste na Gaeilge in assocation with the Office of the Junior Dean in Trinity, to promote the use of Irish in the life of College through making accommodation available at a reduced rate to students who are accepted for the Scheme and who fulfill its conditions.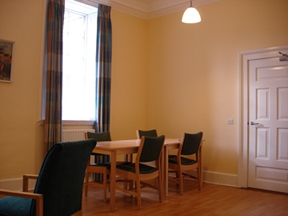 A grant (€1,000 per student) is offered to full-time students who speak fluent Irish, are willing to speak it in their daily life and who have participated in Irish language activities or societies, in order to defray some of their costs of accommodation on the College Campus. The first portion of the grant is paid after Christmas and the second portion at the end of the academic year.
Campus Residency Scheme (16 places) -open to continuing students (2nd -4th year)
Dartry Scheme for Second Year Students (6 places)- open to students who will be in 2nd year
THE SCHEMES
Scéim 1 is located on campus in the city.
Sceim 2 is located in Trinity Hall, Dartry, Dublin 6.
Information on schemes: http://www.tcd.ie/gaeloifig/sceim-chonaithe/
The Application Process
February
Applications process opens, the form will be downloadable from this site.
March
Applicants are advised if they have secured a place on the shortlist and have secured an interview..
March
Interviews will be held and 12-16 students selected.
Students accepted for the Scheme must speak Irish in their daily life, register for membership of the Cumann Gaelach, and take an active part in Irish events in College and in College life generally. They must sign a form stating their acceptance of the conditions of the Scheme, and provide a report to the Irish Language Officer at the end of the first and second terms on the ways in which they have fulfilled these conditions in the preceding term.
In the event that these conditions are not being met by the student, Coiste na Gaeilge reserves the right to terminate their participation in the Irish Language Student Residency Scheme.